Koh Larn
Coral Island near Pattaya
Recommended for
Adults
Families
Kids
Coral Island near Pattaya is a little piece of paradise beyond the hustle and bustle of Pattaya. Although Thailand's famous beach resort town would not be your first thought when imagining a cerulean blue sea and a long stretch of pristine beach void of high-rise buildings and away from the claws of civilization, this little idyllic island offers exactly that and is just a short ferry ride away from Walking Street.

Also known by its Thai name of Koh Larn (and sometimes as Larn Island), Coral Island is situated 7.5 kilometres west of Pattaya Beach. It has long been an alternative retreat for those who have become jaded with Pattaya's overdeveloped and overcrowded beaches. Since the island is not so far away, visitors can easily go there in the morning, stay for several hours and then come back to Pattaya Beach in the late afternoon. The most convenient way of doing this is by taking a guided tour.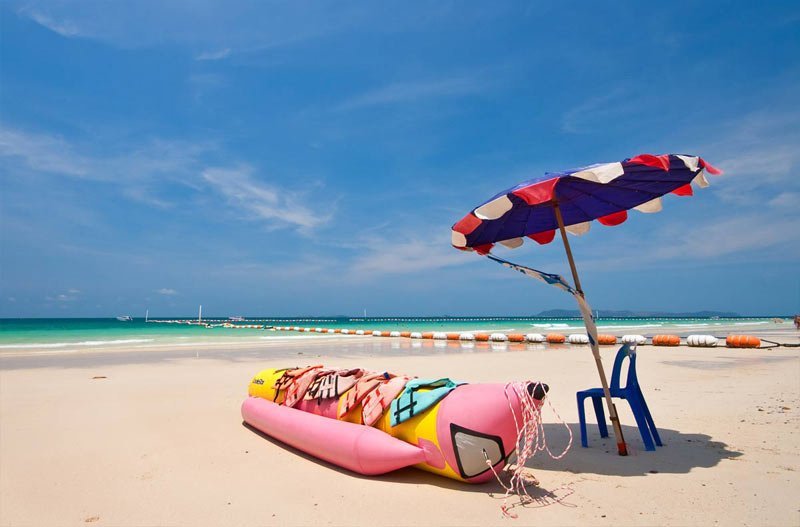 Fun under the sun

Endowed with several beautiful beaches and unspoiled natural wonders, Coral Island near Pattaya exudes a true tropical atmosphere and ample sunshine. If you didn't buy any tours on the ferry earlier, you can still delight in a host of activities offered on the beach. In addition to parasailing and speedboat riding, jet skiing, banana boat riding and, of course, swimming can also be enjoyed. Although not much coral left to be seen, the island's clear waters are excellent for snorkelling.

For the less energetic, the beach has plenty of sun loungers for you to laze and bronze on while being lured to slumber by the sound of waves lapping on the sand. If the lengthy ferry ride earlier left your muscles in knots, have them stretched and straightened by the readily available beach masseuses. Other passive, time-killing activities include having your body henna-tattooed and your hair braided. Lunch is served at 13:00, and is comprised of soup, steamed rice, four main dishes and a platter of fresh fruits (a refill can be had if you want more). Drinks are not provided but can be bought from a nearby stall. Beach vendors do exist, but still very small in number compared to Pattaya Beach. Many shops and restaurants can be found along the beach, but remember that prices tend to be a little higher than normal.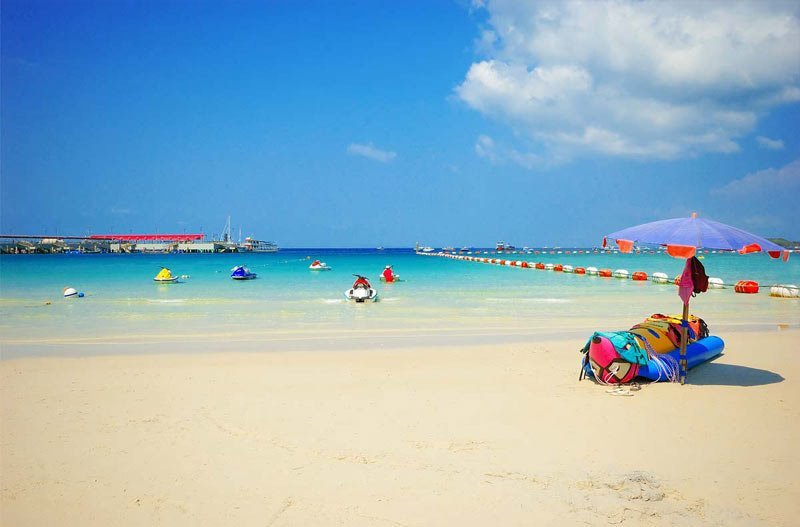 Returning to Pattaya Beach

The glass-bottomed boat arrives at 15:00 to take the now-tanned visitors to the ferry back to Pattaya Beach. About an hour later, the ferry arrives safely at Bali Hai Pier, where the sun is now mild with the shadow of Coral Island lurking in the distance – seemingly beckoning us to return (as many of us have already planned to). If Pattaya's crowded beach is not what you envisage to spend your precious vacation on, this full-day getaway makes for a perfect substitute, ideal for family, couples and a group of friends.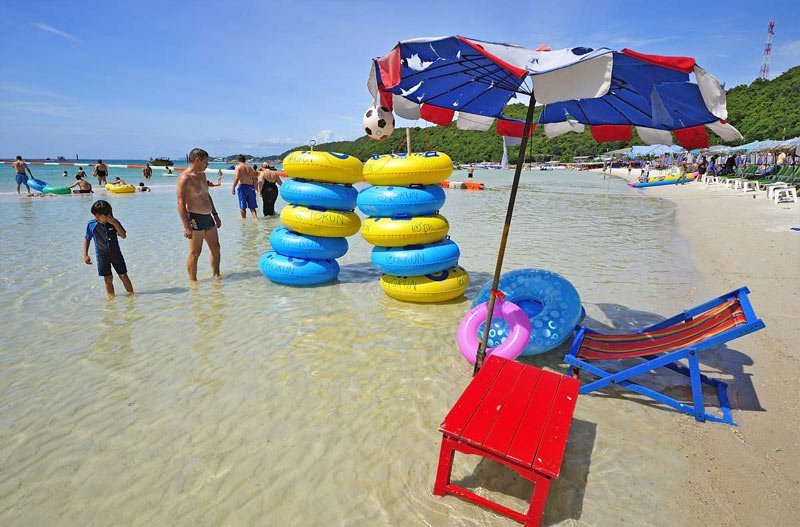 The tropical paradise within reach

This full-day tour begins with a 'songtaew' (a pick-up truck converted into a bus) transfer from the guests' hotels to a designated boarding point on the beach, where a flat-bottomed boat is waiting to take visitors to the two-levelled ferry floating offshore. This leg of the tour takes around five minutes before passengers continue on to the 45-minute ferry ride to the island. On board, the tour crew offers all sorts of fun-filled activity packages. The tip here is to always barter, and keep in mind that it's usually cheaper to buy a package (usually includes a few of the most popular tours) as opposed to an individual tour.

The ferry stops at a floating dock for those who have decided to have a go at parasailing. One by one, an aspiring daredevil is harnessed with a parachute and then dragged by a motorboat until airborne. The ride usually makes a circle around the dock and lasts about 30 seconds, but provides plenty of exhilaration. The less adventurous can stay on the ferry and watch the action. Depending on the number of people participating, this parasailing stop lasts around 15-20 minutes. Then a couple of people are dropped off at a speedboat for a quick tour around the island before the rest of the passengers are taken to the tour's final destination, Haad Tien (Tien Beach), one of the most gorgeous beaches on Coral Island near Pattaya.

Bang Lamung District
Chon Buri
---
Reviews (0)
No reviews yet.