Indy Market
The Phuket Indy Market is a place locals – especially teenagers and young adults – come to enjoy themselves with an entertaining mix of vendors, live performances and more.
It's held on 3 nights of the week on Dibuk Road and is known in Thai as Laad Ploy Khong ('a market to let go of your goods').

The good thing about this lively but relatively unknown night market is that it's small and clean. It is made up of just 1 lane alongside Limelight Avenue Phuket. It takes about 15-20 minutes to take the whole place in and it has a happy, carefree feel to it.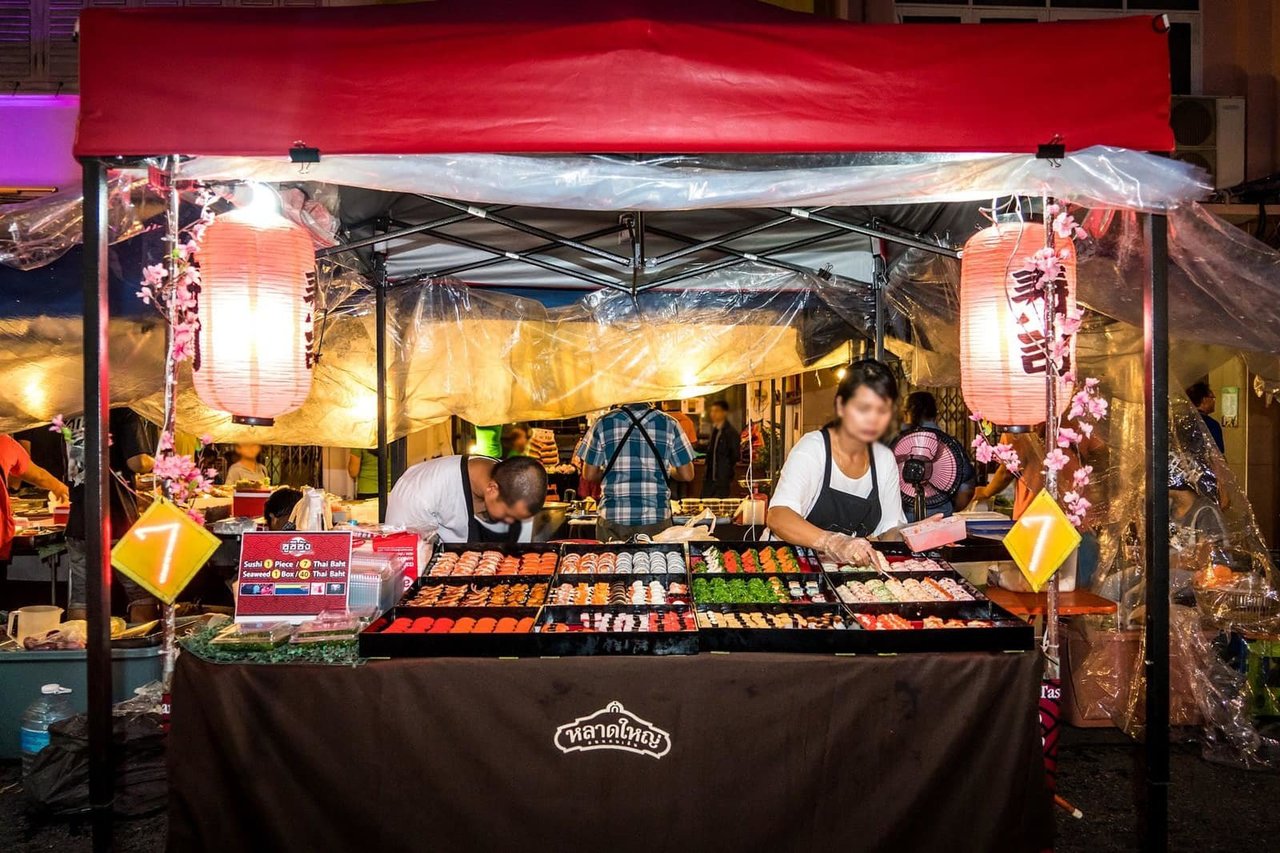 Highlights of Phuket Indy Market

The goods displayed at Phuket Indy Market include jeans, flip-flops, shoes and ladies' bags made from water hyacinth. But some items are quite unique, such as customised handmade key rings. Probably the most fun item of all is a single grain of rice with your name stencilled onto it, to be used as part of a pendant, keyring or bracelet. Happily, prices are usually very low, even for stuff like this.

If you fancy having a special souvenir made just for you and/or your loved one(s), check out the artist booths. They do portraits and caricatures by order in a short time. Nearby, you'll find professional manicurist stands. Prices depend on the choices of material but often start as low as 90 baht.


What not to miss at Phuket Indy Night Market

It's best to come here with an appetite as there are a lot of delicious and cheap snacks available. If possible, take your time and try as many as you can, including Thai spicy salad, fried fish paste balls, chicken BBQ (that goes very well with sticky rice), beef and seafood BBQ, crispy gyoza (a kind of Chinese dumpling) and fish maw soup. The last is a must!

In the sweets section, the list goes on and on from soft sponge cake to colourful candies and Thai-style crepes. Check out the traditional street sweet by the name of kanom buang (or Thai crispy pancake) that resembles a taco, but is made from rice flour. They first top it with coconut cream, followed by some sweet toppings. It not only looks lovely but it tastes good, too.

Beverages range from sugarcane and orange juice to old-style tea and coffee. If you are looking for a more sophisticated drink, try the cocktail booth featuring both alcohol and non-alcoholic cocktails for about 100 baht a drink.
Good to know about Phuket Indy Market

Visitors can park at the Queen Sirikit Park's carpark right across the road from Indy Market as well as the big parking space behind Lemongrass Restaurant.

The organizers have been using this stage to promote Thai traditional festivals, international events and the building up of public awareness for issues including World Aids Day and Safe Sex Awareness, so watch out for special events throughout the year.

Open: Wednesday–Friday from 4pm to 10.30pm

Limelight Avenue Phuket
Dibuk Road
Talad Yai
Muang
Phuket 83000
Thailand
---
Reviews (0)
No reviews yet.