Asiatique The Riverfront in Bangkok
Asiatique successfully combines 2 of the most popular shopping experiences in the city: a night bazaar and a mall. Around 10 minutes downriver from Saphan Taksin BTS station, this once-bustling international trade port transformed into a huge replica warehouse complex with over 1,500 boutiques and 40 restaurants.
It's open from 5pm and spending an evening here is no problem: you'll have good fun browsing the boutiques, picking up gifts or something for yourself. You're also guaranteed to find something you'd like to eat and if this isn't enough entertainment, nightly highlights range from Calypso ladyboy cabarets to classic Thai puppet shows.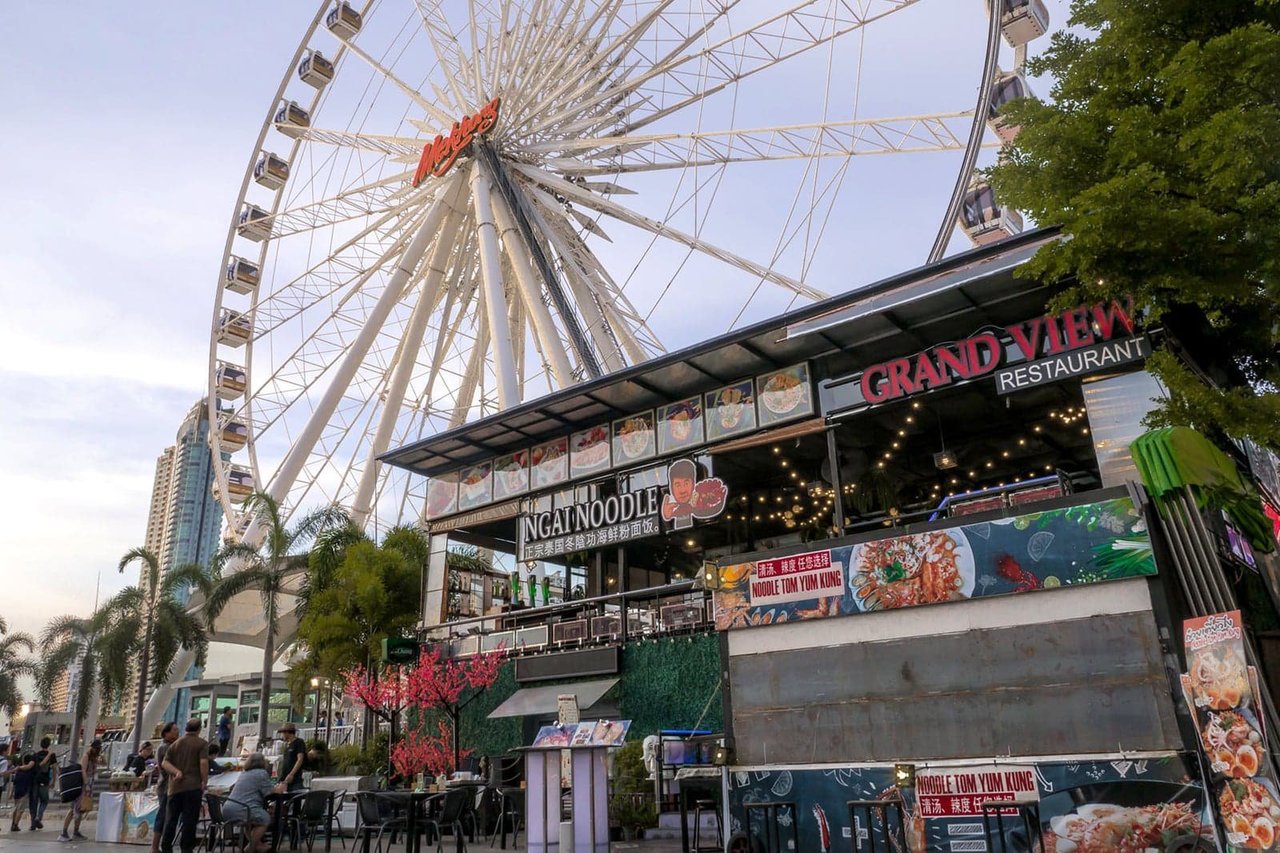 Getting to Asiatique The Riverfront

The easiest and fastest way to get there is via boat. Take the BTS to Saphan Taksin and jump on the free shuttle at the end of the pier. It only takes 10 minutes, and the boat runs until 11pm. Taxis are not recommended as the traffic can be terrible in this area.

From the boat, you step off onto a long boardwalk which runs for 300 metres which looks romantic once the sun has set. Wide streets run between each warehouse and Asiatique provides retro props for photo opportunities: a reproduction tram car, anchors and a pushcart. The decor does feel a little overdone on occasion and not quite in keeping with the designers' plans to evoke nostalgia for the 1900s. Even so, it's so well planned, clean and spacious that the lack of history doesn't really matter.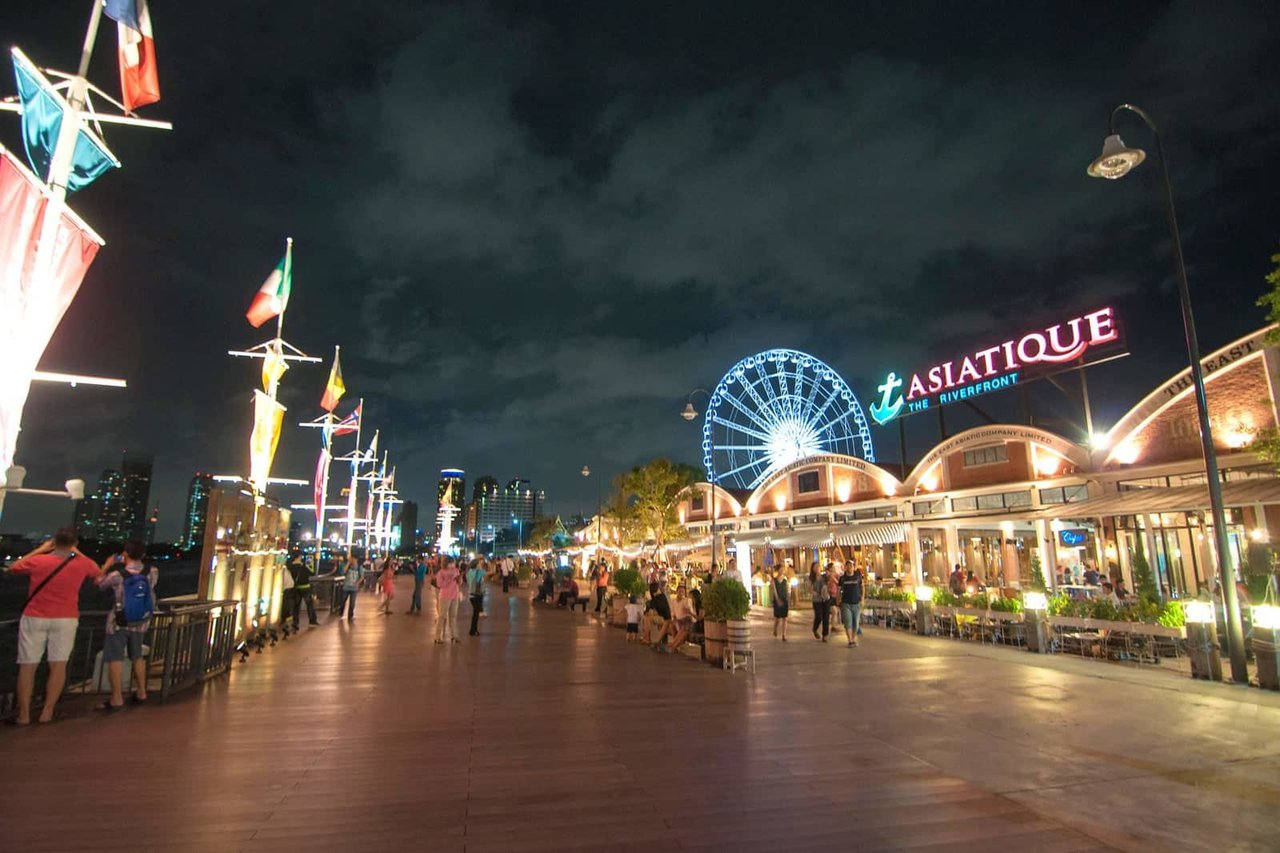 Asiatique highlights and features

Once you enter the hangars, you can appreciate the design even more. This is probably the only market in Bangkok where you can find a stall by looking at a map. Asiatique is split into 4 categories to help you find what you're looking for without too much hassle.

The Chareonkrung District is where you'll find the majority of the small boutiques (over 1,000 in 4 warehouses) selling souvenirs, handicrafts, jewellery, and clothing. The little storefronts are attractive, the displays are interesting and there is a wide range on offer too, from fashionable Thai brands to affordable stores selling merchandise similar to those on offer in places like Chatuchak and MBK.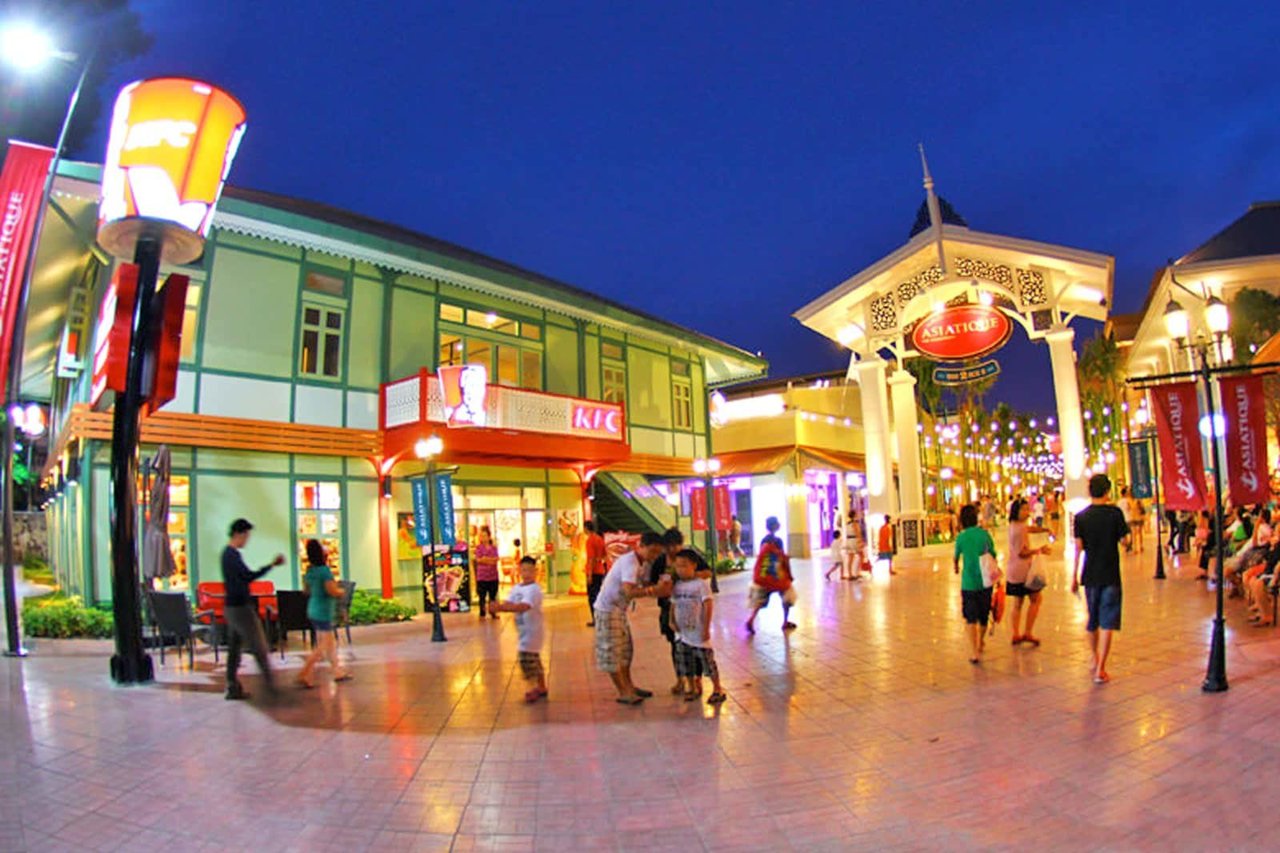 The focus at Asiatique is more on cutting-edge fashion and gadgets in the Factory District, including an Apple store. You can find upscale dining in the Waterfront District, with smart Italian, Thai and seafood restaurants. The Town Square district has bars and outdoor spaces for events. Some independent cafes are dotted around selling strong drinks and decently priced Thai food. Asiatique also has branches of KFC, Pizza Company, Au Bon Pain and MK.

As well as all this food and shopping, the 2 biggest entertainment draws are the Thai puppets by Joe Louis Theatre and Calypso Cabaret, one of Bangkok's celebrated ladyboy shows. Both these shows have been attracting large audiences for years, and Asiatique is the perfect new surrounding for them, offering so much more than just a performance.

The selection of shops is interesting, with a good range of unusual brands rather than row upon row of tourist trinkets. This bazaar is busy but isn't overrun by tourists – crowds of locals enjoy coming here too. Asiatique is definitely worth dedicating an evening to.

Open: Daily from 4pm to midnight

2194 Charoen Krung Rd
Wat Phraya Krai
Bang Kho Laem
Bangkok 10120
---
Reviews (0)
No reviews yet.