Wat Worachetharam
Wat Worachettharam is a dilapidated Buddhist temple located to the west of the Royal Palace in Ayutthaya.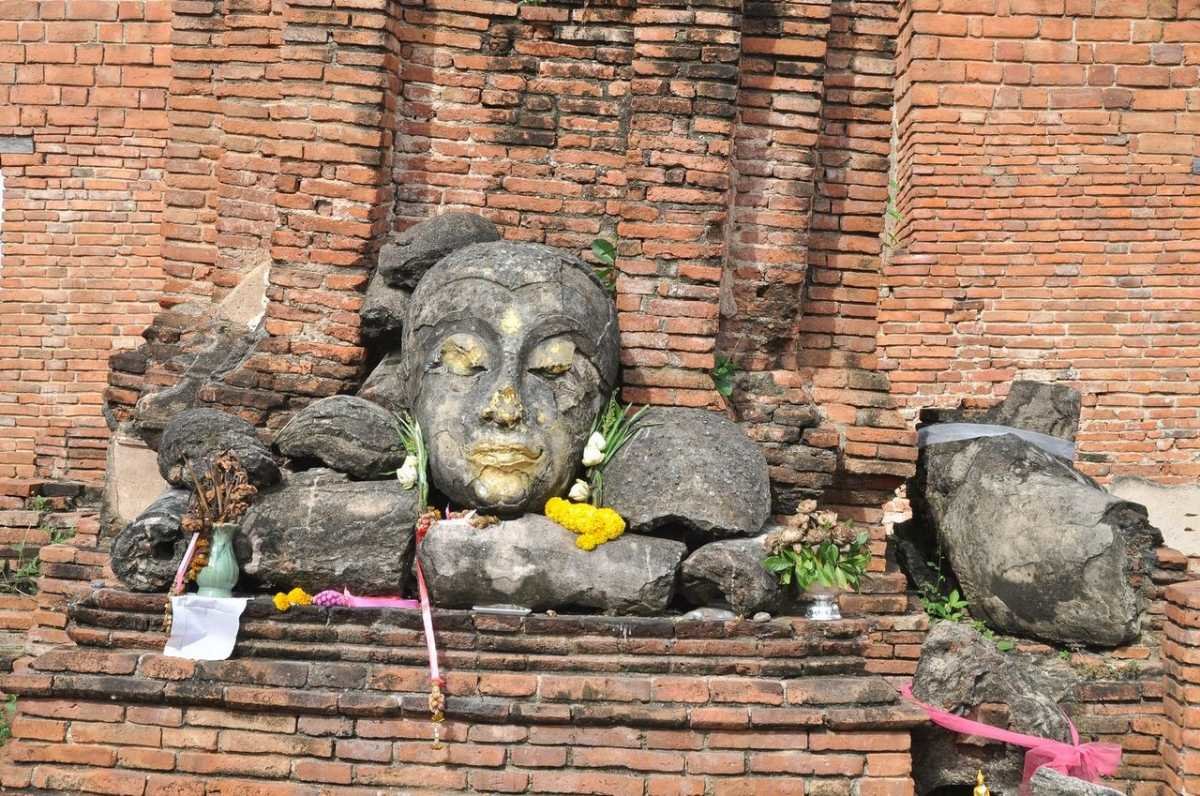 Thought to have been built to guard the ashes of King Naresuan, the bell-shaped stupa and a seated Buddha at its base define the whole place. A large sermon hall is the only structure more or less still intact.

Situated within a protected park including other beautiful temples like Wat Lokaya Sutharam and Wat Rakhang, Wat Worachettharam is said to have been restored to a considerable extent. The main Chedi of this temple sits upon a platform that has been reconstructed.

The vicinity houses a sermon hall and a Vihara or prayer hall for the Buddhist monks has been rebuilt to an extent. Lying to the north of the structure, the Ubosot has a statue of Buddha in the Taming Mara pose. A Buddha in the same posture sits by the Vihara alter as well. There is also an interesting gallery of fragmented Buddha images on a small platform along the walls.


How To Reach Wat Worachettharam

Wat Worachettharam can be accessed from two sides – the easier one is the small path leading to it from the western front from Khlong Tho Road. There is also another road running behind the park that leads to it from U-Thong Road.
There are several ways to get to this temple.

By Foot
The best way to reach here is to walk from either of the roads. That way you can explore the rest of the park and the other temples in it as well.

By Bicycle
You can also rent a bicycle for the whole day for just THB 61 per day and cycle to this beautiful ruin while exploring other parts of the park and Ayutthaya.

By Bike
If cycling is too tedious for you, you can rent a bike for THB 305 to THB 428 per day from various places in the city to reach the park which houses this temple.

By Tuk-Tuk
Tuk-Tuks are also available in Ayutthaya city and are the ideal comfortable ride that you can hire for THB 305 per hour.

By Rental Car – The most expensive option is to rent a car for the day. But if you can't take the heat, this might be your best option to visit this temple and other places in Ayutthaya.


Highlights of Wat Worachettharam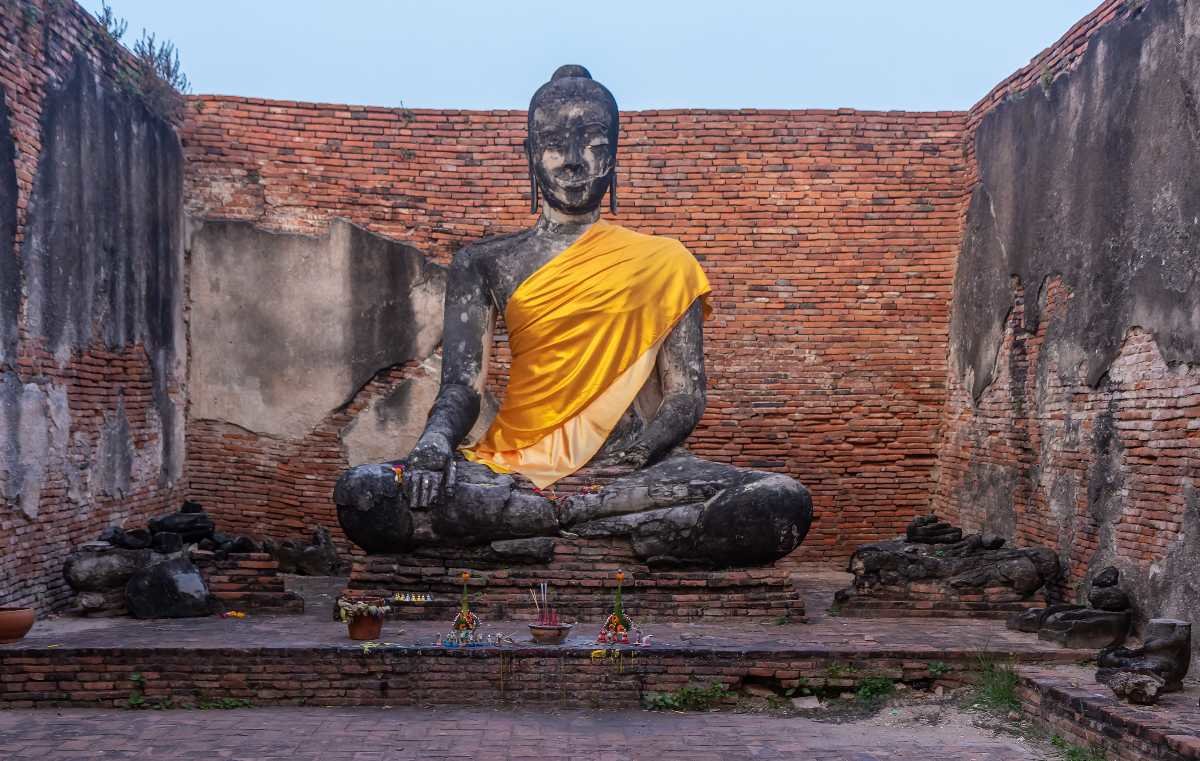 The most striking feature of this roofless ruin is its large bell-shaped Chedi that has been constructed in the classic Middle Ayutthaya period style. The spire has 25 rings, and its harmika is still intact, including an arcade that supports the spire. There is a Mandap (a pillared outdoor hall or a bell tower) on the north-eastern corner. Other structures also include a rectangular platform containing two Chedis indented with edges. Designed in the Late Ayutthayan style, these Chedis also have a small Chedi stub. There also seem to be traces that suggest there was once a moat here that created an exclusive island for this temple.


Wat Worachettharam History

Wat Worachettharam is often confused with another monastery called Wat Worachet to the west of the city island. Recording its history led to many difficulties. Both the sites are considered as possible burial places of King Naresuan's ashes. It is believed by most that King Ekathotsarot built this temple in 1605 for his brother King Naresuan after he died earlier that year.


Wat Worachet

But some other sources claim that 'Wat Worachet' was the temple built by King Ekathotsarot in memory of his brother. The Royal Chronicles mention that King Ekathotsarot built a temple on the site of King Naresuan's cremation. According to these chronicles, this temple had a great Stupa with a holy relic of the Buddha, a complete edition of the Tripitaka and dormitories for forest-dwelling Buddhist monks. These descriptions match with the layout of Wat Worachettharam.


King Naresuan's Remains

There are several other reasons to believe that Wat Worachettharam is the burial place for King Naresuan's ashes. Firstly the bell-shaped Chedi was prevalent when King Naresuan died. Secondly, Wat Worachettharam is closer to the Royal Palace, which contains the remains of other great Kings. In contrast, Wat Worachet is too far away on the outskirts of the city.

Also, Wat Worachet may have already existed during the reign of King Naresuan as Royal Chronicles mention about a war with the Burmese in 1563-1564. It is highly unlikely that King Ekathotsarot would construct a great memorial for his brother at an existing monastery.


Current Traditions
Today, Thai visitors often place ceramic roosters on the large bell-shaped Chedi at this temple to celebrate King Naresuan's enjoyment of cockfighting. They also pay homage to the tale that says while King Naresuan was a prince, he won a cockfighting bet against a Burmese prince for Ayutthaya's freedom.

Highway 3263
Ban Pom
Phra Nakhon Si Ayutthaya District
Phra Nakhon Si Ayutthaya 13000
---
Reviews (0)
No reviews yet.