Transportation in Thailand - A Quick Guide On Thailand's 9 Transport Modes
Thailand, a dreamy beachside paradise, is a country that has managed to retain its cultural integrity in spite of being a major tourist destination.
You can find everything here - from pristine beaches to dense forests, from ancient monasteries to coral reefs, from Buddhist monks to floating markets and finally the fragrant and rich food to treat your taste buds. But, we need to first figure out how to get to all these amazing places by figuring out the means of transportation in Thailand.

Thailand offers inexpensive yet diverse transportation facilities which can get you through its cities and different parts. While rural area transport includes bicycles and motorbikes, busses dominate the cities and other parts. So let's get you through some amazing modes of transportion in Thailand.


1. Tuk Tuk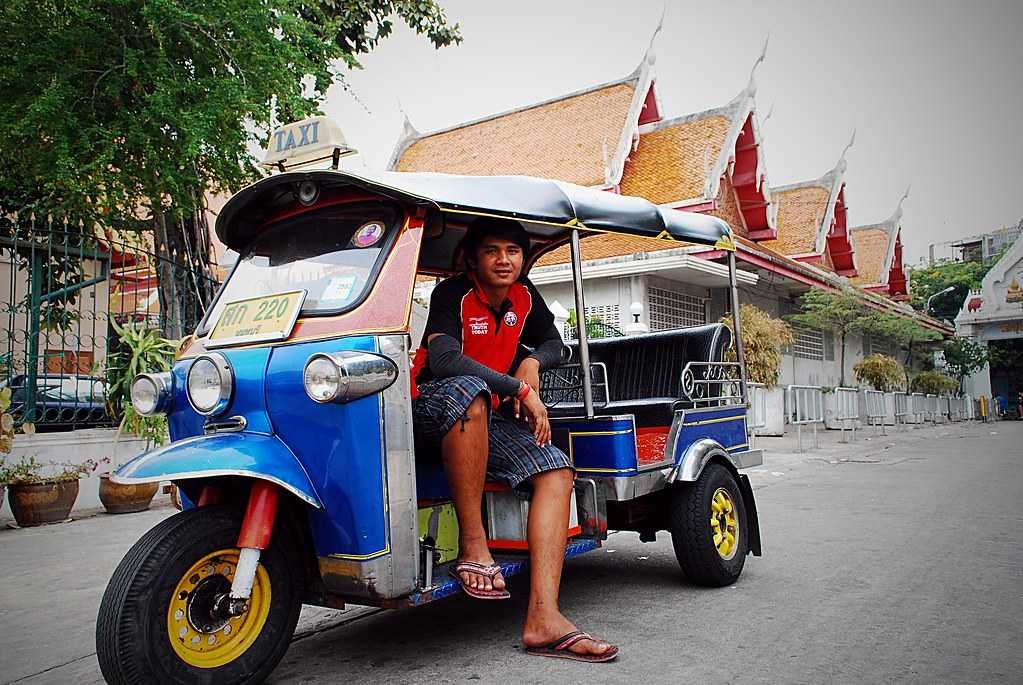 The tuk-tuk is a 3 wheeler vehicle which can carry about 2-3 passengers and can get you through short distances in cities. Being an indigenous mode of transport, the tuk-tuk is an attraction among tourists. More than 35,000 tuk-tuks run the streets of Thai cities (mainly Bangkok) and the fares vary from around 80-150 Baht. Since tuk-tuks don't have a meter like most taxis and motorbikes, hence a tuk-tuk ride can get quite expensive if you do not have negotiating skills.

Things to Keep in Mind when Hiring a Tuk Tuk in Thailand

1. Keep your belongings safely in between your legs and watch out for notorious snatchers who sway around the city of Bangkok.
2. Sometimes they can be more expensive than taxis and it is thus highly recommended to explore all the options and compare the fares before booking a ride.
3. There always lies a risk of potential scams as the drivers could go to any extent to somehow take extra money from their passengers.

Tuk Tuk Fare in Thailand:

Hone your bargaining skills up to the mark for you need a lot of it! Before getting into a tuk Tuk, set a price skilfully, for there exists not standard, predetermined fare in such a ride.


2. Taxi


Taxis in Bangkok are a convenient yet inexpensive mode of transportation in Thailand to travel around short distances. If you want a break from the scorching Bangkok heat and have affordable air-conditioned travel experience, get a taxi. Though in some cases the motorbike taxis are preferred due to the vexatious traffic conditions.

Tips to Keep in Mind when Hiring a Taxi in Thailand:

Fares vary there due to the absence of meter systems which causes the drivers to charge anonymous rates. Be sure to check if a taxi has a meter in it before getting on.
The taxi helpline number is 1164 - in case you get in any tussle with the driver.

Taxi Fares in Thailand:
It starts from 35 BAHT and increments at a rate of 5 BAHT per kilometre. Once you are stuck in traffic, the rate boils down to 2 BAHT per minute.


3. Motorcycle Taxi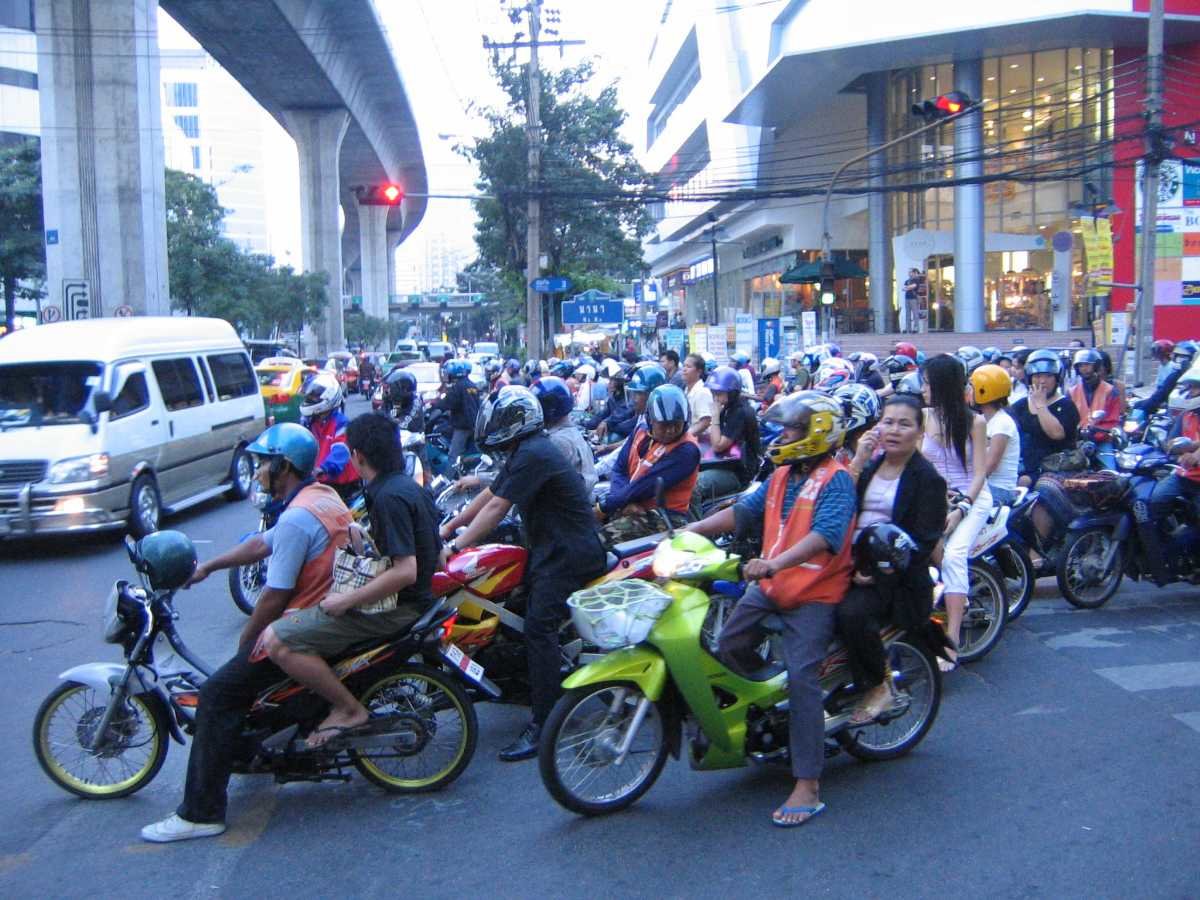 If you are fearless of climatic changes and are not carrying a bulk load of luggage, then the motorcycle taxi might well suit you. It can get you through almost anywhere in any part of Thailand (excluding some rural areas). Fares depend on the distance you travel.

Things to Keep in Mind when Hiring Motorcycle Taxi in Thailand:

Since these taxis are used for covering short distances, hence the fare estimates vary between 20-100 THB.
The drivers are quite knowledgeable about locations and hence the chances are slim that you get in the wrong place.
You can travel in pairs as well in these motorbikes without much contrast in fare rates.


4. The Songthaew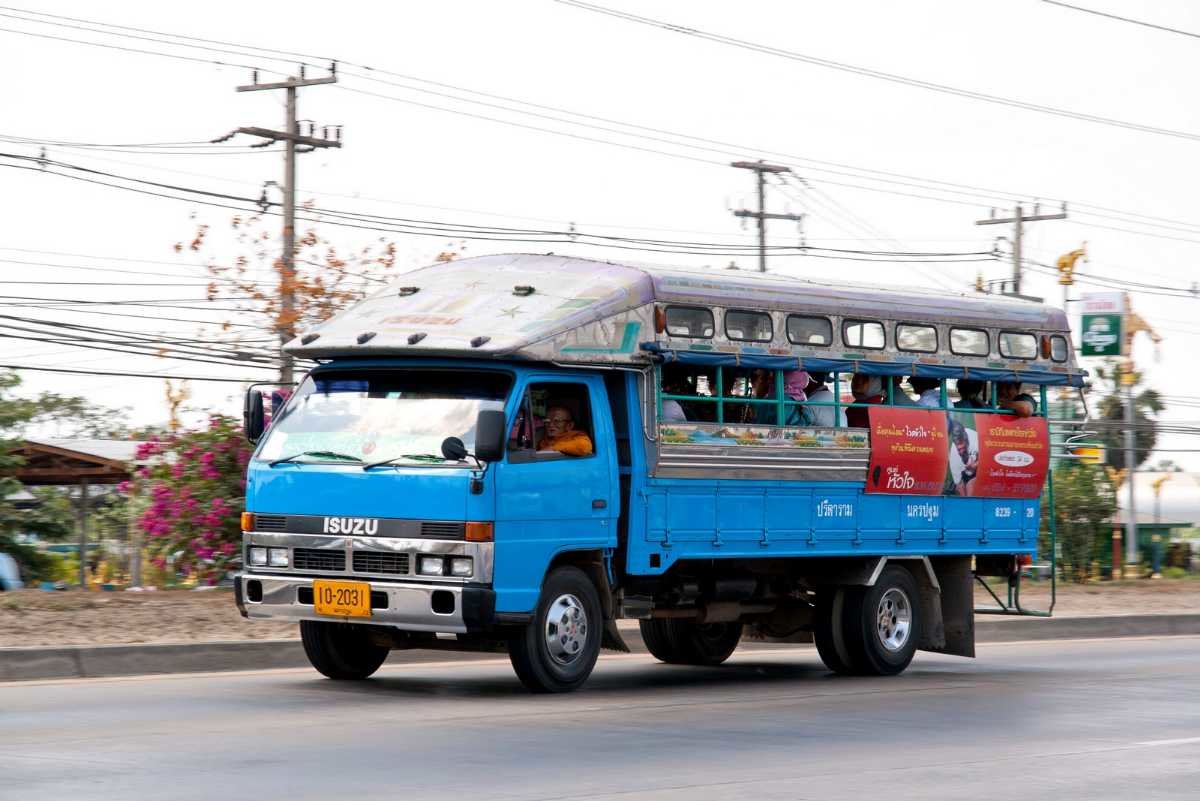 Songthaew are 4 wheeler cars which are modified like a mini truck to accommodate passengers. If you are in search of a cheap yet reliable mode of transportation in Thailand, then Songthaew could be the best bet. There are two rows of seats with someplace left at the back for people to stand and travel while holding onto it.


Things to Keep in Mind when Hiring a Songthaew in Thailand:

Buzzers are available at the top of the roof which can be pressed to stop the vehicle once you have reached your destination.
Fares start as well as even end at a mere 10 THB while travelling inter-city distances.
Although, if you are in a rush to someplace, try avoiding the songthaew as it's not that fast.


5. Bus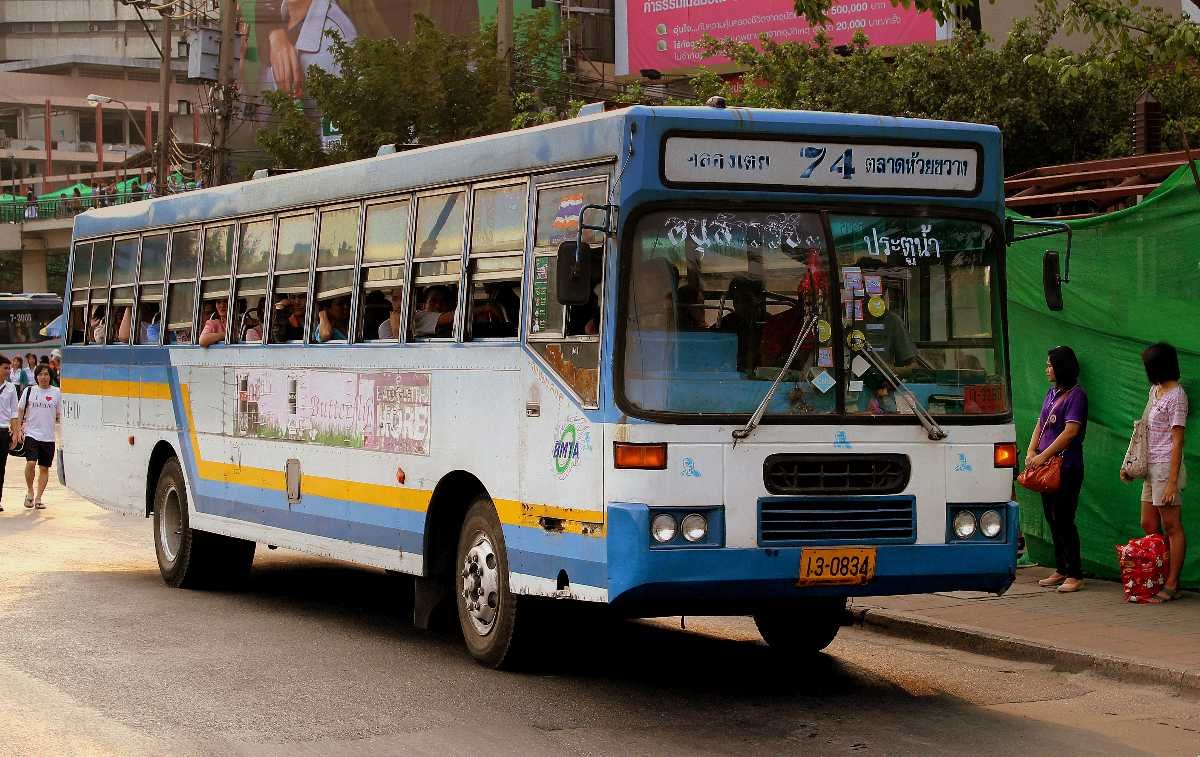 With a wide variety of air-conditioned VIP buses for long-distance travels to non-air conditioned government buses for short routes, Bangkok offers the largest bus service system in the country.


Things to Keep in Mind when Boarding on a bus:

In smaller cities and towns too, bus services are available which are routed towards other cities, towns and popular tourist destinations.
The cheapest bus service in Bangkok starts from 7 THB only. Moreover, air-conditioned private buses provide a cheap yet luxurious alternative to flights and trains.
Government buses act as an affordable and convenient travel alternative as compared to taxi and motorbike taxis for short routes


6. Bangkok BTS Skytrain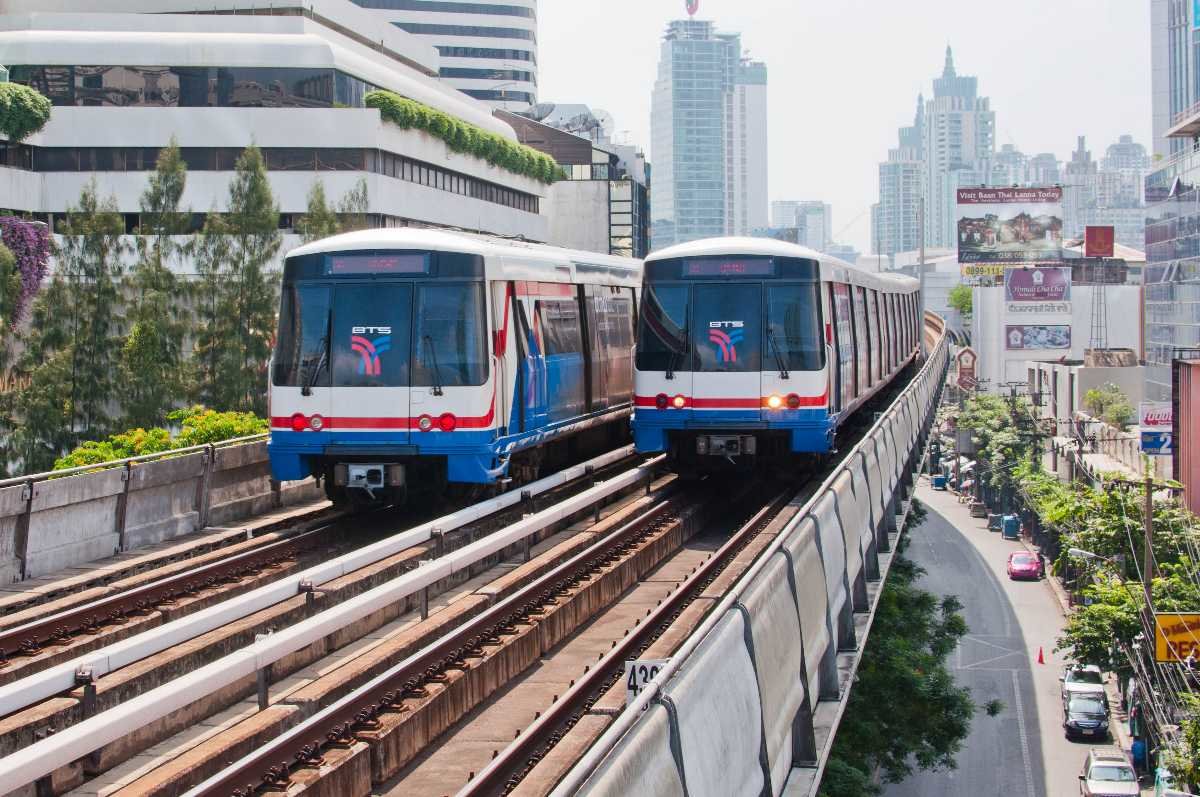 The Bangkok Mass Transit System (BTS) Skytrain offers an elevated railway experience and acts as a blessing in disguise for daily passengers who are wearied from daily Bangkok traffic. This mode of transportation in Thailand is one of the most affordable and fastest means because you beat traffic.


Things to Keep in Mind when Boarding Trains from Bangkok BTS Skytrain:

The Skytrain offers a cheap yet reliable and fast travel experience from 5:00 AM till midnight from Monday to Friday which can get you through almost anywhere across the city.
This overground railway system inculcates the Sukhumvit as well as Silom line and thus connects popular tourist destinations as well as major places in Bangkok with up to 32 stations.
Being a cheap travel alternative, the Skytrain does get crowded during weekdays and a downside is that it does not cover all of Bangkok.
The Airport link trains operate from 6 AM to 12 AM.

The BTS has 2 lines:

1. The Sukhumvit Line: It runs from North to South starting Mo Chit and ending at Samrong. It sweeps through important areas like Victory Monument, Siam which happens to be the Central Station, Nana, Asok, and all the other stations on the street Sukhumvit.
2. The Silom Line: The terminal stations for this line are the National Stadium and the Bang Wa in Thonburi.

MRT, BTS and Airport Express Link Fare in Bangkok:
All rates and standardise and pre-determined. The ticket machine lists all the rates along with its destinations.


7. Bangkok MRT Subway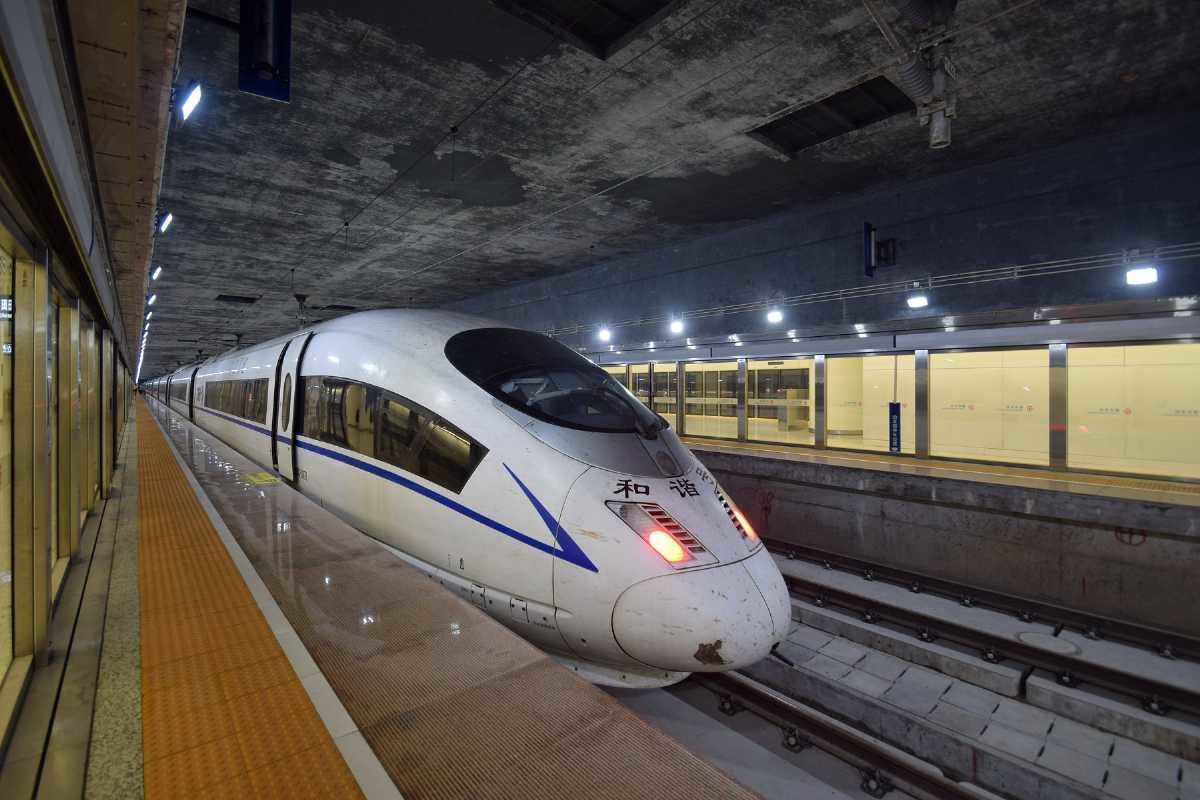 Also known as the Blueline, the MRT subway is an underground railway network which covers different parts of Bangkok city that are inaccessible via the Skytrain.


Things to Keep in Mind when Boarding Trains from the Bangkok MRT Subway:

Stopping at 18 stations, this railway system to does provide affordable yet fast travel options barring the congested traffic via roads.
Operating from 6:00 AM till midnight, five days a week excluding Saturday and Sunday, it intersects the Skyline at various destinations.
The BTS, as well as the MRT Subway, have colossal contributions towards refinements in Bangkok's traffic conditions.
The essential stops covered by the MRT includes the airport, Chatuchak Market and the Sukhumvit
The MRT trains operate from 5 AM to 12 AM as well. It runs every 10 minutes. However, during the rush hours(6 AM - 9 AM; 5 PM - 8 PM), it runs every 5 minutes!
The airport rail link has only one line which connects the city to the airport.


There are two lines in the MRT:

1. The Blue Line: IT Starts at Hua Lamphong.
2. The purple line: It connects outer Bangkok with central Bangkok and is mainly used by the locals.


8. Train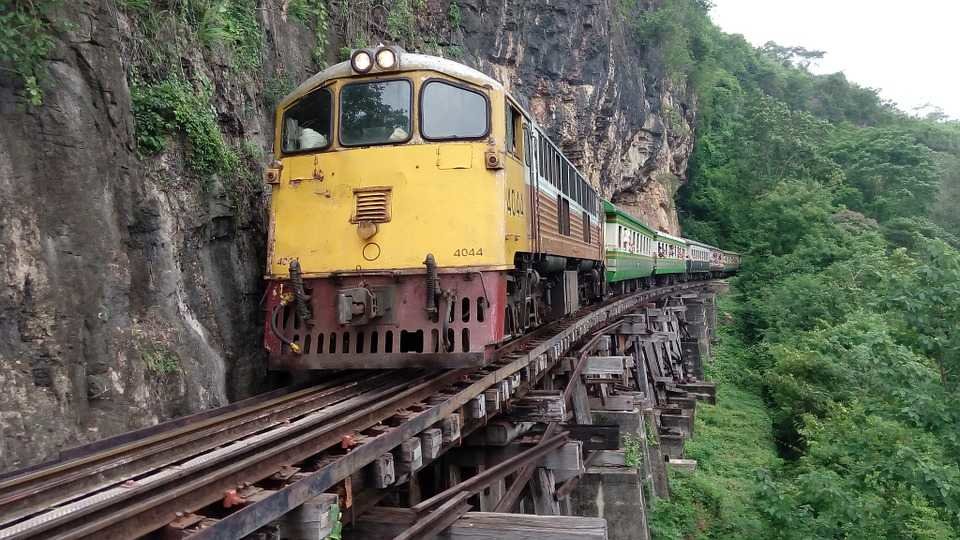 Though the Railways do not cover all of Thailand, this quick mode of transportation in Thailand still provides an exquisite and comfortable travel experience that no other transport alternative can offer. The Eastern Railway Line goes till the Cambodian border following the capital of Cambodia Phnom Penh. The other side goes till the coasts of Pattaya. The Northern Line goes directly to Chiang Mai. The Western Line covers all of Nam Tok while the Southern line goes to Malaysia. Hua Lamphong Railway Station in Bangkok is the central station for all train travel across Thailand.


Things to Keep in Mind while Opting to Board a Train in Thailand:

The first class is quite expensive as compared to a budget flight ticket but does offer you immense luxurious experience and comfort as the cabin is air-conditioned and has a double bed.
The second class is more affordable than the first class and the third class is the least expensive of them all. So for short distances, third class could be the best option.
An important thing to note is that during weekends the train tickets do get sold out quite frequently so booking them in advance could be a better move while traveling.


9. Flights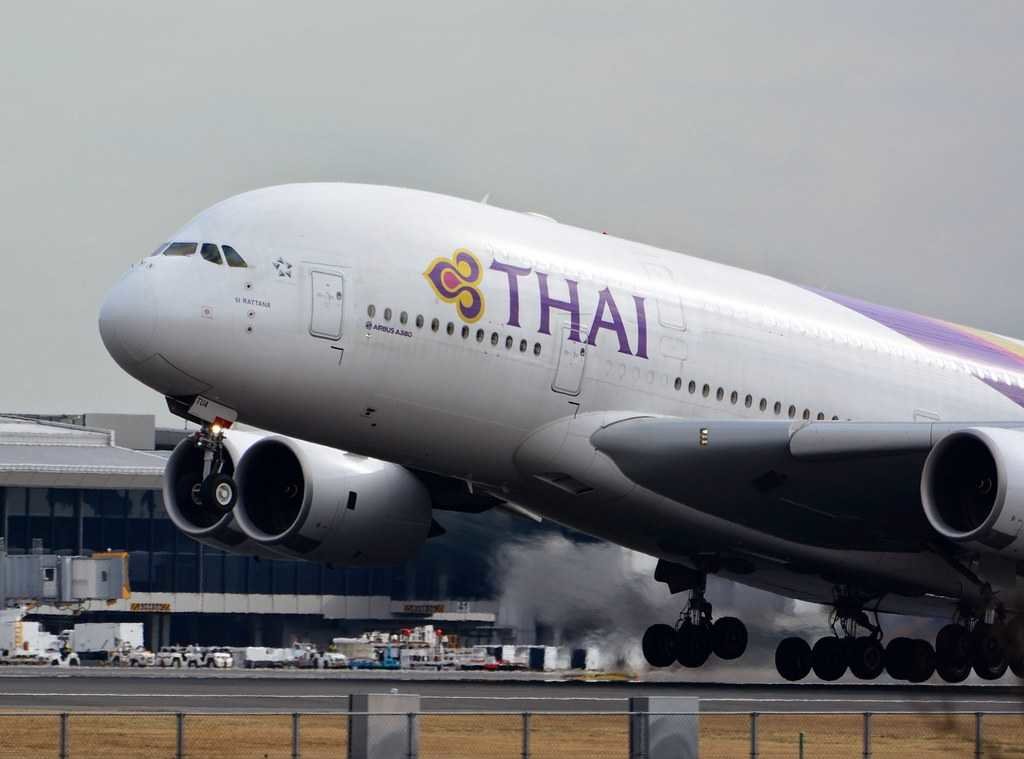 Having 6 international airports and 23 domestic ones, Thailand offers an exquisite flight experience. Often referred to as the travel hub, the Suvarnabhumi international airport in Bangkok can get you to popular destinations with international as well as domestic flights.


Things to Keep in Mind if You choose Flights:

If you want to travel within the country, then Thai Airlines (the national airlines in Thailand) are routed towards popular tourist attraction spots like an island and other parts of the country.
Bangkok Airlines are destined in many parts of the country itself from Chiang Mai in the South to Phuket in the North which can be covered in as less as an hour's time.
Affordable flight tickets are offered by airlines such as Air Asia which traverse passengers to South East Asia as well as popular destinations in Europe.

However, the flight scenario of travel is a bit more on the expensive side when compared to taxis, buses or even trains. So be ready to rip your pockets off before taking the flight experience.

So these were the 9 modes of transportation in Thailand which will surely escalate your time of travel and the experience of your journey.

---
Reviews (0)
No reviews yet.