Thai Boat Museum
The Thai Boat Musuem is a private establishment owned by a Mr. Ajarn Paitoon Khawmala.
Recommended for
Adults
Families
Kids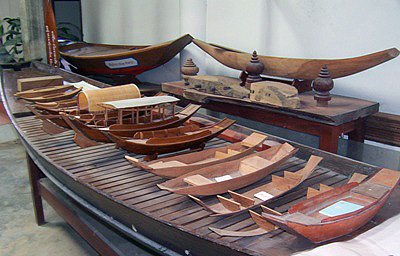 Mr Khawmala felt a spiritual bond with Thai-styled boats and as a teacher in the Shipbuilding Technical School, decided to share his love for boatbuilding with the world.

The museum not only features actual size and scale models of boats and ships but also blueprints and sketches of unfinished models. The fact that the Thai Boat Museum in Ayutthaya is a private enterprise is a surprise for most of the visitors. Ajarn Paitoon also renovated the traditional Thai boat models and collected them to display in his museum, which now stands as a symbol of his love for boats. The Thai Boat Museum closes at lunchtime; hence, it is suggested to visit earlier.


Thai Boat Museum History

Upon realising that these Thai ships and boats would go unrecognised by the future generations, Prof. Paitoon Khawmala established the Thai Boat Museum in Ayutthaya in 1994. His experience at the Naval Shipbuilding School (Shipbuilding Industrial and Technology College) brought him closer to his dream setting up this museum. This museum has now become a knowledge source for students and interested public as well. He invested his own savings, including his pensions to build another house, thus shaping it into the famous Thai Boat Museum.


Thai Boat Museum Exhibitions

The famous Thai Boat Museum in Ayutthaya has different sections belonging to various groups of exhibits and models.


Section 1: Ancient Boat Building

The first section is of Ancient Boat Building exhibiting ancient Thai boat models, some of which are almost or even more than a century old. Real Thai boats like long dugout (Cha La), made of teak wood, shack dugout (Maad Geng), made of whole trunk of ironwood, Ma sailing boat, and Moo boat are some of the exhibits in this section.


Section 2: Thai Ship and Boat Models

The next section includes Thai boat and ship models designed in gold teak wood. Most of which were structured and built by Ajarn Paitoo, who used ancient junk building equipment to create wonders in the Shipping technology and boat building mechanisms.


Section 3: Outdoor Exhibitions

This outdoor section has exhibits of huge boats such as Kra Chaeng boat, made of teak wood, a Suvanvijitr boat model, made of whole ironwood trunk and a motorboat called "Paitoon Ratanava". With these boat designs dating back to over 40 years now, each model is credited to Ajar Paitoon's skill and idea. In addition to indulging in the museum exhibits, one can also enjoy Sumpun boats that sell coffee, noodles and Thai desserts. If interested, visitors or students can also drop by a Boatbuilding demonstration available at the museum.

11/11 Naresuan Rd
Tambon Hua Ro
Phra Nakhon Si Ayutthaya District
Phra Nakhon Si Ayutthaya 13000
---
Reviews (0)
No reviews yet.