Smoking in Thailand - The Essential Smoker's Guide
Everyone is aware of how deadly passive smoking is, and hence, the Government of Thailand is actively working towards curbing smoking in Thailand.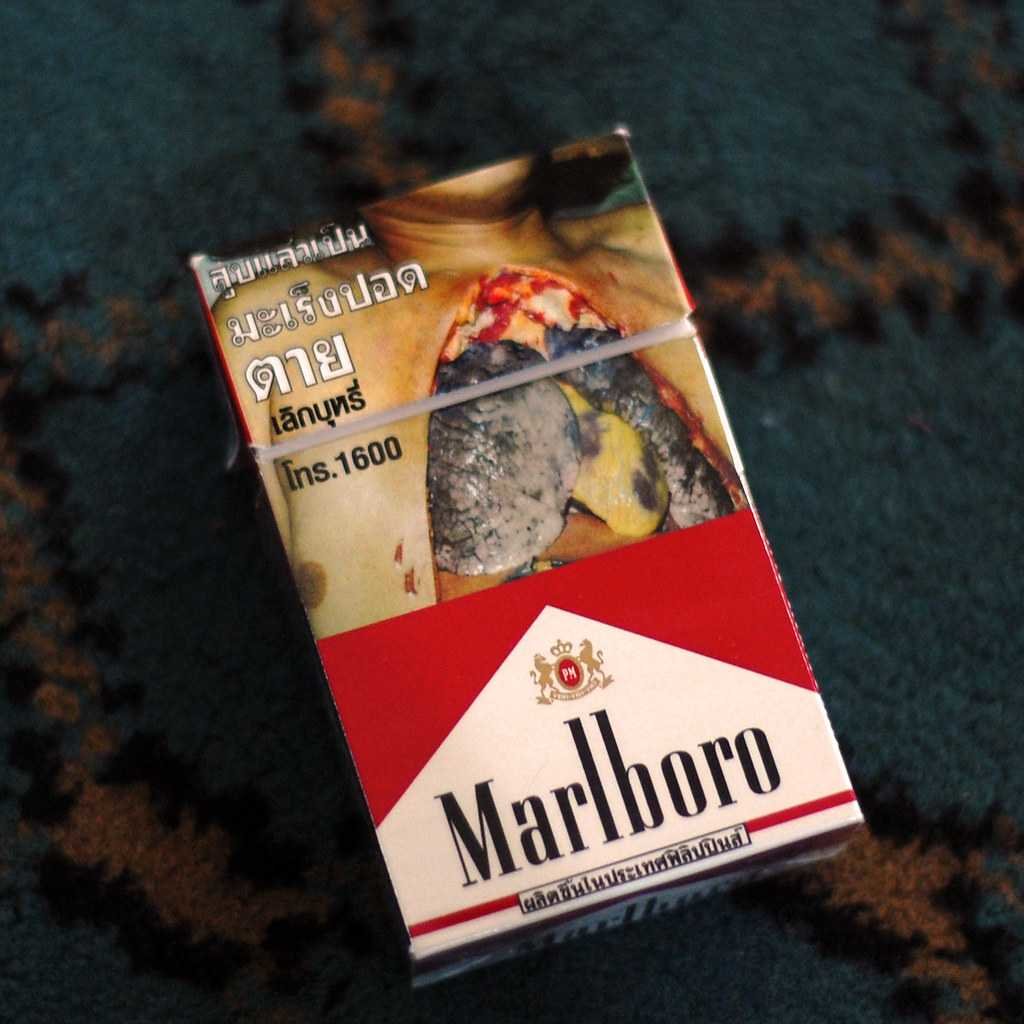 In recent times, stringent laws have been introduced to prohibit smoking in certain areas, and smokers visiting Thailand should be well aware of these laws.
Read on to know more about smoking in Thailand.


Thai Smoking Stats
Smoking is something that is discouraged by all, owing to its ill effects on one's health as well as the health of bystanders. According to reports, 46.9% of the adult population in Thailand is exposed to passive smoking in restaurants, 30.5% at the workplace and 25.6% are exposed to passive smoking in other public areas.


Recent Laws
Although smoking is allowed in Thailand, the Ministry of Public Health in Thailand has stringent rules and regulations about smoking in public. Since 3rd February 2019, the level of these rules has been upped. Failing to abide by the rules, might lead to hefty fines as well as years of imprisonment.
Key pointers of the New Smoking Law

Smokers are not allowed to smoke in public buildings or public areas, except for open-air areas.
There is a 5 meters exclusion zone around the entrances and exit areas of all significant public spaces.
Smoking in restaurants, bars and pubs are also not allowed. However, some places do have designated areas for smoking.
Smoking is banned in 24 beaches in Thailand on account of the harmful effects of cigarette butts on the environment.
Smoking is not allowed in Thai Airports. In some airports, the designated smoking rooms have also been banned.
There are certain permissible limits for tourists planning to bring in cigarettes into the country.
E-cigarettes are strictly banned in the country.
No-Smoking signboards have been made more prominent for people to be more aware of where they cannot smoke.


No-Smoking Zones per Latest Law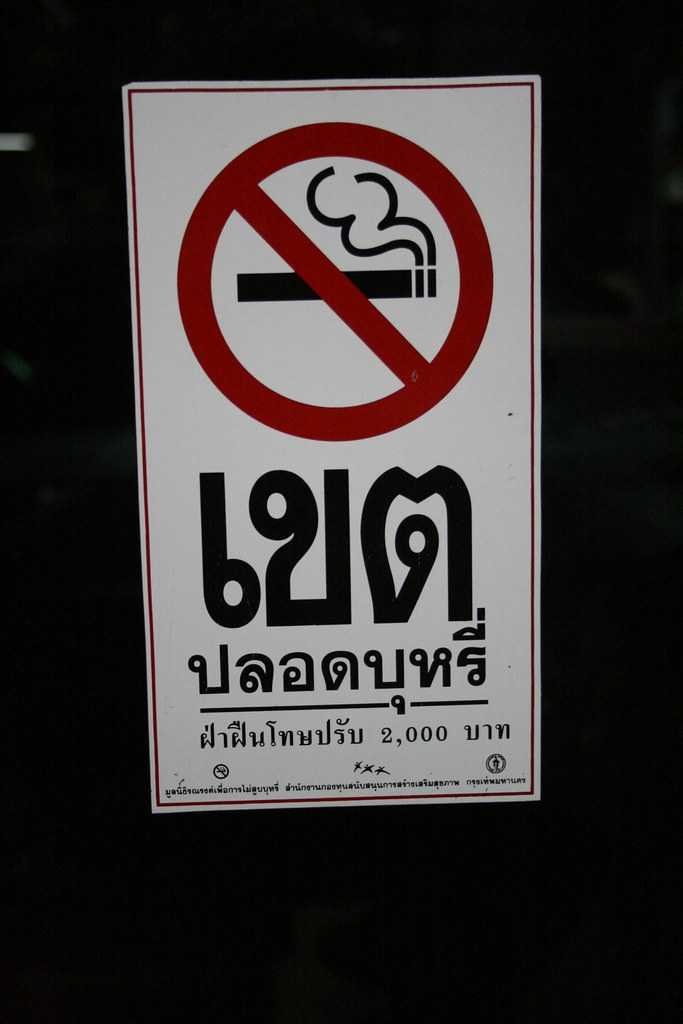 Hospitals
Clinics
Drug stores
Bars
Restaurants
Health and massage parlours
Learning centres
Nurseries
Libraries
Homes for the elderly
Government organisation offices
Meeting areas like restaurants
Shopping malls
Religious places
Fitness centres including parks, swimming pools and gymnasiums
Grocery shops
Laundry shops
Games stores
ATMs and banks
Theatres
Zoos
Amusement parks and water parks
Parking lots
Public toilets
Bus stops
Taxi stands
Piers
Hotels and Condos
Airport


Smoking Ban in Thai Beaches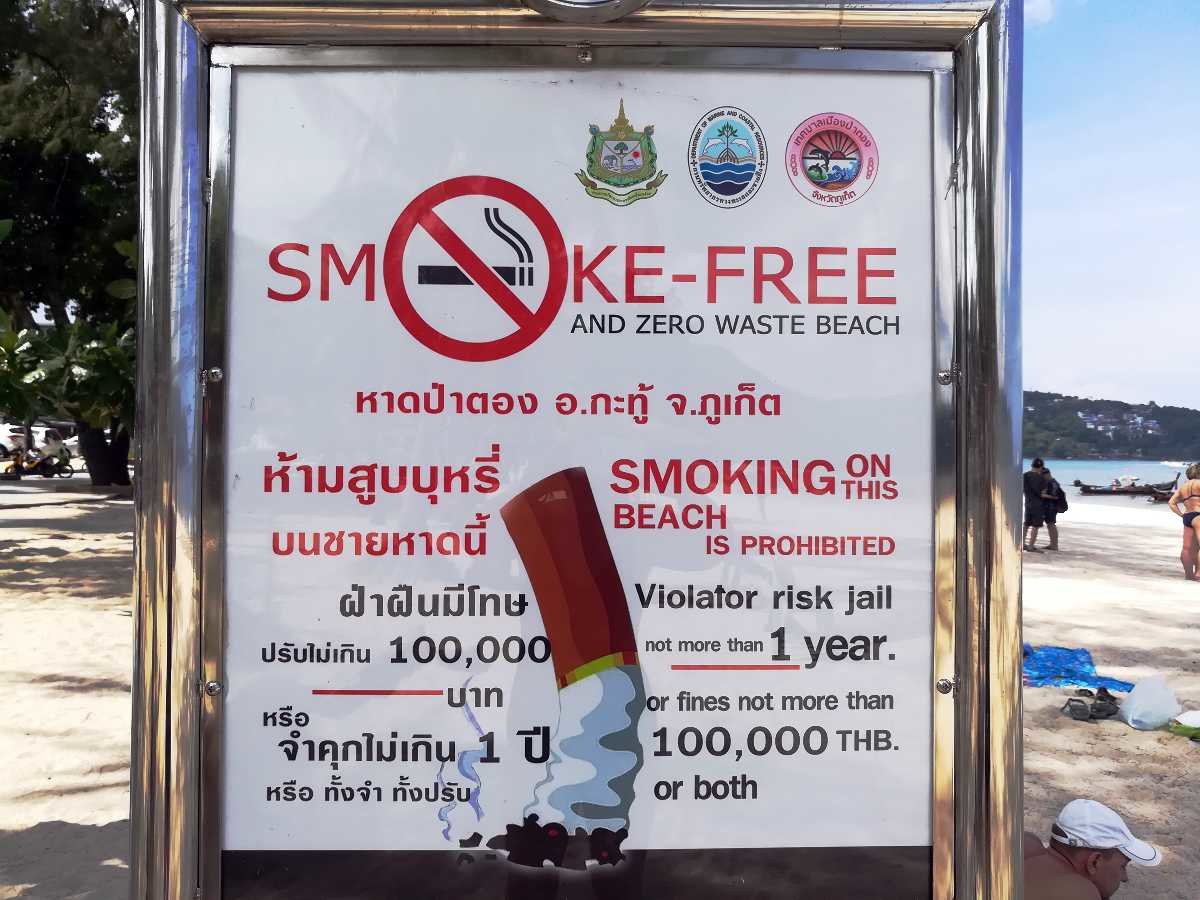 Most of the beaches you visit in Thailand will have 'No Smoking' signboards at almost every corner. This is done to make people aware of the law which came into force on 1st of February 2018, according to which, smoking on the beach is illegal. If you're found doing so, you will be fined up to THB 100,000 or one year of imprisonment, or in some cases, both. This law was introduced to avoid environmental affliction caused by the burial of cigarette butts in the sand by smokers because according to reports, cigarette butts comprise around one-third of the total litter on the beaches.
24 Beaches with Strict Prohibitions
1. Khok Wang Beach, Krabi
2. Khlong Dao Beach, Krabi
3. Phra Ae Beach, Krabi.
4. Tham Pang Beach, Chon Buri
5. Bang Kaen Beach, Chon Buri
6. Ban Cheung Beaach, Trat
7. Laem Sade Beach, Chanthaburi
8. Ko Kai Nai Beach, Phang-nga
9. Ko Kai Nok Beach, Phang-nga
10.Khao Lak Beach, Phang-nga
11.Patong Beach, Phuket
12.Chalok Ban Kao Beach, Ko Phangan, Surat Thani
13.Bo Phut Beach, Ko Samui, Surat Thani
14.Cha-am Beach, Phetchaburi
15.Sai Kaeo Beach, Chon Buri
16.Dong Tan Beach, Chon Buri
17.Hua Hin Beach, Prachuap Khiri Khan
18.Hat Said Res Beach, Champhon
19.Khao Takiab Beach, Prachuap Khiri Khan
20.Plai Sai Beach, Nakhon Si Thammarat
21.Chalatat Beach, Songkhla
22.Wasukree Beach, Pattani
23.Hat Samran Beach, Trang
24.Saeng Chan Beach, Rayong

If you want to smoke, there are designated areas away from the beach. The Litter Police keep an eye on these beaches at all times. Do not smoke in the 'No Smoking' area or bury butts anywhere on the sand, to avoid punishment.


Pro tip:
Litter Police scams are very common in Thailand. Litter Police is actually a division of the Thai Municipality, where the officers look for illegal posters and penalize people who litter in public places. If you are caught and asked to pay a heavy fine, and threatened to be arrested if you do not pay, call the tourist police helpline immediately, because this is a scam. They do not have any right to get you arrested.
Tourist Police Helpline number: 1155


Vaping and E-Cigarettes are Illegal too


Using e-cigarettes for vaping or smoking in Thailand is an offence. People found guilty can be charged with a hefty fine or sometimes can even face years of imprisonment. The rules are the same for tourists as well as locals. There have been instances where tourists unaware of the ban, carried e-cigarettes and were charged a hefty fine, several times of the actual price of the e-cigarette. So if you are travelling to Thailand, never carry e-cigarettes because if you are convicted, you can be detained and fined heavily.
Smoking at Airports is Prohibited
All airports have separate smoking rooms and airports in Thailand did too. But recently, abiding by the Smoking laws, The Airports of Thailand (AoT) have shut the smoking rooms in some of the airports. The airports which no longer have smoking rooms are:

Bangkok Suvarnabhumi
Bangkok Don Mueang
Chiang Mai
Chiang Rai
Hat Yai
Phuket

Bangkok's Suvarnabhumi Airport out of the six is the only airport where smoking is allowed inside the airport in a separate zone. The AoT previously announced that they would be setting up smoking areas outside the terminals, but there have been no such areas designated yet. So, before lighting up a cigarette anywhere in the Airport, have a good look at the signs, to avoid unnecessary legal hassles.


Penalty for Public Smoking in Thailand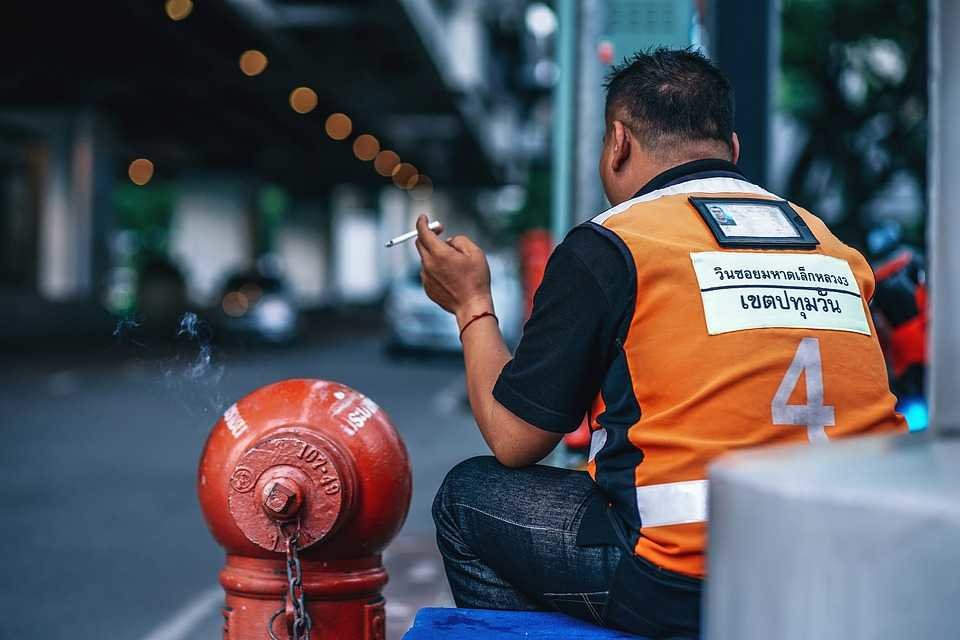 For smoking in public areas such as government organisation buildings, office buildings and shopping malls, you can be charged a fine of around THB 2000 or more. For beaches, you can be fined as high as THB 100,000 or/and a year of imprisonment. Since one-third of the total litter on the beaches account for cigarette butts, the ministry has come up with such stringent laws.


Smoker Tips Before Entering Thailand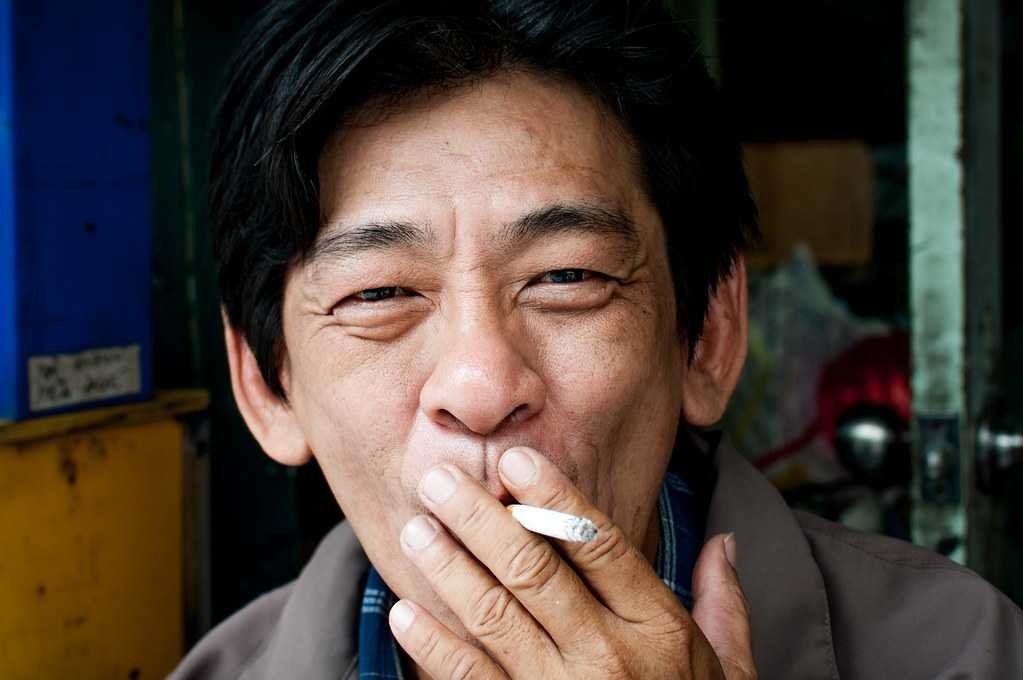 1. The legal age for smoking in Thailand is 20 years. Initially, it was 18 years, but recently, it was increased to 20 years. So, if you are below the age of 20, you can neither get cigarettes into the country nor can you buy cigarettes for smoking in Thailand.
2. You can legally bring in 200 cigarettes at a time when you enter the country, without paying customs duties. If you are found carrying more than 200 cigarettes, you can be fined heavily.
3. If you smoke tobacco, you can bring in 500 grams at a time, per person.
4. Most supermarkets like Family Mart and 7-Eleven sell cigarettes. The most expensive cigarettes in Thailand (Parliament) can cost you around THB 200 per pack, and the cheaper varieties (like L&M) can cost you around THB 89.
5. You can get cigarettes in the Airport Duty-free shops as well, but the prices are usually several times higher than what you get in the supermarkets in Thailand. The average price is around THB 700 for 200 cigarettes.

Smoking is a chronic consumption, and while smokers do know the ill-effects, it takes time to get rid of this habit altogether. So, despite the attempts of the Government of Thailand, complete eradication of smoking will take some time. If you happen to be a smoker, thinking of visiting Thailand, do make sure that you have comprehensive knowledge about the smoking rules in Thailand to avoid unnecessary legal hassles.

---
Reviews (0)
No reviews yet.