King Naresuan Monument
Situated towards nothern Ayutthaya, The King Naresuan Monument was constructed after being sanctioned by Her Majesty Queen Sirikit in memory of the bravery of King Naresuan.
Recommended for
Adults
Families
Kids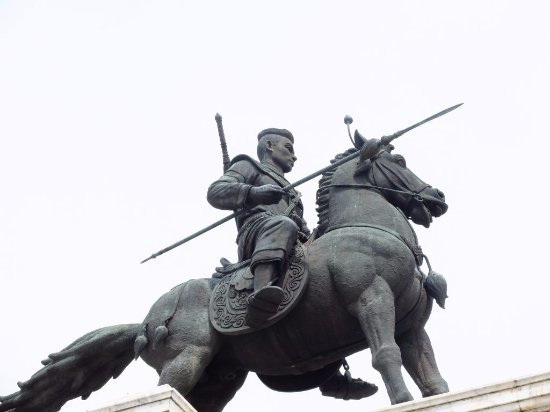 One of the most revered monarchs in Thai history of Thailand, King Naresuan, also known as 'Naresuan the Great' or 'Sanphet II' is said to have freed the Ayutthaya kingdom from Burmese control. Surrounded by lush green parks and a reservoir, the monument houses the King Naresuan museum as well.

The King Naresuan Monument can be easily seen from Highway 309. Known for his military accomplishments and pivotal role in asserting independence for the Siamese from the Burmese, this monument in his memory was completed in 1999. The location of the monument stands where many battles took place against the Burmese, thus acts as an emblem of Thai pride. Created by sculptor Chin Prasang The King Naresuan monument is made of marble and metal showcases. There are also many rooster statues here symbolising the bet between King Naresuan and a Burmese Prince.


Rooster Statues at King Naresuan Monument

The Legendary Rooster Fight

Legend has it that while King Naresuan was still a Prince, he betted on Ayutthaya's freedom from the Burmese control if he won in their cockfight. Prince Naresuan's rooster won the battle, and the Burmese prince was ashamed. People bring these rooster statues here as offerings to answer their prayers and hundreds of them can be spotted at this monument.

Lum Phli
Phra Nakhon Si Ayutthaya District
Phra Nakhon Si Ayutthaya 13000
---
Reviews (0)
No reviews yet.