What's Up A-Go-Go
Pattaya Walking Street Go-Go Bar
What's Up A-Go-Go is well-known as one of the most expensive clubs on Walking Street, but remains probably the most popular nonetheless, with punters packed to the rafters every night. A combination of exciting shows, good music and a great layout keeps people coming even throughout the low season.

Found a short distance down Soi 15, the place is sometimes called What's Up Imagine Club or What's Up Playgirls. Whatever the correct name, it is situated just past Angelwitch Ago-Go and is virtually impossible to miss. The white frontage with the giant silvery question mark really stands out on the dark soi.

The colour scheme continues inside, with practically every surface being white or mirrored. Local beers and soft drinks prices start from 185 baht, spirits from 215 baht and lady drinks at 250 baht each.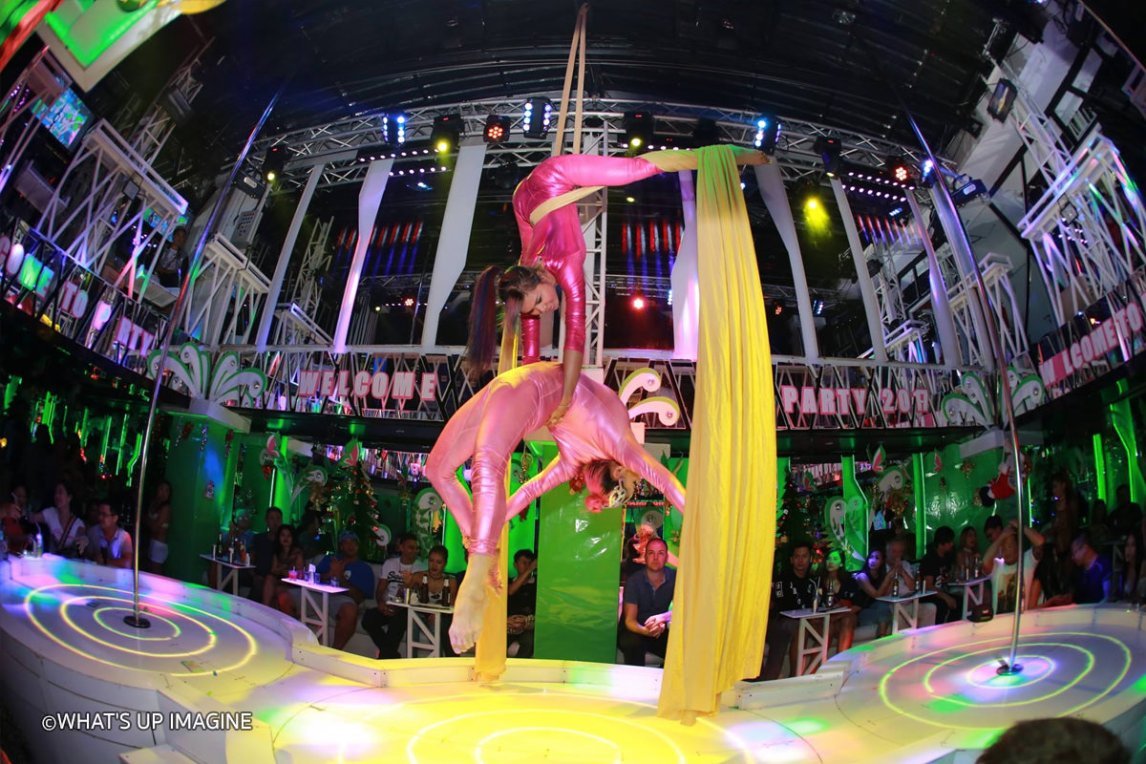 Part of what makes What's Up A-Go-Go stand out from the dozens of other similar bars in Pattaya is the layout of its stages. While the majority of go-gos have one long central stage with tiered seating along the walls, What's Up has three or four smaller stages dotted around the large room, each accommodating about six to eight dancers. During some of the special shows, punters from the audience will get a seat on one of the stages.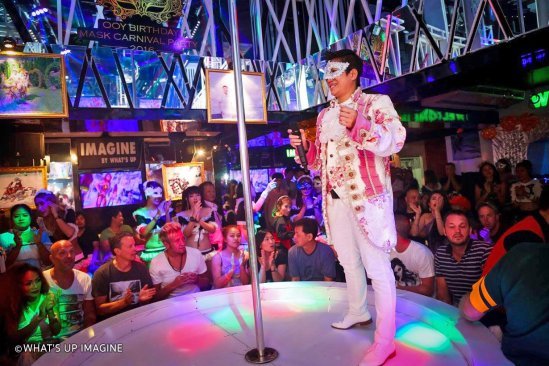 The staff are very friendly and certainly won't shy away from interacting with guests. On the downside, with the aforementioned 250-baht lady drinks, such interactions can get very expensive very quickly. The servers do have a bit of a reputation for being on the pushy side when it comes to getting you to buy drinks, but not aggressively so. Many of the staff speak English fairly well and the music is not so loud as to make conversation impossible.

What's Up A-Go-Go is one of the older clubs on Walking Street and its excellent reputation is a big part of what allows them to charge so much for drinks (among other things).

Opening Hours: 20:00 – late

103/11-14 Moo 10
Walking Street Soi 15
South Pattaya
---
Reviews (0)
No reviews yet.