Wat Kudidao
Located to the east in front of the railway station, this old monastery was beautifully constructed with better craftsmanship than many other temples as can be seen from the remaining ruins which have been left deteriorate.
Recommended for
Adults
Families
Kids
Attraction type
Historical
Wat Kudi Dao is eastward outside Koh Muang in the area of tambon Pai Ling, amphoe Phra Nakhon Si Ayutthaya, Phra Nakhon Si Ayutthaya Province, not so far from Wat Maheyong. This temple was a huge temple in the Late Ayutthaya Period. Viharn and ubosot here are in quite good shape so that tourists can imagine their greatness in the past easily. This temple is something like the twins temple of Wat Maheyong because both of them were renovated.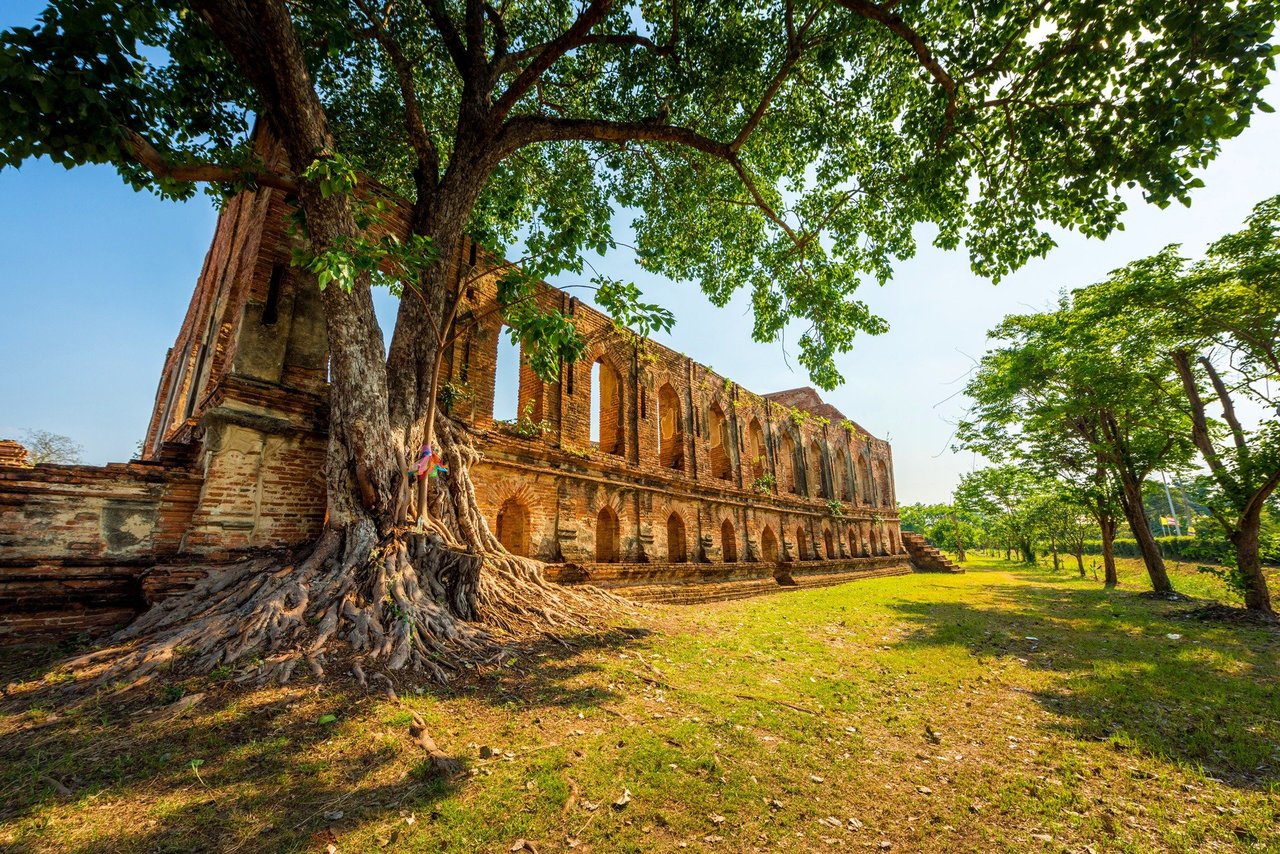 Wat Kudi Dao was restored in the reign of Phrajao Tai Sra which was in the late Ayutthaya Period therefore its condition is better than other temples in that area. The temple is rectangular facing the sun in the east. A big building in good condition near the front gate is around Viharn presumed to be very popular in the late Ayutthaya Period. The main stupa is next to Viharn. There is only the Lanka style base left. The squared-based of stupa here is different from others: there were 2-notched Singha's legs folds on it. The building next to the stupa is presumed to be ubosot but Bai Sema, the boundary marker of the buddha area was never found. Its walls are all in ruins revealing its pillar towering orderly. The next building is a 2-storeyed residence called "Tumnuak Kummasian" assumed to be the viceroy's when he came to look after the renovation of this temple and became a sermon hall after the renovation was done. Wat Kudi Dao is the best place for those who love visiting ancient places to enjoy vintage architecture sight-seeing as it is peaceful and buildings are still in quite a good condition that you can see their gorgeous details clearly. For travel guide, drive along Asia Road and Rojana Road to Koh Muang, when arriving at the stupa of Wat Sam Pluem, turn right and circulate the roundabout then drive along the road. Wat Kudi Dao is on the left side and you could see a train track pass the front of the temple.

Phra Nakhon Si Ayutthaya
Phra Nakhon Si Ayutthaya
---
Reviews (0)
No reviews yet.