Wat Chedi Luang
Wat Chedi Luang's massive chedi (pagoda) was built sometime between 1385 and 1402, during the reign of King Saen Muang Ma, 7th ruler of the Mengrai dynasty and is a distinctive feature of the Chiang Mai skyline.
Recommended for
Adults
Families
Kids
At its peak, the chedi measured 60 metres across at the square base and 80 metres tall and was once the home of the Emerald Buddha, Thailand's most sacred religious relic.

Damaged during an earthquake in 1545, the chedi's height is reduced to nearly half of its original size yet it is still an impressive structure. In 1992, the Fine Arts Department finished restoration work around the chedi, bringing back the naga (water serpent) staircase on each of its faces and wonderful statues of elephants adorning the base. The actual work on the chedi itself, however, was never quite complete, leaving it in its present state.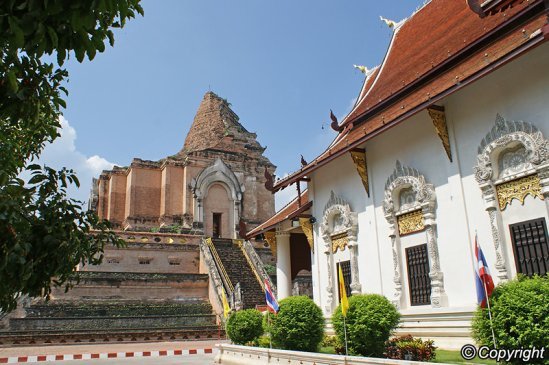 What to See at Wat Chedi Luang

On Wat Chedi Luang's premise are several structures of great cultural significance, including the city pillar (Intakin), main wiharn housing the principal Buddha image and a giant gum tree guarding the temple's entrance. According to ancient Lanna beliefs, the city pillar is erected at the epicentre of the city, to mark the centre of the universe, which in the past was the Lanna Kingdom. Dwarfing the city pillar shrine is one of the three gum trees believed to protect the city from all ills. Legend has it that if this tree ever falls, a great catastrophe will follow.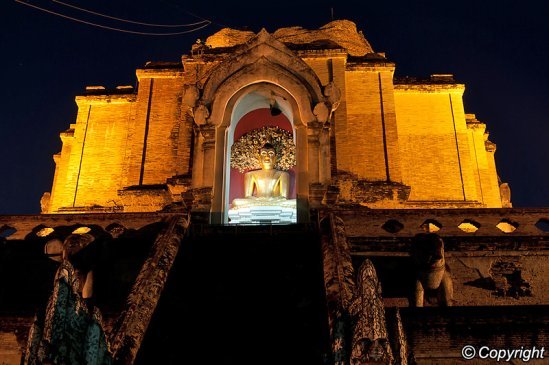 On important Buddhist holidays, such as Visakha Buja, Wat Chedi Luang is where worshippers convene for the evening candle procession. A special pulley system allows visitors to leave offerings and prayers atop the chedi during the day. The temple is located on Phra Pokklao Road and is easy to find, since the chedi is one of the tallest structures in the old city.

Opening Hours: 06:00 - 17:00

103 Prapokkloa Rd
Tambon Si Phum
Mueang Chiang Mai District
Chiang Mai 50200
---
Reviews (0)
No reviews yet.