Tiger Temple (Wat Pa Luang Ta Bua)
This controversial landmark has garnered fame amongst an international crowd. Known for its thriving tiger sanctuary, Tiger Temple shelters more than 60 Indochinese tigers and cubs on its ground.
Recommended for
Adults
Families
Kids
After paying a hefty entrance fee, you can watch the tigers going about their daily routine from a distance. There are also several photo opportunities with the tigers. To get real close to them though, you will be required to pay a higher fee.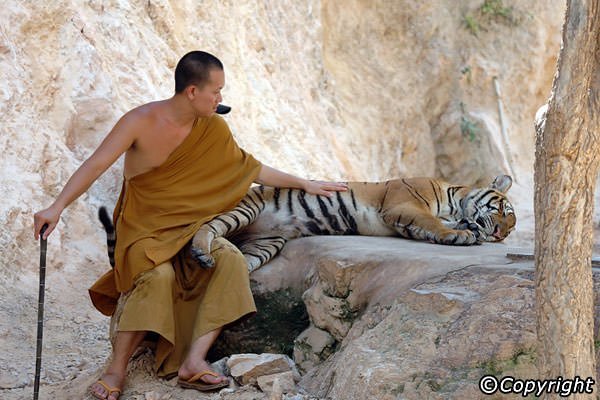 For the curious mind, a visit to this temple may prove to be an interesting experience. Many travellers, however, walk away feeling 'ashamed', as the tigers, they say, 'appear drugged' and unresponsive. So, it's up to you to decide whether or not to support this religious establishment's 'wildlife conservation' activity.

Opening Hours: 10:00 – 16:30

How to get there: Buses that run between Kanchanaburi and Sai Yok will pass the site, or you can rent a motorcycle from the city

Lum Sum
Sai Yok District
Kanchanaburi 71150
---
Reviews (0)
No reviews yet.