The Slate
Step into a dreamscape

The Slate is a BRILLIANT azure world with a rich heritage. A place where whispering seas, swaying palms, and sweeping coastal skies set the scene for unexpected experiences. Who would have imagined something so OTHERWORLDLY could be found just a short drive from Phuket International Airport.
About our hideaways

Live the sweet life with your nearest and dearest when you INHABIT one of our sumptuous suites or vibrant villas. Your own private corner of our lush tropical hideaway, our many suite and villa styles will please every guest.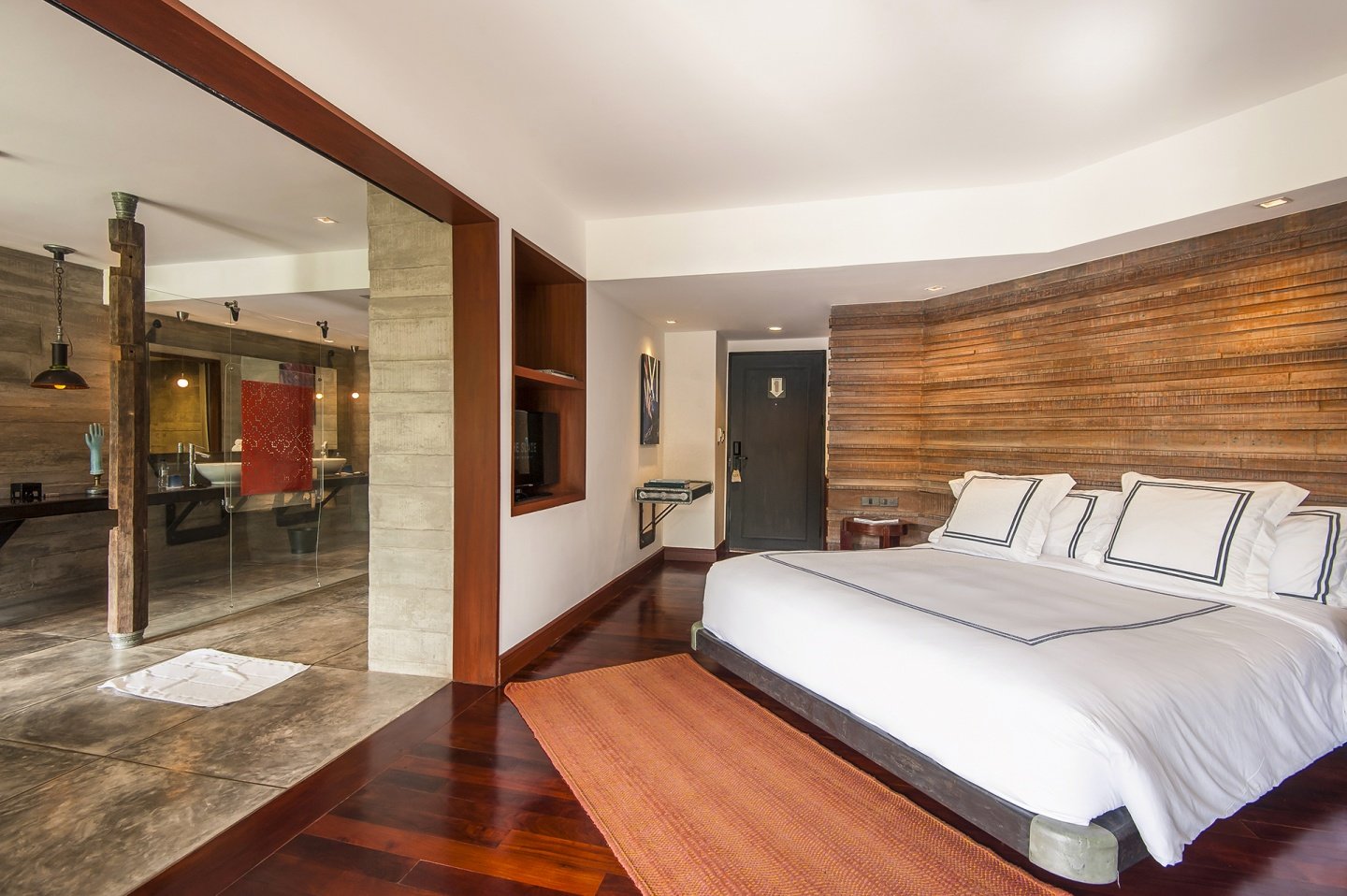 PEARL BED SUITES

Step onto vast expanses of polished wooden flooring, HANDCRAFTED rugs, an oversized bath, and bursts of colour designed to inspire.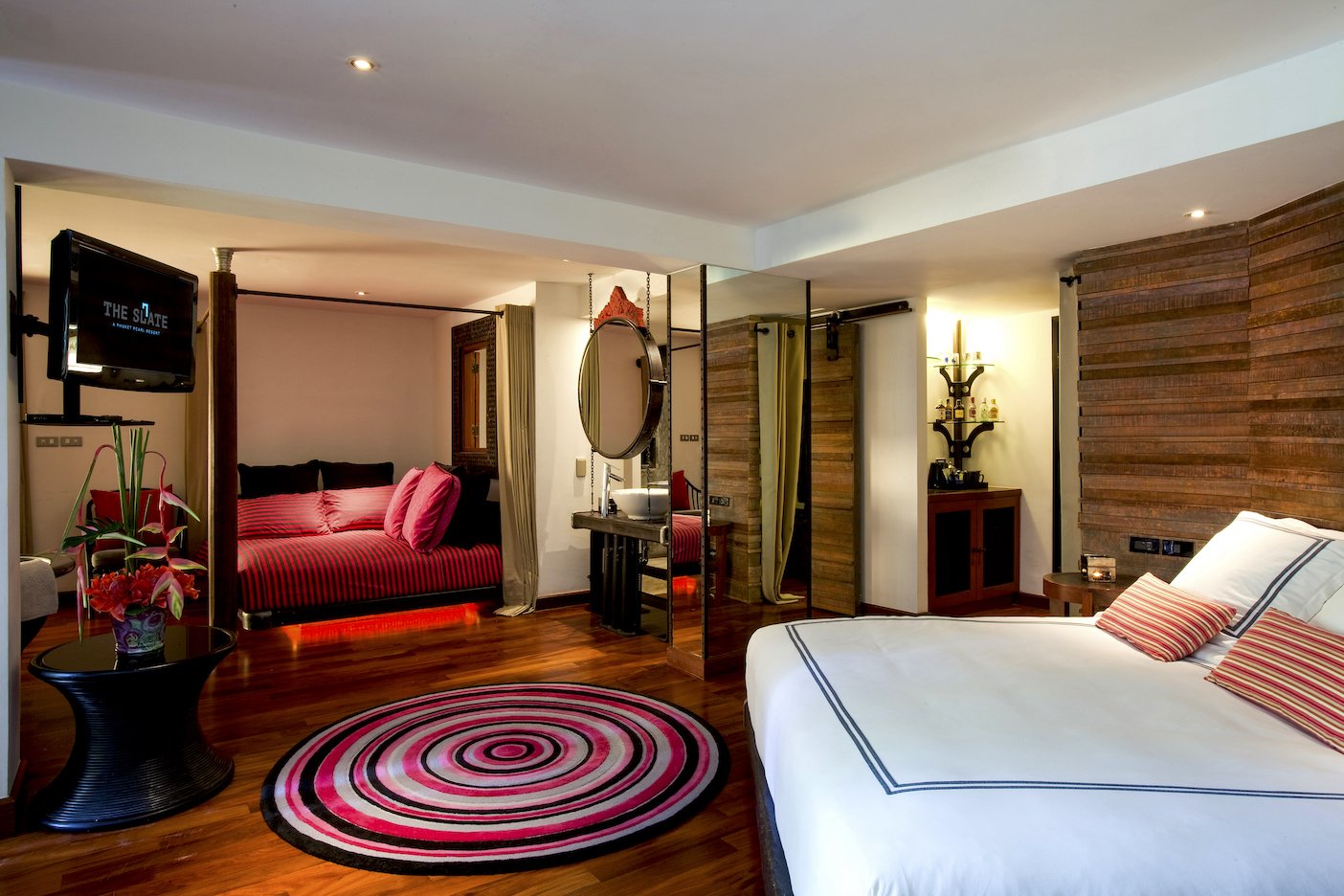 D-Buk family suites

Wake up in a PLUSH, oversized bed surrounded by suite accents that recall the tin-mining industry and end the day with a relaxing soak in a sleek, charcoal-black bathtub. A daybed is available for this room.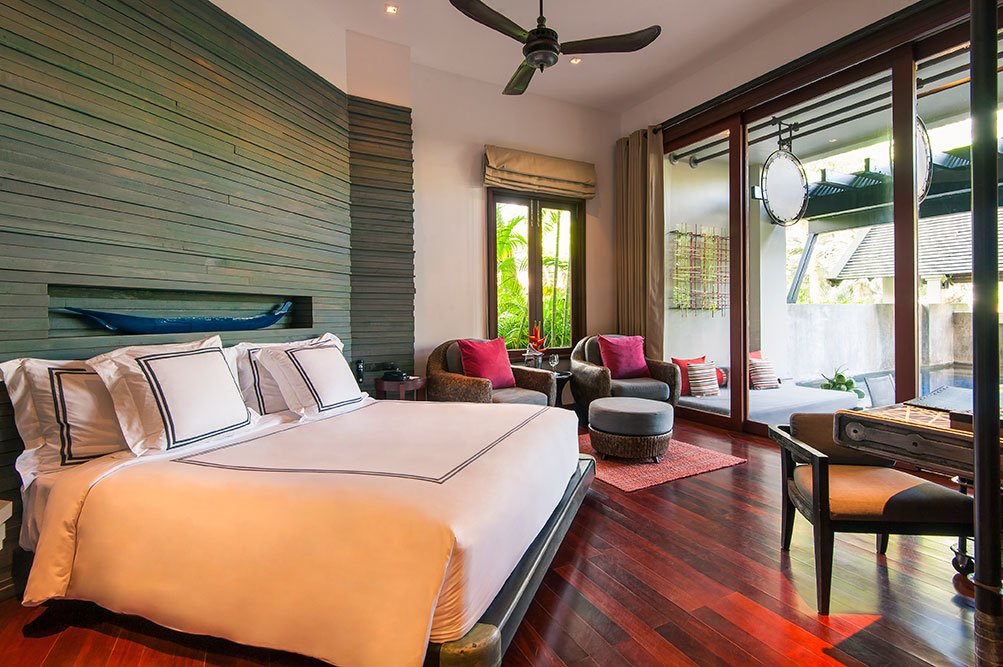 PRIVATE POOL SUITES

Plunge into an imaginative interplay of form and COLOUR, our private pool suite offers an intimate and exotic private world to explore and celebrate.


One bedroom Pearl shell suites

Consider a whimsical world adorned with bold imagery and massage beds, the Pearl Shell Suite is a DREAMSCAPE studded with stunning art.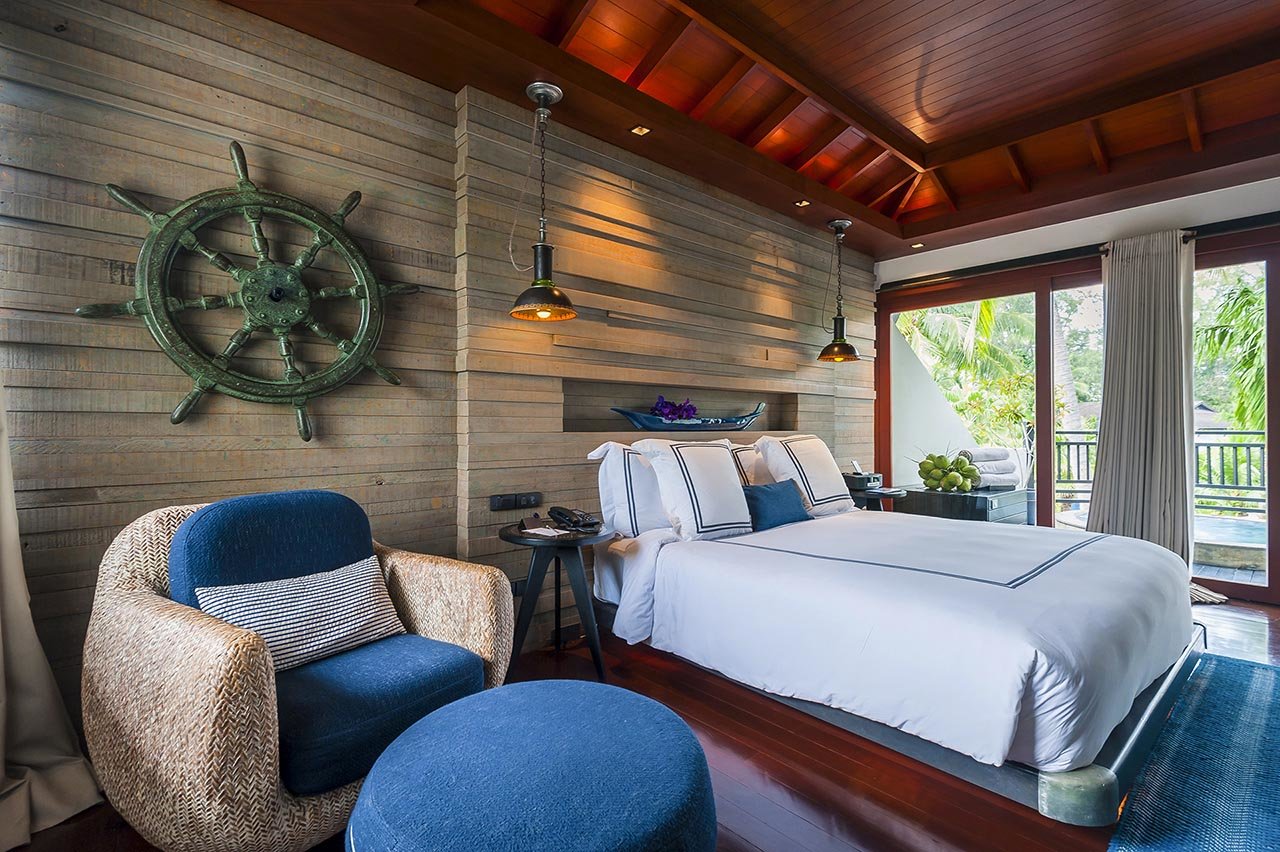 TWO BEDROOM PEARL SHELL SUITES

Stylish, spacious, fashionable. This space is yours, and yours alone. A SANCTUARY designed for your ultimate relaxation.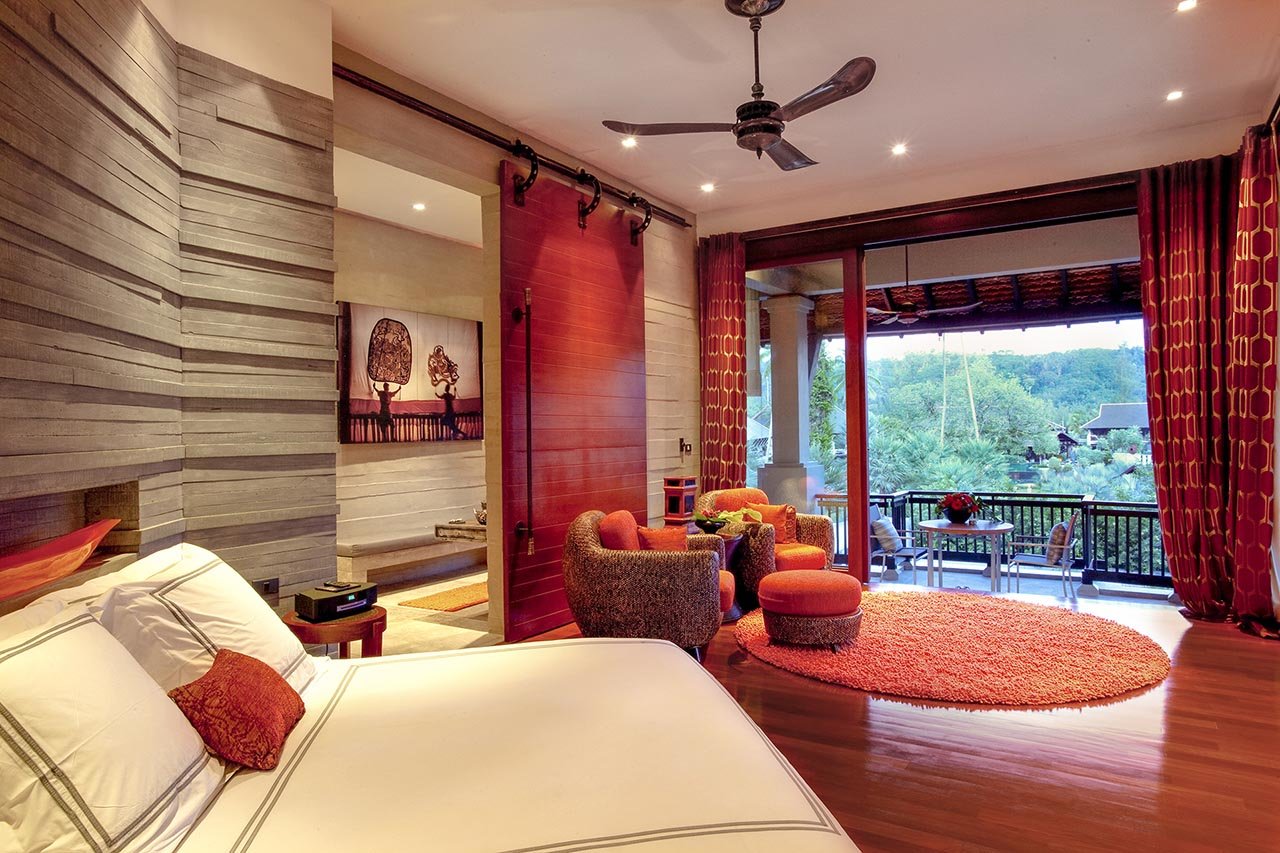 BENSLEy

Indulge in BRILLIANT contrasts between tasteful flower arrangements and rich dark wood furnishings. This dreamland offers warmth paired with sophistication.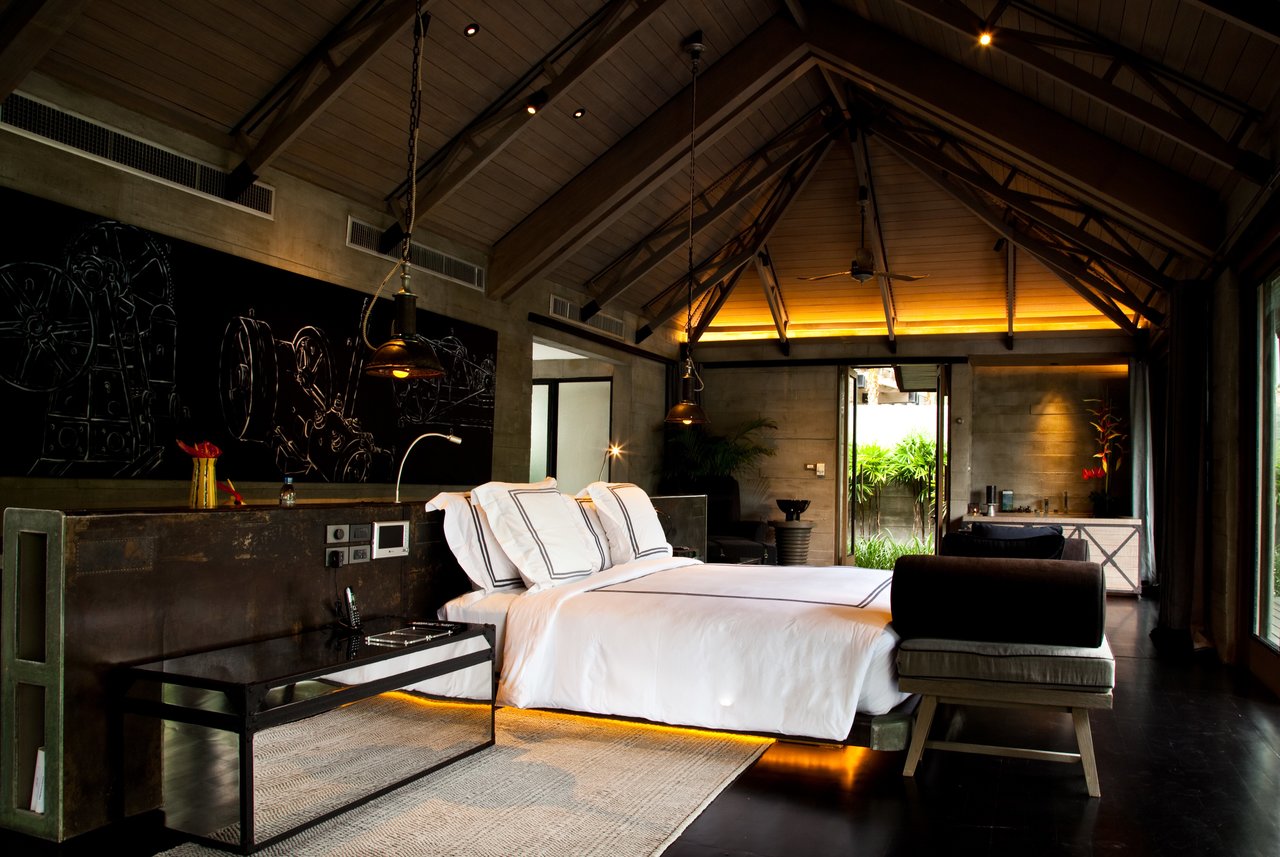 ONE BEDROOM POOL VILLAS

Style and luxury converge. An ENCHANTED home on a tropical island, with separate living and sleeping areas as well as interconnecting villas available on request. Book directly with The Slate for exclusive benefits.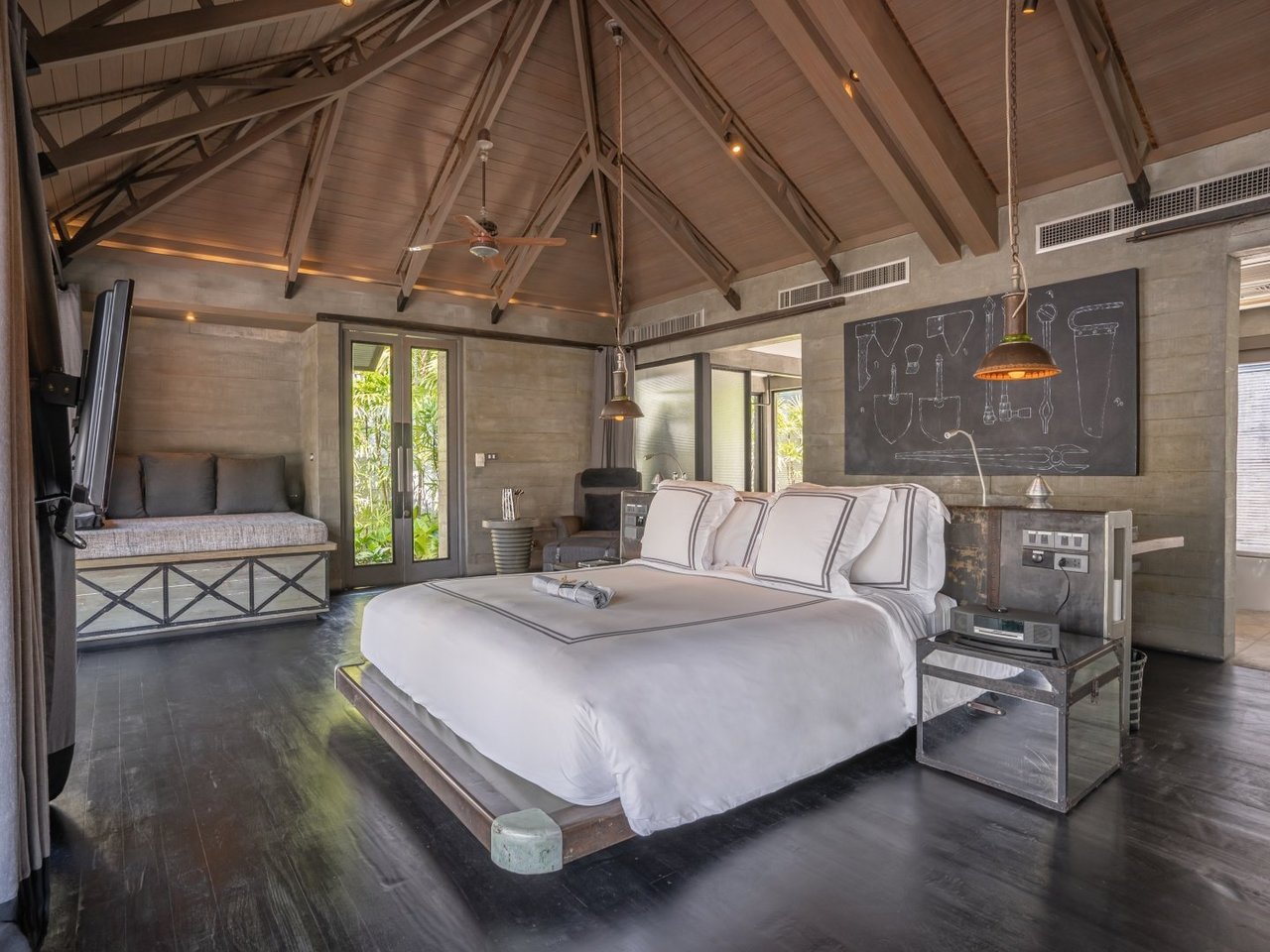 TWO BEDROOM FAMILY POOL VILLA

Our exclusive Two Bedroom Family Pool Villa offers the ideal mix of space and privacy, all in a design-led environment where artful meets industrial. Elemental meets WHIMSICAL.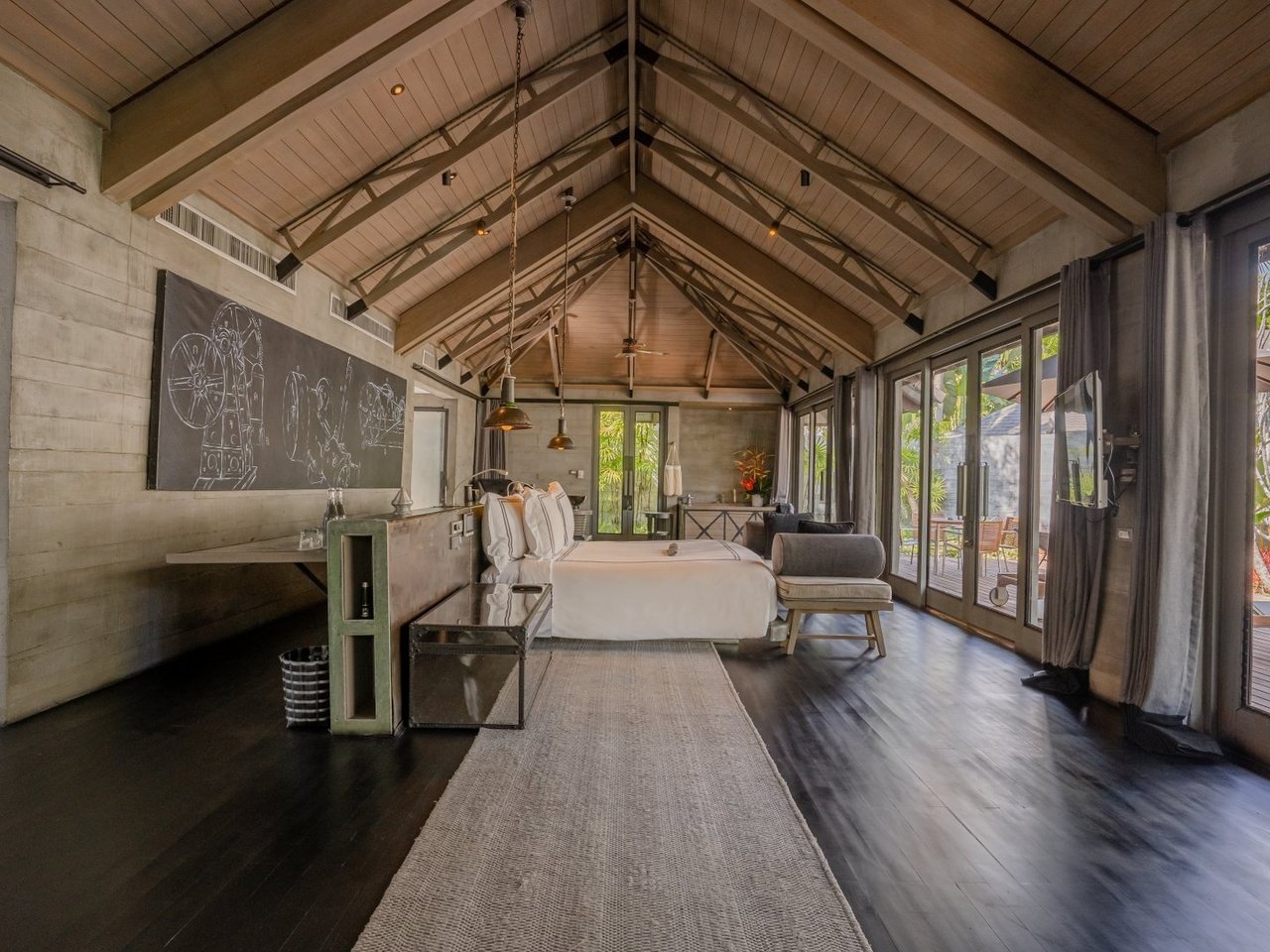 TWO BEDROOM POOL VILLA

More space for you and your tribe to experience the beauty, nature, and history of Phuket. The interior is imaginatively decorated, with artistic infusions and elemental accents.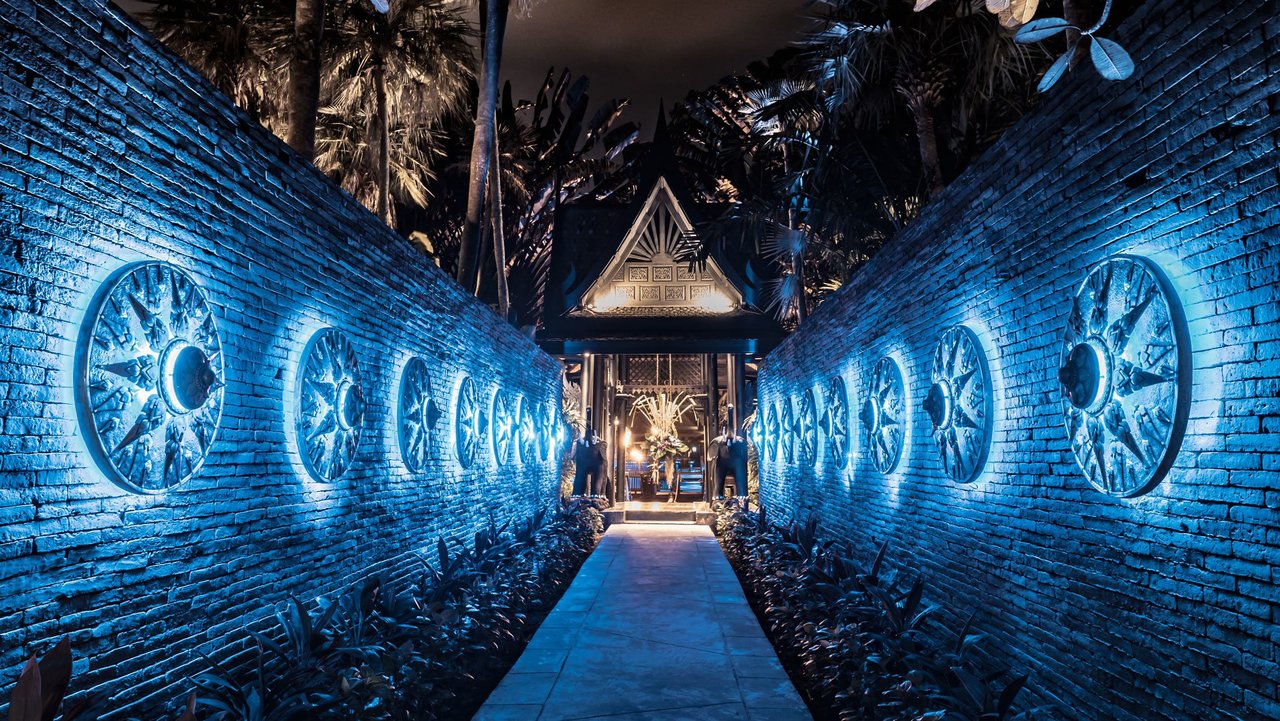 Fanciful food, dreamlike dining

A selection of sublime dining experiences

The slate specialises in crafting authentic dishes with deliciously nutritious ingredients that draw on the earth's organic goodness. Enjoy gourmet dining in spectacular settings and culinary masterpieces that nourish and inspire.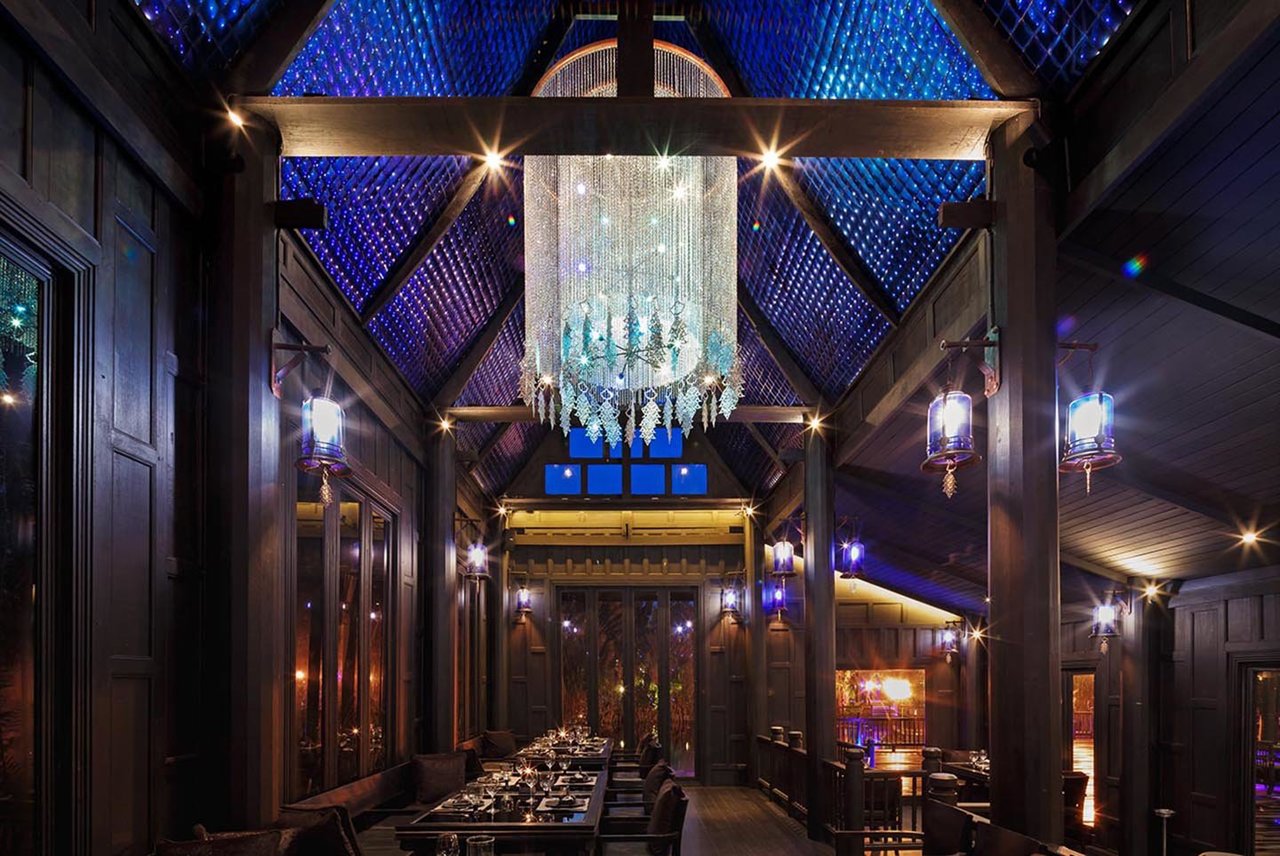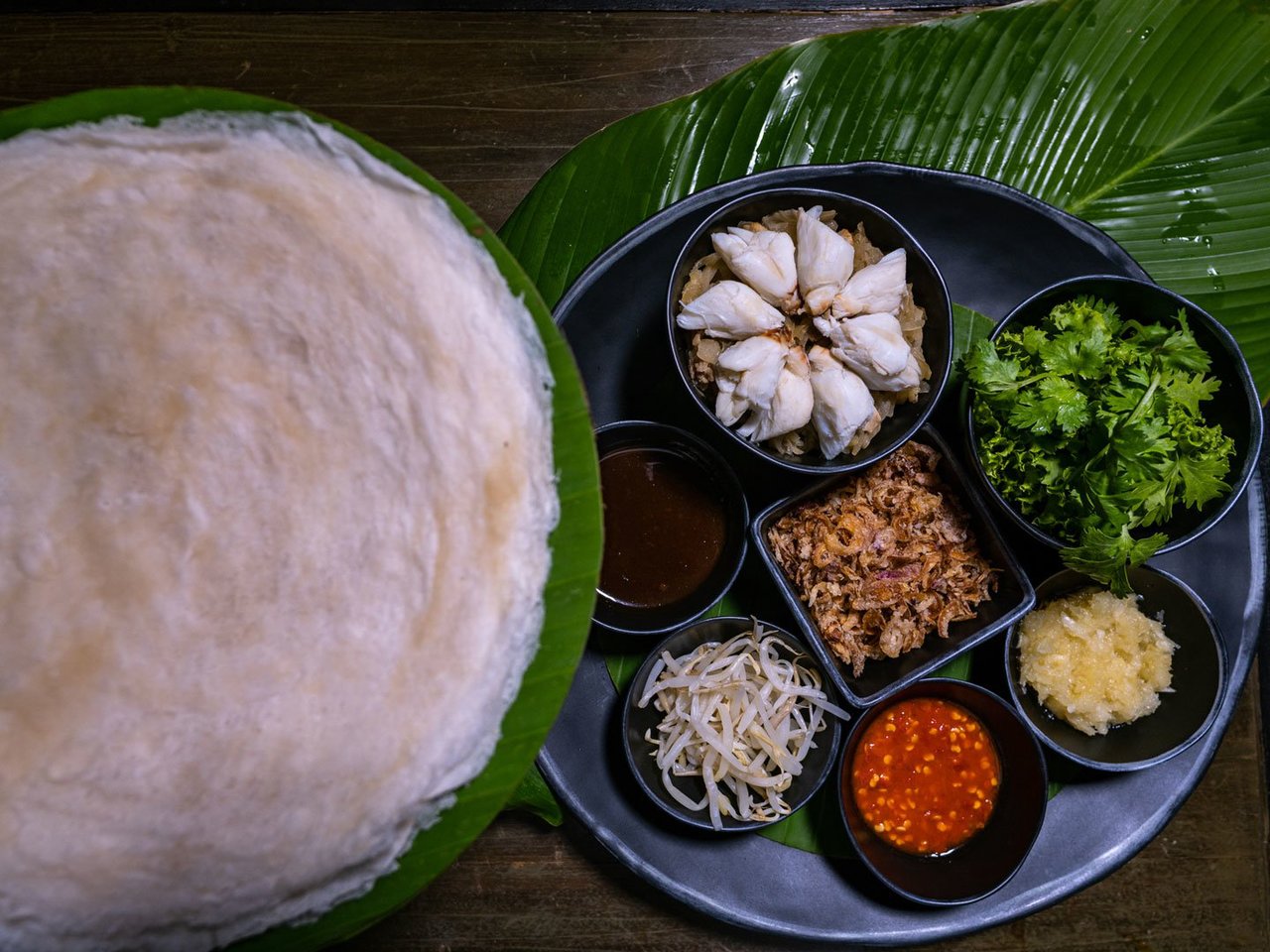 BLACK GINGER

Take a savoury journey into the historical heart of Phuket. Black Ginger is a modern MASTERPIECE of Thai art, certified by Michelin Guide 2020 and 2021 and housed in a traditional Thai mansion hovering over a luminescent lagoon. Talented chefs draw from ancient local recipes to create flavourful dishes catered to GOURMET, avant-garde tastes.

Operation Hours: Daily from 18:00 to 23:00 hrs
Dress code: Smart casual
Advance reservation is essential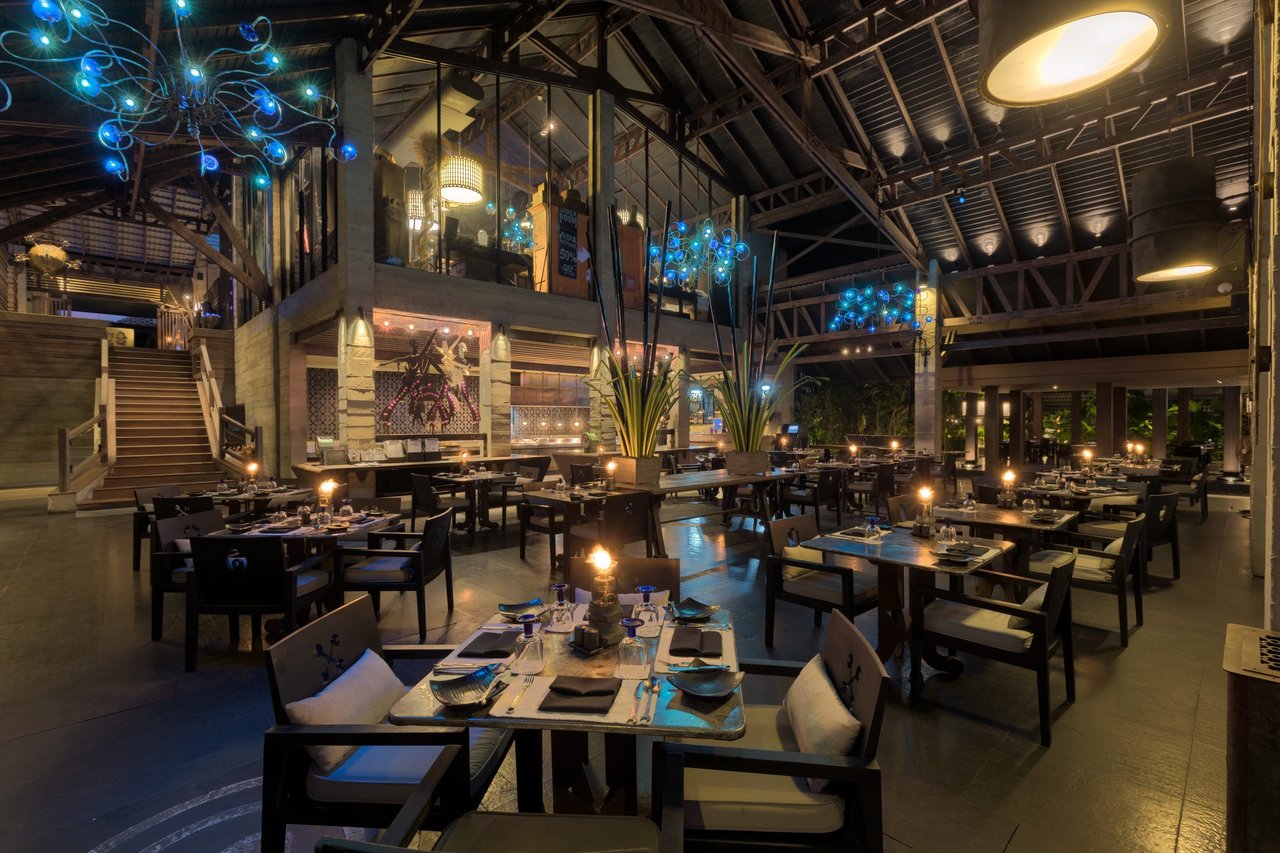 TIN MINE

An extensive breakfast buffet, inclusive of delectable Thai local snacks, freshly baked breads & pastries, a wonderful assortment of deli meats and cheeses, an egg station, fresh fruits & vegetables, served within an industrial-chic environment.

Operation Hours: Breakfast 06:30 - 10:30


RIVET

Enjoy the delightful atmosphere with an internationally grill house cuisine. Be tempted by sizzling imported meat and fresh seafood.Operation Hours: Temporarily closed

Dress code: Smart casual

Advance reservation is essential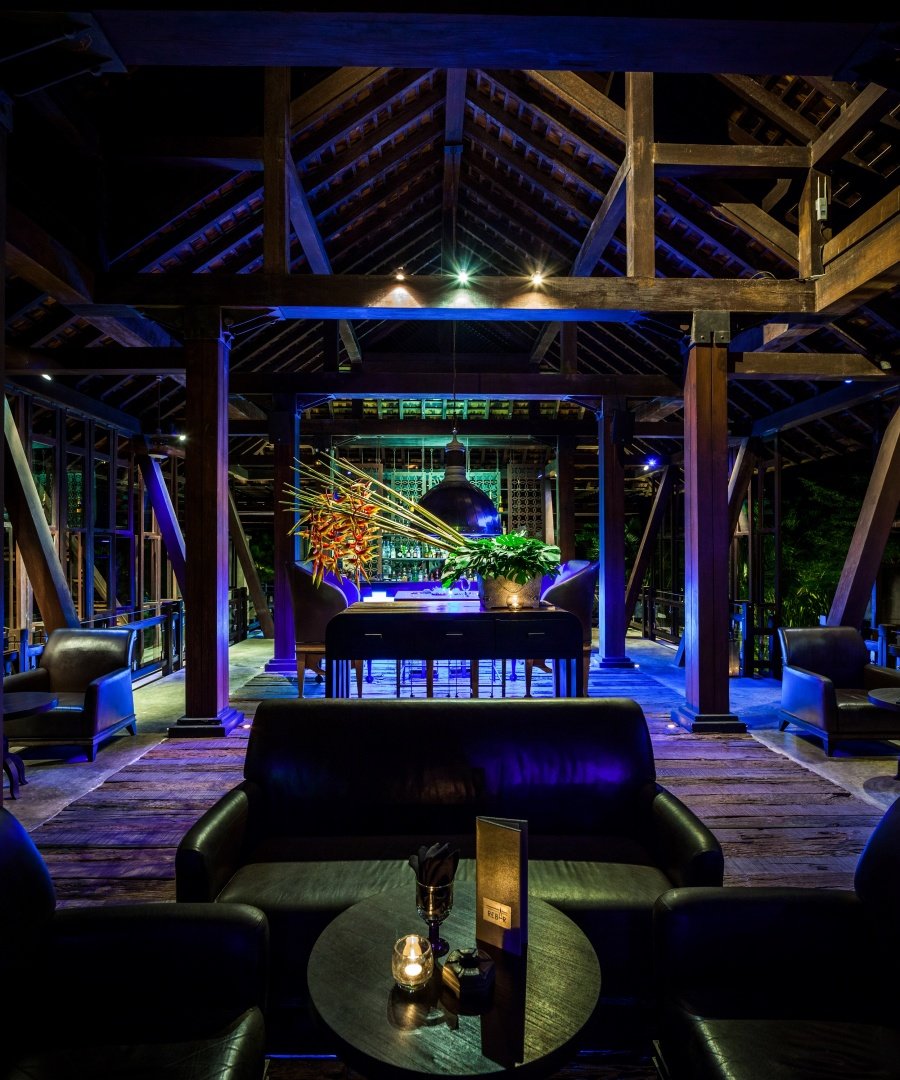 REBAR

Hop over to Rebar, the perfect place to lounge and lose yourself to the tropical sunset sky.

Operation Hours: Temporarily Closed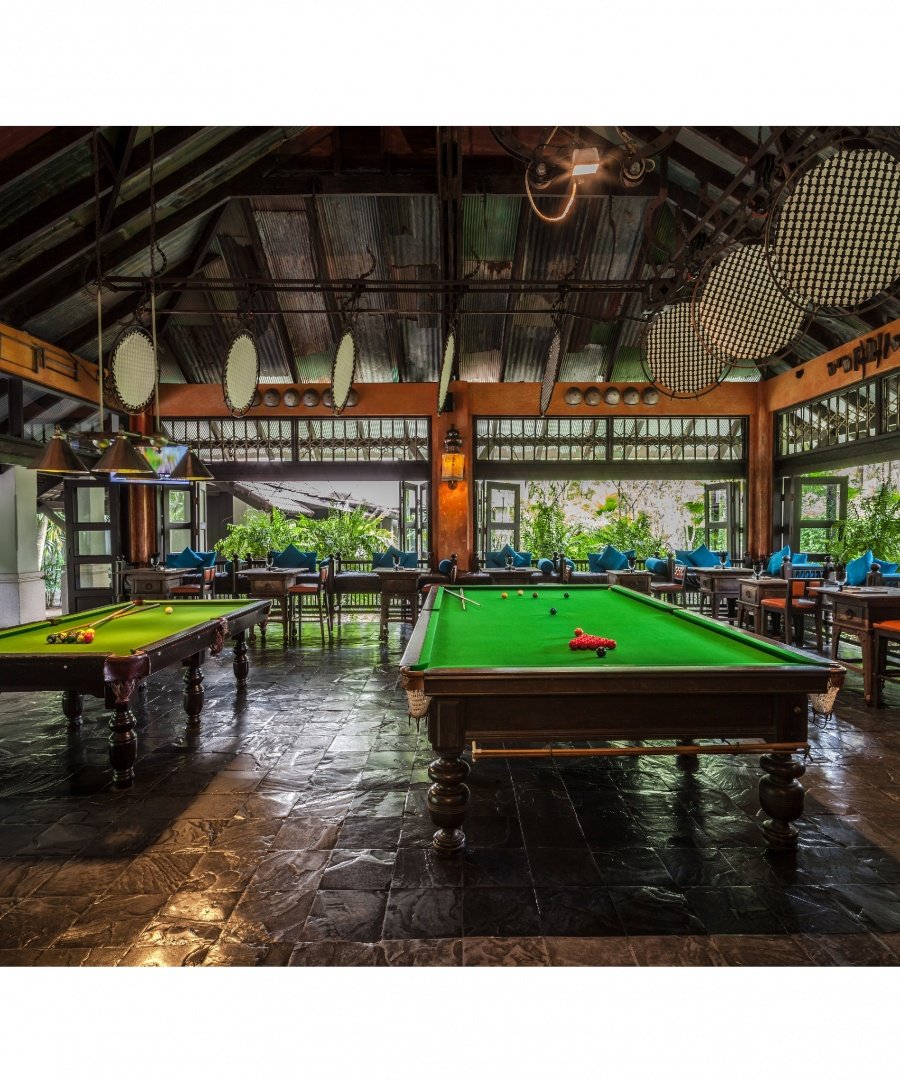 TONGKAH TIN SYNDICATE

Step into our lively, open-air snooker hall and find yourself in an eclectic dreamland. Sip in style on EXOTIC concoctions, rare whiskies and craft cocktails as day turns into deep night. Sumptuous snacks and soulful dishes rouse the palate. Sit back, relax and let the drinks do the talking.

Operation Hours: Daily from 18:00 to 24:00 hrs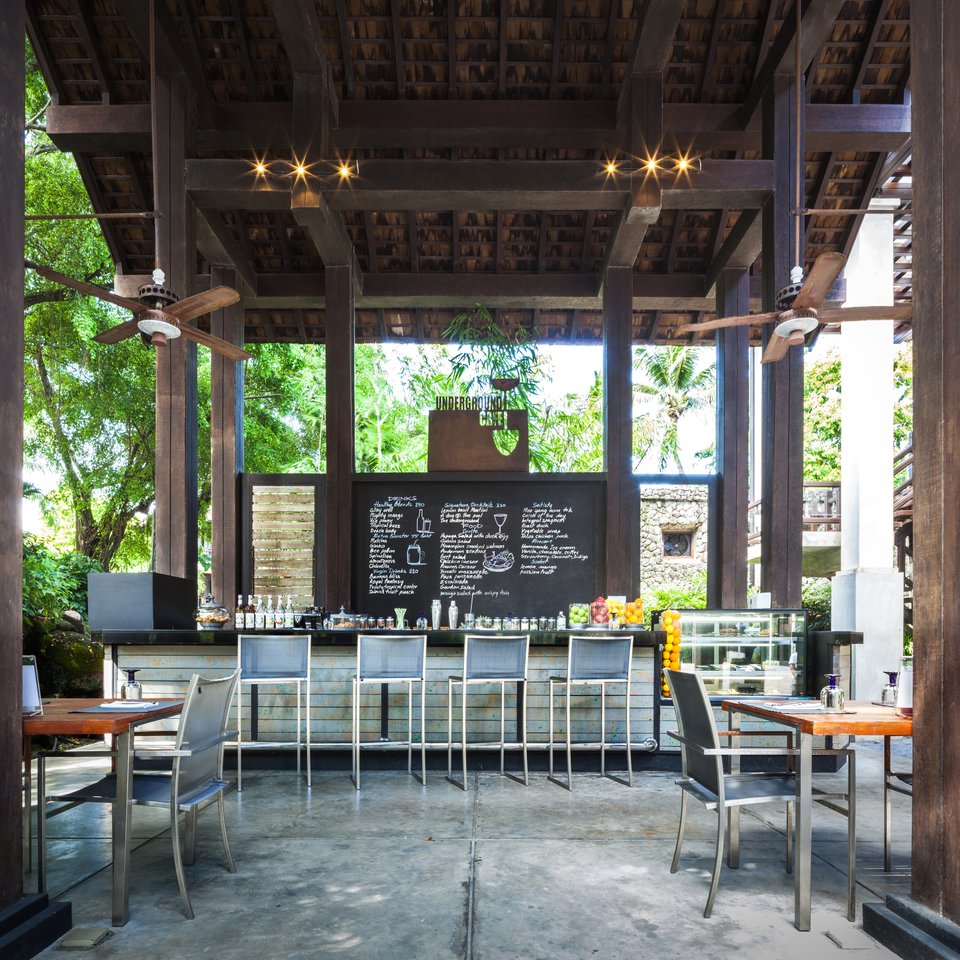 UNDERGROUND CAFÉ

Feel the Andaman sea breeze from the decks of our open-air café, right by the water's edge. Let natural, fresh ingredients nourish and nurture. INDULGE in wholesome salads, creative light bites and Thai specialties. Craving more? Dine on seafood right from the sea, or treat yourself to hearty sandwiches and prime cut steak. Here, Mother Nature adds magic to every bite.

Operation Hours: Lunch and Dinner 11:30 - 23:00 hrs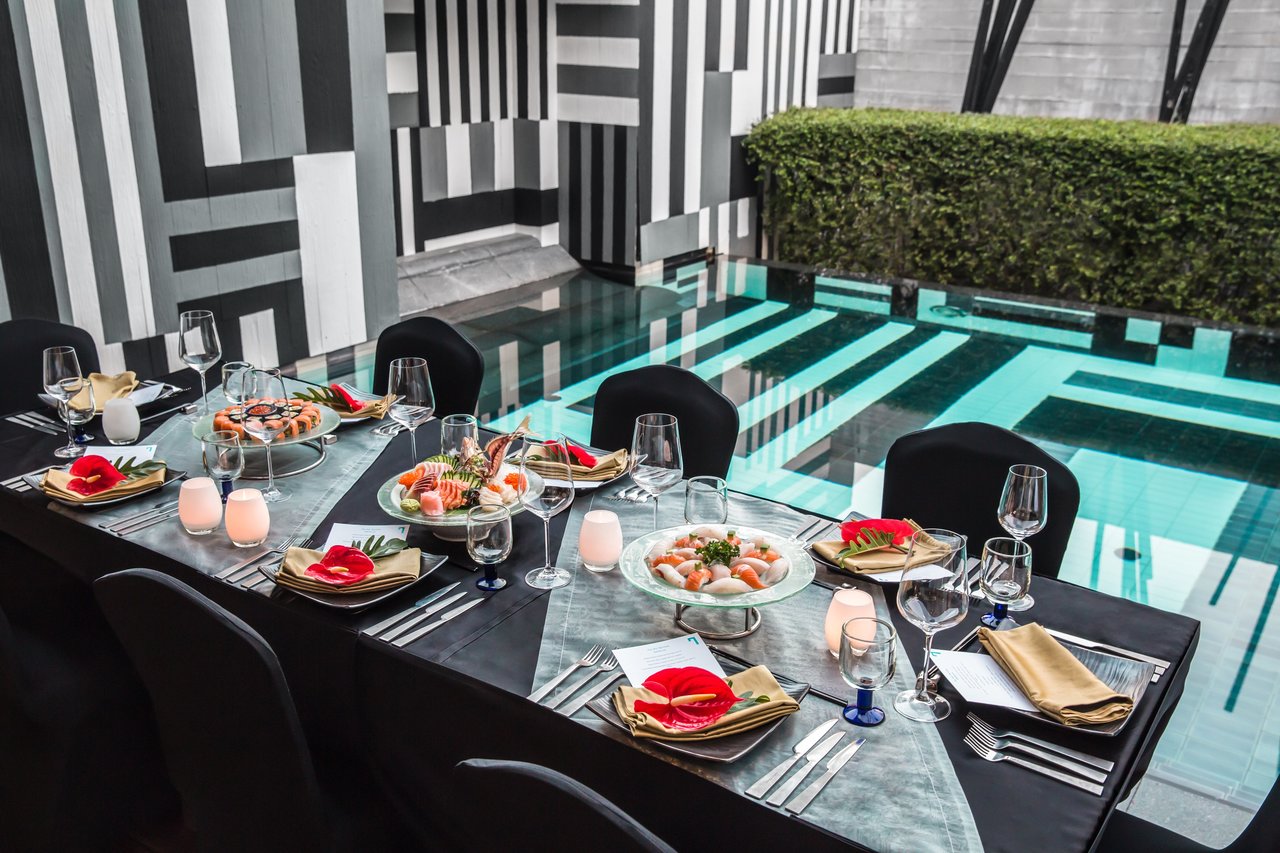 IN-ROOM DINING

Embark on a GASTRONOMIC adventure by your private pool or in the comfort of your own sala. Choose from any of our mouthwatering menus. The ultimate indulgence is a private feast prepared only for you.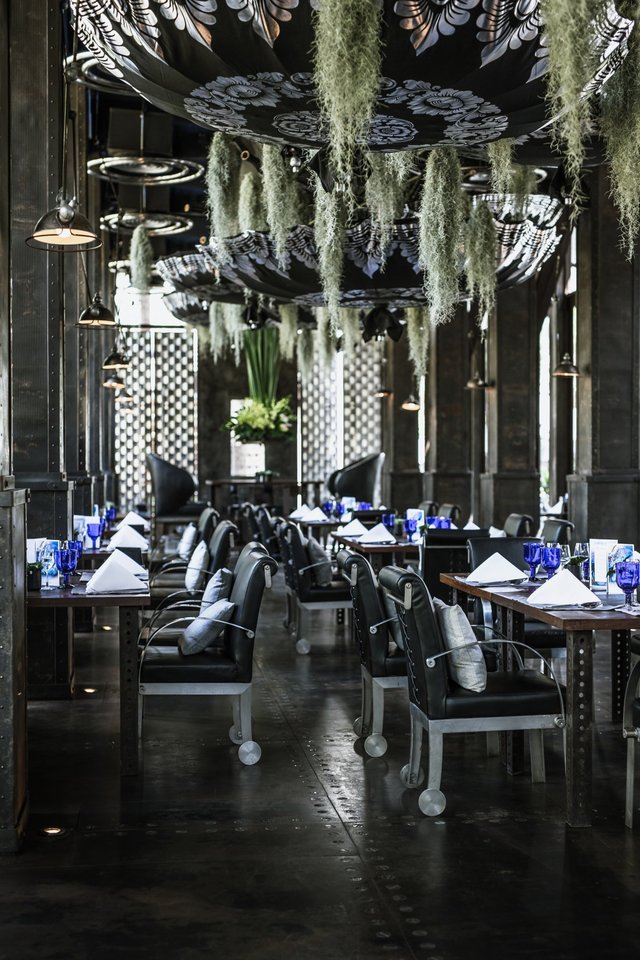 SUNDAY BRUNCH

A proud tradition of what is often considered Phuket's most renowned Sunday Brunch, we continue to hold strong with an exceptional landscape of gastronomy presented outdoors at the dreamscape 'Rivet' restaurant. Seating, food station setup and menus are all arranged according to the "new normal" hygiene standards. Our Brunch offers an innovative approach to Japanese cuisine, beyond sushi and tempura at the Rivet. A plethora of newly perfected international dishes, appetizing foie gras, scrumptious calamari, flavourful wagyu rump, lobster, or pan-fried scallops just to name a small selection. All freshly prepared by our skilled chefs and served alongside some of the finest free-flow wine and bubbly available.

SUNDAY BRUNCH PACKAGES

Starting from 12:00 and lasting until 15:00, choose how you wish to experience the island's most renowned brunch.

Package: THB 2,450 per adult
Selected free-flow soft drinks, fruit juices, and mocktails

Package: THB 2,950 per adult
Selected free-flow wines, sparkling wines, cocktails, beers, spirits, soft drinks, fruit juices, and mocktails

Children 7 - 12 years of age: THB 1,225 per child
Selected soft drinks, fruit juices, and mocktails.

*Children below 7 years of age, dine free on package 1 when accompanied by an adult.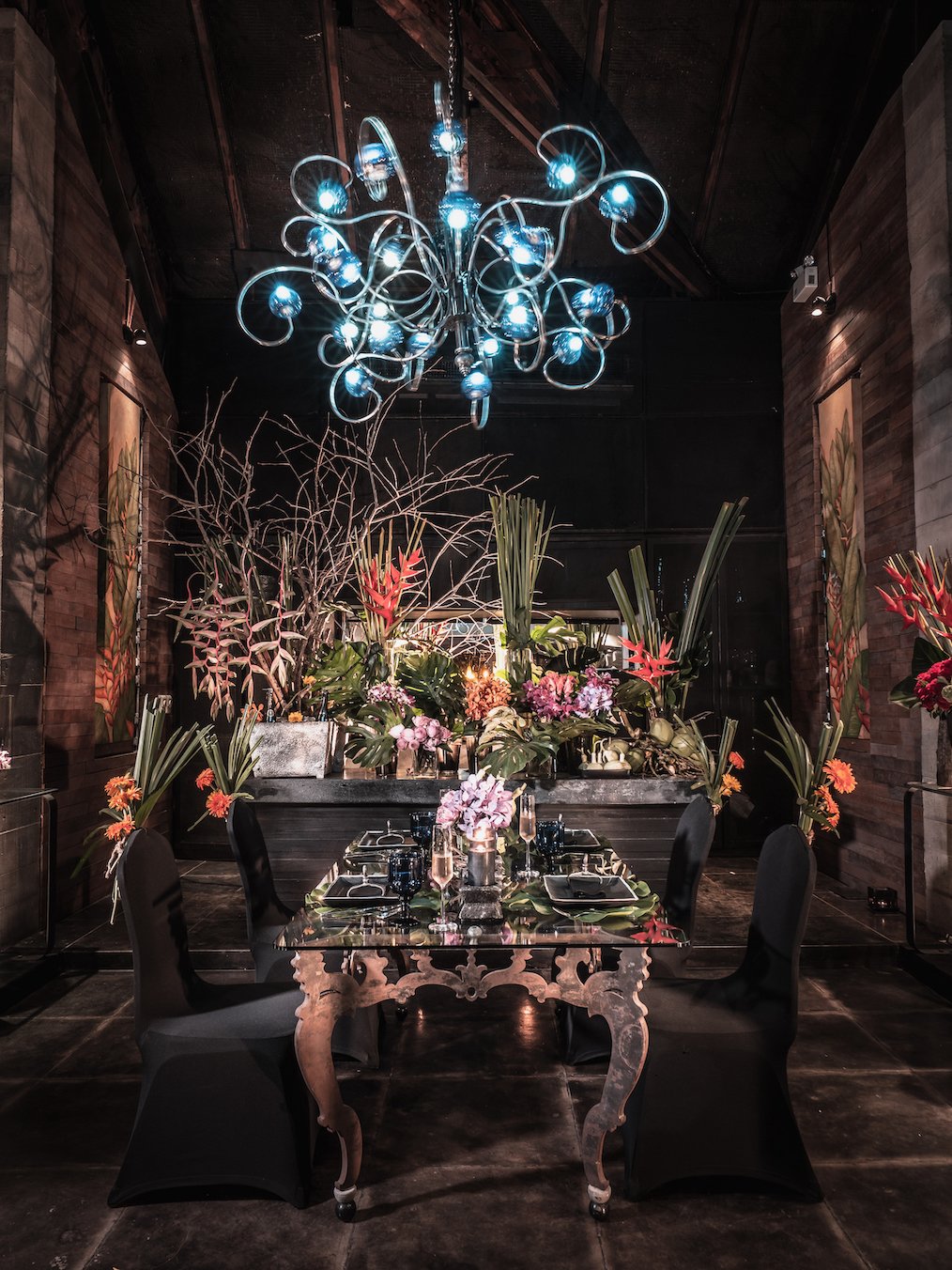 CHEF'S TABLE

Set a course for beautiful banqueting, sure to be a highlight of your stay at The Slate. Our Chef's Table experience brings you that much closer to our culinary heart, the chance to watch our taste masters create while you savour with true ABANDON. Over the course of the evening, you will move venues four times, enjoying one course each in The Stock Room, Heliconia, Moo's Kitchen and The Wine Cellar.

Operation Hours: 19:00 hrs

Dress code: Smart casual

Advance reservation is essential and limited to four guests per night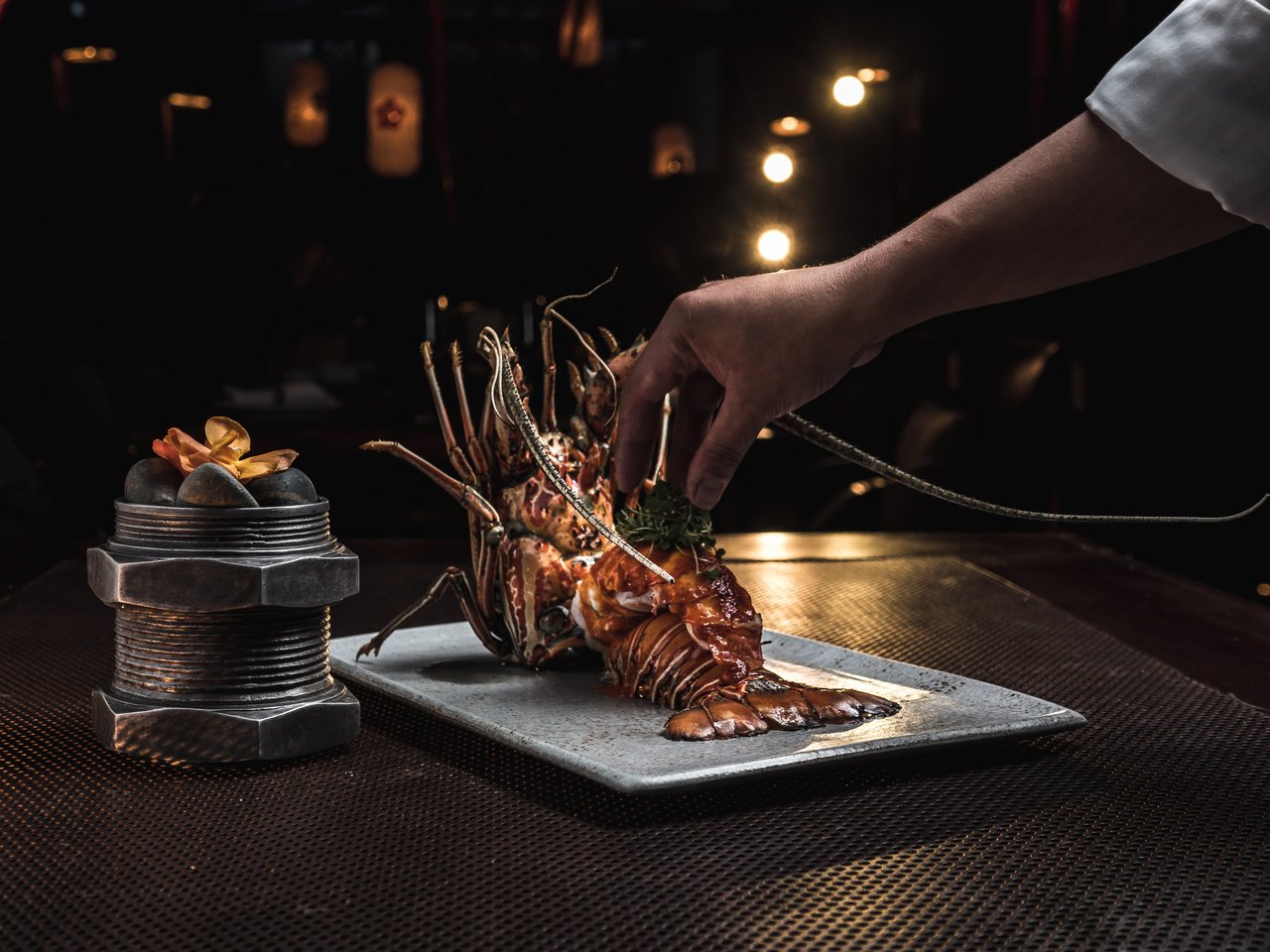 ABOUT THE MENU

Begin your journey by biting into a delightful cone packed with seared foie gras and berry sauce before moving on to a seared tiger prawn salad with mango caviar. Continue by sinking into a sea of broccoli, spinach and mussel soup before feasting on Land & Sea, our own spin on surf & turf. Complete your taste journey with chocolate fondant and raspberry wasabi sorbet. Each course is served with a perfectly paired wine, of course.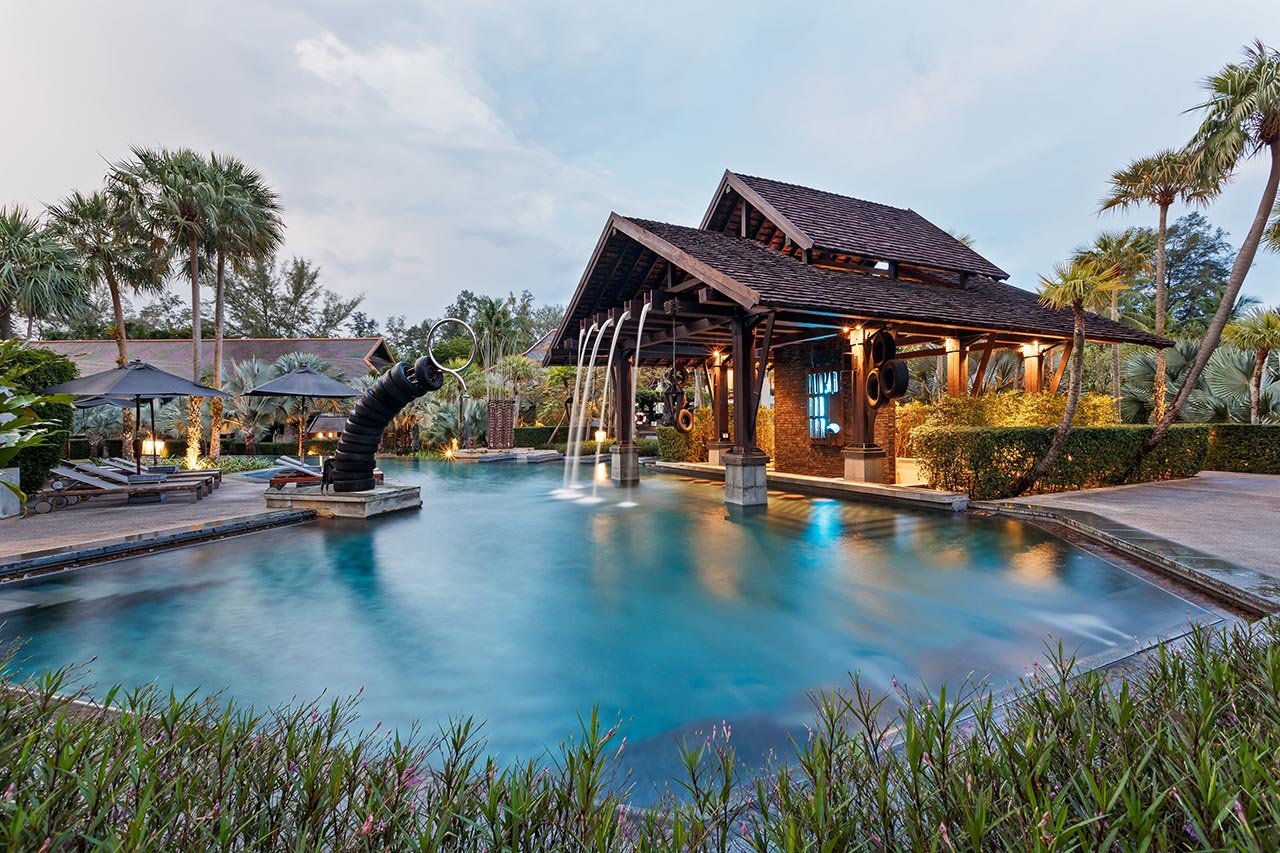 PULLEY POOL & BAR

A short ballade to the resort's other side brings you to the Pulley Pool & Bar – an adults-only angular design with industrial accents, a waterfall, and in-pool water jets adjacent to a swim-up bar at its heart with fresh beats and daring cocktails.

Operation Hours: 10:00 - 18:00hrs.

*Note: An adults-only pool for guests aged 16 and above*


FEET IN THE SAND

Watch the sun dip below the horizon. Feel the breeze on your skin. Dig your feet in the sand. The Slate's destination dining offerings present INTIMATE encounters and an evening to remember. Organise the bespoke dinner of your dreams on the shores of Nai Yang Beach or the gorgeous environment within The Slate. Let us know what you dream of and we'll make it happen.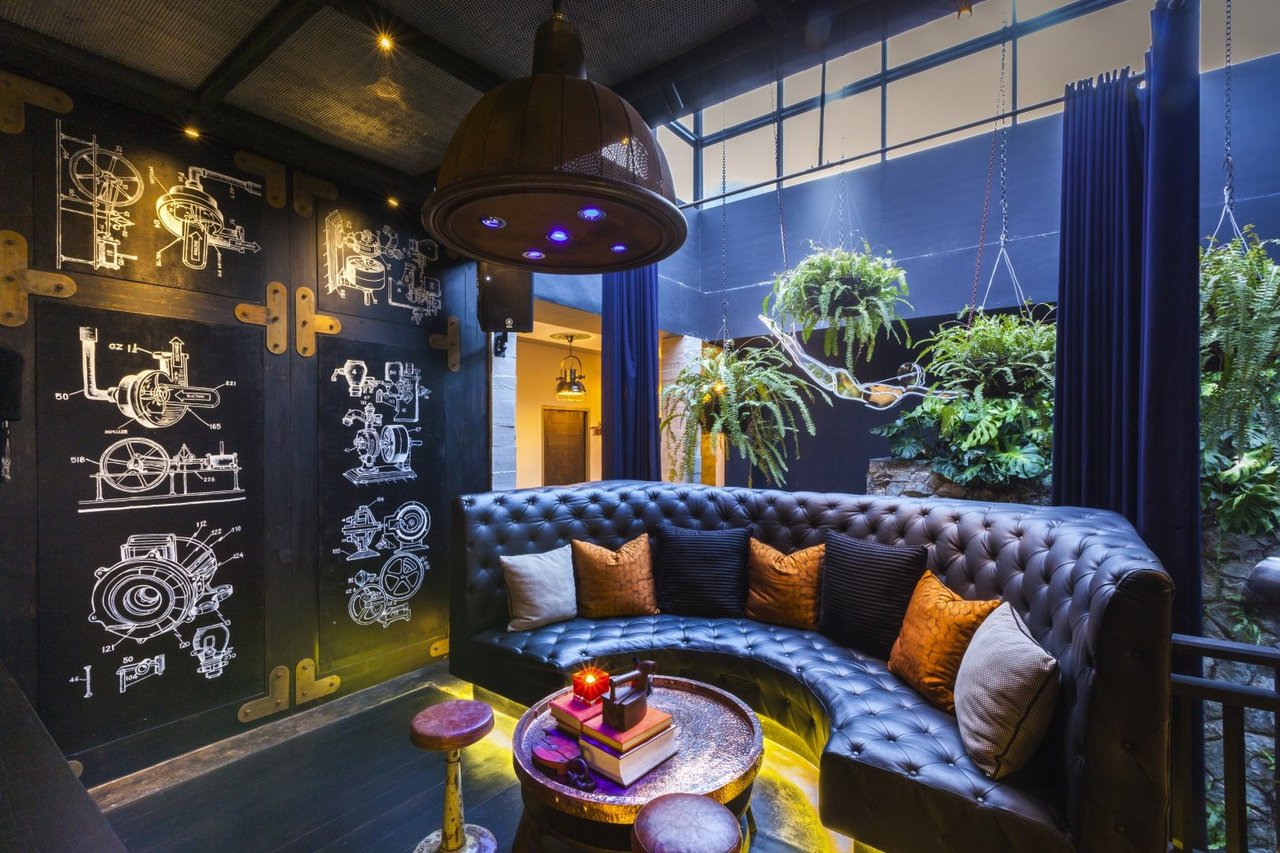 DIRTY MONSTERA

A mysterious spot nestled deep within The Slate – Dirty Monstera offers a delectable spread of luscious lunch bites. Treat yourself to freshly made sandwiches, a wide assortment of bread, freshly ground coffee, and sweet tempting treats. Or better yet, enjoy generous forkfuls of a DECADENT dessert while you take in a classic film.

Operation Hours: Temporarily Closed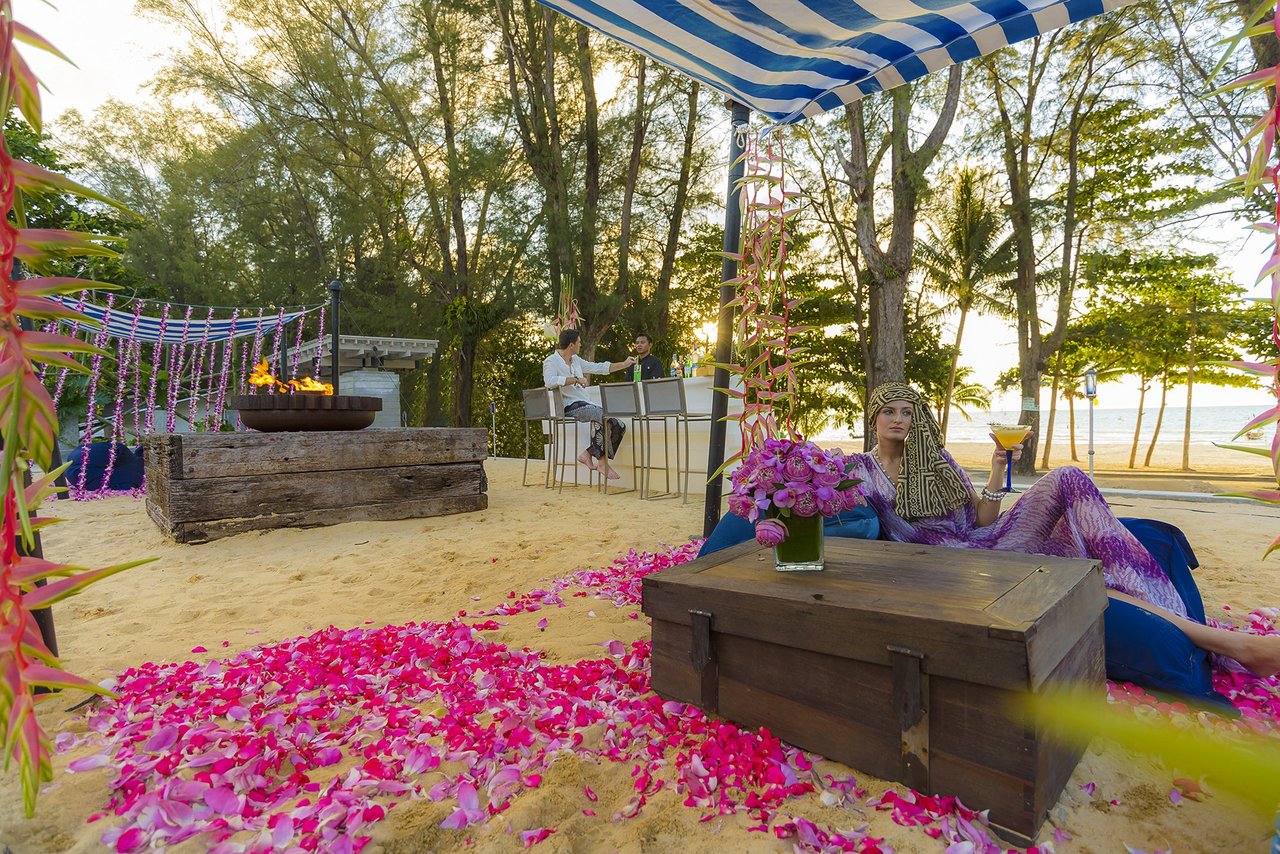 SHORE THING

Relishing the clear coastal skies and soft sands of Nai Yang Beach, Shore Thing is a little patch of PERFECTION. Catch the sun's fleeting rays as it slips below the horizon while the gentle sea breeze caresses your skin.

Hours: Temporarily Closed

The Slate
Nai Yang Beach 116 Moo 1
Sakhu
Thalang
Phuket 83110
Thailand
---
Reviews (0)
No reviews yet.