The Red Songthaew
The red songthaew is also known as the red car, red taxi or red truck. The moment you arrive in Chiang Mai, either by flight, train or a bus, you will notice there are loads of this red songthaew in the city.
They can be found everywhere because they go everywhere within the city limit.

Red songthaew roams around Chiang Mai without a fixed route. The fare usually starts from 20 Baht for a very short distance, and should never exceed 100 Baht because that's the price range of a private tuk-tuk or taxi already.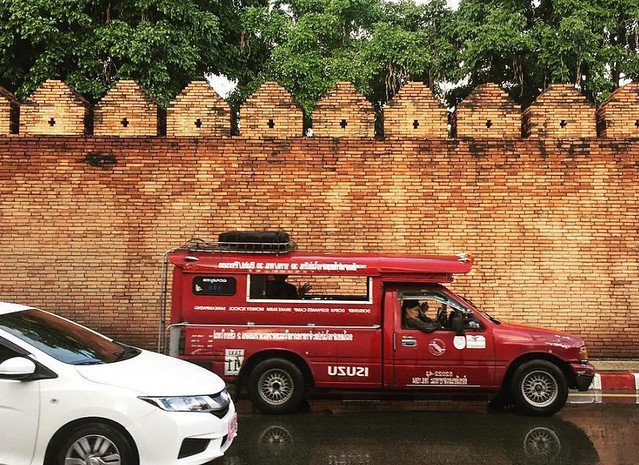 How fast you arrive at your destination depends on how many passengers the songthaew carries and where are they going to. Songthaew driver makes money by the volume of passenger and will pick up as many people as he can along the way. He will deviate a little from the route to drop off passenger if he needed to. So don't be surprised if your 15 minutes short journey is stretched to a 30 to 45 minutes long distance ride.

If you are running late to catch your flight, don't use songthaew to the airport. Take a taxi or Uber instead.

In Chiang Mai, some songthaew can provide taxi service, meaning your own private ride going to any location you want. You may sit next to the driver's seat with air-conditioning while enjoying music from the car stereo. However, this is upon request and the driver will agree only when there is no other passenger in his songthaew.

The fare, of course, will be higher than usual but is still cheaper than a regular taxi. And be noted that sometimes it's not easy to find a taxi in Chiang Mai but songthaew is always around.

Another way you can call for a red songthaew in Chiang Mai is by using GRAB RodDaeng, which works just like UBER. To use this service you must first install a ride-sharing app called GRAB on your mobile phone. Once registered as a user, simply enter the pickup & drop off point and the app will show you the fare upfront. If you are OK with it, press the "book" button and the songthaew accepting your booking will come to your pickup point.

---
Reviews (0)
No reviews yet.