The Rainbow Waterfall
The Rainbow waterfallThe Rainbow Waterfall is located in the Ramkhamhaeng national park, Sukhothai Province.
Recommended for
Adults
Families
Kids
Since it flows down from the high mountain, you can see its stream flowing down beautifully. If you want to clearly see the waterfall, you have to go up to the forth level of it which is about 12 kilometers away from the department of the national park conservation.The first level with its height of about 3-4 meters is not quite high so it is not suitable for swimming. If you climb along big rocks about 80 kilometers. When you arrive the destination at the area in between the joint area of the first level and the second level of the waterfall, you will see the second level of the waterfall is pouring down from cranny of big rocks which is like some parts of the curtain. Its stream is cascading down and forms a shallow small basin which is inconvenient for swimming. You have to walk and climb along the huge rocks through the trail from the second level to the third level of the waterfall around 200 meters, then, you will see the third level of the waterfall which is the highest level of its by comparing to the first and second levels. The stream crookedly pouring down to form the size of basin which you can go playing.After walking up to the third level to the fourth level of the waterfall, the trail will be very steep almost be vertical. You may feel like climbing up the cliff. The trail is very narrow and covered with plant that you cannot clearly see the trail. You will see the white color of the waterfall contrasts with the green color of the trees from the distant view.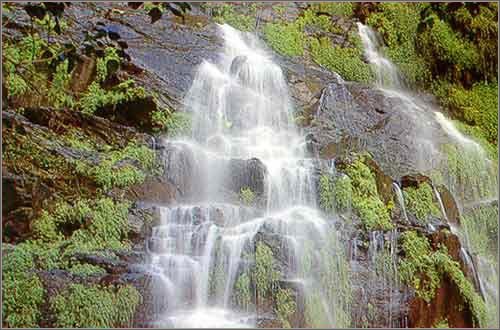 Recommendation-It is not suitable to play in the water due to its few of basin and inconvenient trail.How to travel to the waterfallYou can travel from MuengSukothai District by using the highway (101), passing Kirimas District heading to PranKratai District, KamphaengPhet Province. You have to drive about 400 kilometers and then you will arrive the intersection, after that you have to turn right and go to the route leading to Baan Mai Chareonpol. You can notice the sign telling the way to the Rainbow Waterfall so that you can go straight and will arrive the intersection around Baan Poomai, then turn right and drive about 4 kilometers heading to the waterfall, of which some parts of route are gravel. Finally, you will arrive the department of the National Park Conservation. Please drive carefully.

Ban Namphu
Khiri Mat
Sukhothai
---
Reviews (0)
No reviews yet.