Thai Akha Cooking School
Spend a fun day at the Thai Akha cooking school learning how to cook Akha food. Choose what to cook and eat what you have made. An Akha instructor will also tell about the way of life, culture and traditions of the Akha hill tribe people.
Recommended for
Adults
Families
Attraction type
Entertainment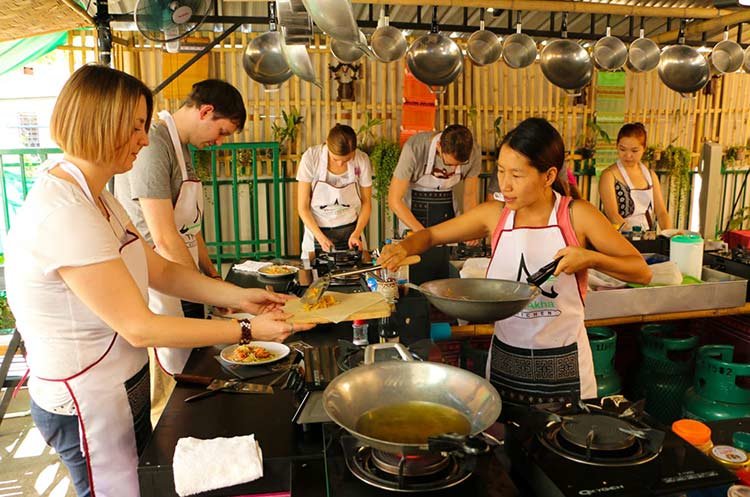 Delicious and healthy food

Akha food is delicious and healthy. Traditionally only fresh ingredients are being used. The food differs from Thai food as some of the ingredients are not used in the Thai kitchen.


Cooking class

At Thai Akha cooking school you will learn how to cook Akha dishes the traditional way with the help of an English speaking Akha instructor. You get to prepare and eat eleven dishes.

Every student receives a recipe booklet to take home.


Market tour

The morning class starts off with a trip to a local market, the Chiang Mai Gate market. Here you will learn about the ingredients, herbs and spices used in Akha cooking and also buy ingredients for the cooking class.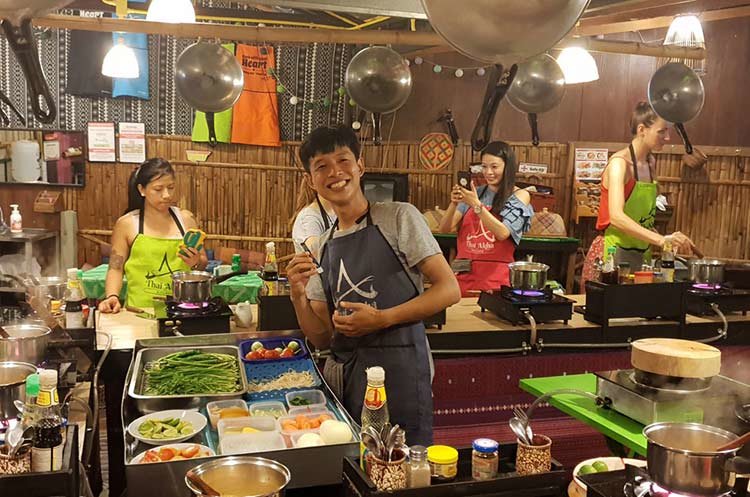 Your own cooking station

Then it's off to the cooking school where everything has already been set up. Everyone has their own cooking station and cooking equipment. For some of the dishes the ingredients have already been prepared.

Choose what you want to cook from a menu and you're ready to start cooking.
Learn to cook 11 dishes

You will learn how to cook eleven dishes: two appetizers, two desserts, three traditional Akha dishes, a curry and a curry paste, a soup and a stir fried dish. Vegetarian options are available.

Cook to your own taste. Make the food as spicy as you like.

Appetizers
You will cook two well known appetizers that can be eaten as snacks or as part of a meal.

Prepare papaya salad (som tam) the authentic Thai way with a mortar and pestle. Also learn how to make spring rolls. Put the ingredients into the wrappers, roll it and deep fry crispy spring rolls.

Akha dishes

Cook three traditional Akha dishes. Akha soup, a fresh and healthy Akha salad and Akha Sapi Thong, a dipping sauce that can be eaten with vegetables.

Curry & curry paste

The base for a curry is the curry paste. Make a fresh curry paste from scratch, choose yourself how spicy you want it. Choose one curry paste and one curry.

Green curry chicken (Gaeng Keow Wan Gai) and green curry paste
Massaman curry chicken (Gaeng Massaman Gai) and Massaman curry paste
Penang curry chicken (Gaeng Panang Gai) and Penang curry paste
Red curry chicken (Gaeng Daeng Gai) and red curry paste

Stir fried

Choose one stir fried dish.

Chicken with cashew nuts
Chicken with hot basil
Pad Thai
Sweet and sour chicken

Soup

Soup is usually part of any Thai meal. Choose one that you would like to cook.

Chicken and coconut milk
Clear soup and egg tofu
Hot and sour prawn soup

Desserts

Thai sweets and desserts come in countless shapes, colors and tastes. Learn how to prepare two delicious desserts, mango sticky rice and pumpkin in coconut milk.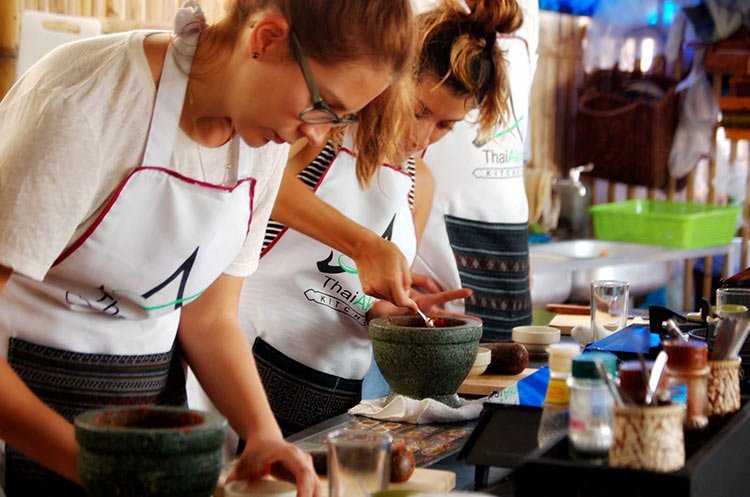 Eat what you have cooked

Every time you have prepared a dish, you can eat it. While you are cooking and eating the Akha instructor will tell you a little about the way of life of the Akha people.
The Akha people

The Akha are a hill tribe people that came to Thailand over a hundred years ago. They live in small villages in the mountains of Chiang Mai and Chiang Rai and have their own language, beliefs, culture and traditions.

If you like to know more about the way of life of the Akha hill tribes, visit Hloyo village in the mountains of Chiang Rai.


Cooking course times

There are two cooking classes daily.

The morning class is from 9 am until 3 pm.
The evening class is from 5 pm until 9 pm.

Children over 7 years old are charged the adult rate.
Children age 0 - 7 join free, but are not provided with a cooking station.

14/10 Rat Chiang Saen 2 Ko. Alley
Tambon Hai Ya
Mueang Chiang Mai District
Chiang Mai 50000
---
Reviews (0)
No reviews yet.