Supanniga X Roots
If you are looking for the perfect mix of authentic cuisine, creative drinks, and the absolute perfect romantic riverside chill out location, Supanniga X Roots has it all.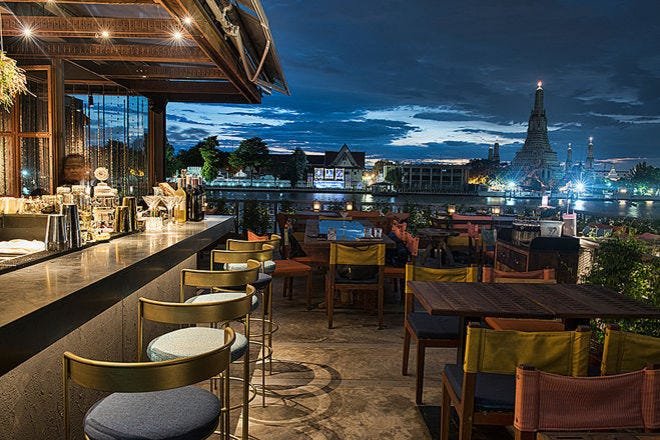 If you've perused the 10Best side for Thai eating options, you've undoubtedly come across owner Thanareuk Laoraowirodge's other Supanniga branches, eateries that have been on just about every Bangkok food critic's list for the past several years. Laoraowirodge opened Supanniga in order to pay homage to his late grandmother's home recipes, which feature many dishes that come from Trat, on Thailand's eastern seaboard, not easily found in most Bangkok establishments.

This branch is set right opposite Wat Arun, incredibly romantic come sunset and evening, and really is the perfect riverside date spot. The menu is downright authentic, with popular favorites like moo chamuang, a succulent long-stewed pork curry, flavored with garcinia leaves, or poo ja, ground crabmeat and pork that has been seasoned with pungent Chantaburi pepper and steamed inside a crab shell, heading a list of unique and flavor-filled bites. What sets this Supanniga apart from others besides the view is it's teaming up with noted local cafe gurus Roots Coffee and creating an extensive Thai desserts menu to go with the coffee. You can eat the popular street food-favorite coconut rice cakes or deep blue butterfly pea custard served with steamed bread, and accompany the sweets with a cappuccino, or perhaps something more adventuresome such as the Hanuman Cold Brew, where cold brew gets infused with dehydrated jackfruit and an oolong and chrysanthemum tea blend, a Roots creation that is totally unique and found only at this location.

Riva Arun Hotel River Front 392/25-26 ซอยเพ็ญพัฒน์ 2 Maha Rat Rd
Phra Borom Maha Ratchawang
Phra Nakhon
Bangkok 10200
---
Reviews (0)
No reviews yet.