Summer House
This restaurant is located a bit away from the Ayutthaya Historical Park. The restaurant is spacious and the outside area has a wonderful vibe, as it lays next to the river, has several lazy chairs and a grass field surrounded by trees.
Occasionally, the Summer House hosts events with live music. All in all an awesome atmosphere. But we came for the food. Luckily the food was as great as the atmosphere. The Summer House offers a wide variety of affordable trendy fusion dishes. The Australian Tenderloin with Kaffir Leaves (280 THB) was the first dish we received. It was packed with herbs like garlic, chilis, basil and kaffir leaves and most importantly, the tenderloin was nicely tender. The Pomelo Salad with Roasted Salmon (225 THB) was the next dish that impressed us a lot. It's served with beetle leaves which you can use to wrap up the roasted salmon, pomelo salad and crispy fried salmon skin. One big taste explosion!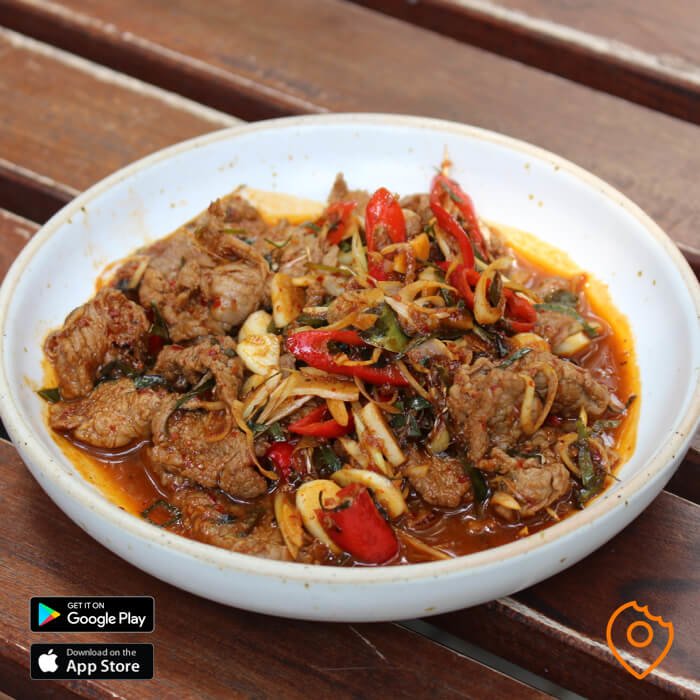 The Charcoal Grilled Pork (220 THB) was the only complete Thai dish we tried. The pork was cooked to perfection with a slightly red meat colour. It's served with a spicy dipping sauce. We order a bowl of extra sticky rice as it goes perfectly together with this dish. The last dish we tried was the impressive Tom-Yum Kung Spaghetti (320 THB). The spaghetti is perfectly cooked and covered in a creamy tom yum flavoured sauce. The grilled king river prawn only has a little bit of this sauce on it, so you can still enjoy the natural flavour of this huge prawn. More in-depth information can be found in our article about The Summer House. More general information, such as the location of this restaurant, opening times and other users' opinions can be found on the TopTravelFoods review page of The Summer House.

71/1 หมู่ที่ 6 Phra Nakhon Si Ayutthaya District
13000
---
Reviews (0)
No reviews yet.