Sukhothai Historical Park (Old Sukhothai City)
This is located in the Rama IV Park on the Sukhothai Phitsanulok route and can be reached by local bus from town. The museum displays a variety of fresh water fish mentioned in Thai literature. It is open daily except Tuesdays from 9 a.m. 5 p.m. There is no admission fee.
Sukhothai is the very first capital city of Thailand. In the golden time of this city it is a center of everything on this south-east Asia. Now a day the ruin from that glorious time a left behind for people of this generation to study story about one of the ancient city that accept by United Nation Educational Scientific and Cultural Organization (UNESCO) to be World Heritage. Sukhothai Historical Park location's is at the opposite of Ramkhamhaeng National museum. There a lot of interesting place inside this area. Wat Maha That. This temple is a center of the historical park. Inside the temple is the grand pagoda that surround by another 8 pagodas as if they are a lotus. Front gate of the temple has a Buddha statue called Phra Atha Ros. The King Ramkhamhaeng monument. This monument can be found at the end of Jarod Vitee Tong road on the north side of Wat Maha That. Sukhothai city's defensive wall. It a two layer wall that use to defense the city. Inner layer is built on upper ground and use laterite as a material. Outer layer is a canal switch with a slit wall. Between two layer there city gate and defensive fort both side of defensive wall.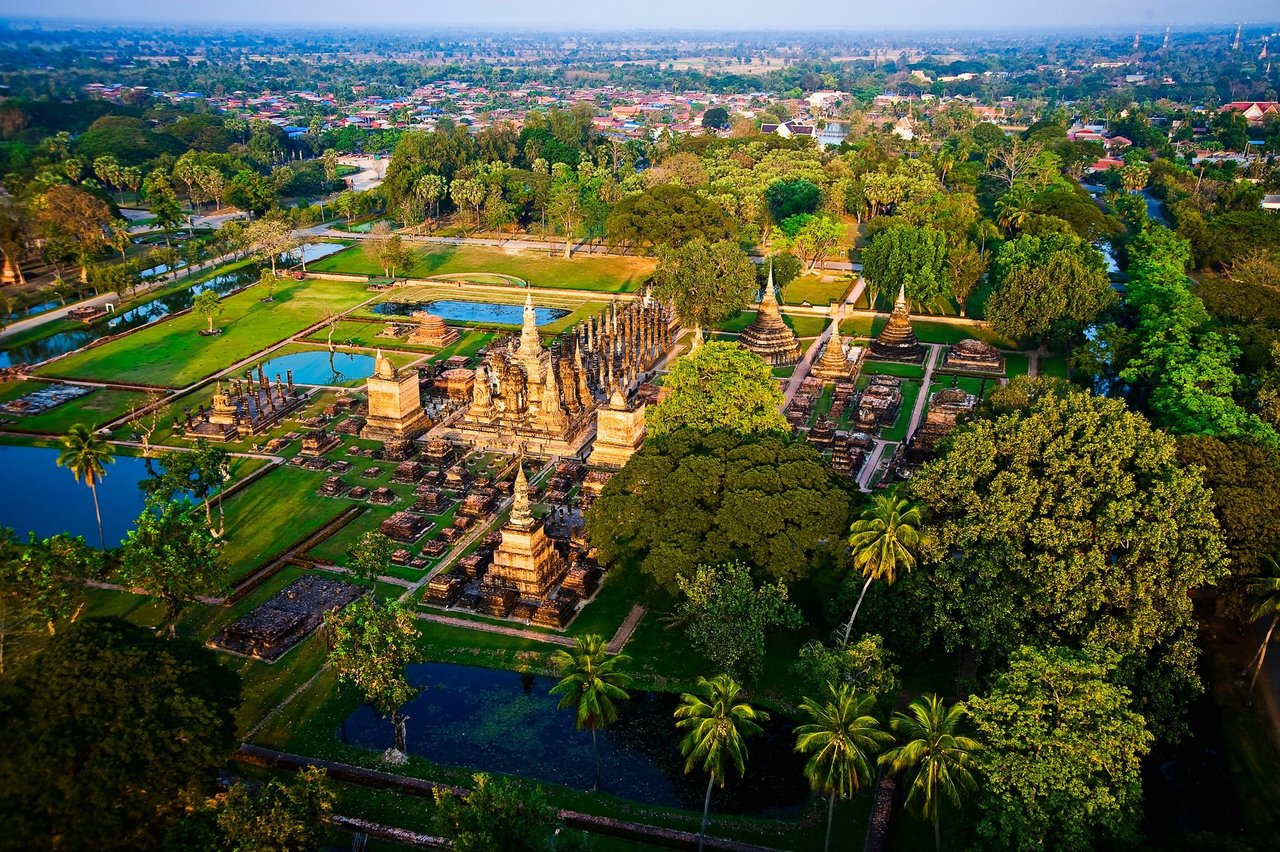 Wat Chana Songkram. This temple locate at the north side of Wat Maha That. The point of interest is main pagoda inside the temple that look like a giant bell. Prasart Phra Ruang hill. This area use to be a royal palace it locate at east side of Wat Maha That. Wat Tra Phang Ngearn. This temple locate at west side of Wat Maha That. Around the temple has no wall and only one lotus style pagoda inside. Wat Sa Sri. This temple locate at north-west side of Wat Maha That. The design of this temple actually outstanding from another temple around it has a building on pool and pagoda in Ceylon style. Wat Sri Swai. This temple locate at south side of Wat Maha That. There are three pagodas build in Lopburi style inside the temple. Ta Pha Deang Shrine. This ancient shrine that build in Khmer style. Fine Arts Department rebuilt this shrine and bought the relics they found inside to Ramkhamhaeng National Museum. Wat Phra Luang Luang is the second most important temple after Wat Maha That. This temple is the center of community back in it time. The oldest remains of the temple are the three pagodas. Sukhothai Historical Park Tourist center. This center is a Thai style Sukhothai architecture. Located in front of Wat Phra Phai Luang. Inside the center there are information about Sukhothai Historical Park to provide for tourist. Sukhothai pottery archaeological site. This site is near Wat Phra Phai Luang around the old moat area called "Mae Joan". The burner historian found here is a burner in Sukhothai period. Pottery that mostly found in this area are cups and bowls. Wat Sri Chum. This temple has large Buddha statue called Phra Ajchana. Due to an old condition of temple there is barley anything left to see this temple in a shape of building however the statue is still in task and remain until this day. Wat Charng Rob. This temple is locate at west side of Reed gate. There are pagoda in Ceylon style which has surround it base by 24 elephants. Sreed Phong Dam. This dam locate at old city district. The purpose to build this dam for store water and then send through canal around city's defensive wall to gold and silver basin inside the city. Wat Che Tu Phon. The temple that has sanctuary build from brick, laterite and slate. Inside sanctuary there are four statue of Buddha in different pose include sit pose, lay down pose, stand pose and walk pose. Wat Jedi Si Hong. This temple is locate at east side of Wat Che Tu Phon. Inside of the temple has a Ceylon pagoda that decorate by man and woman sculpture around base of this pagoda. Wat Sapan Hin. This temple standing Buddha image in attitude of meditation tall around 12.5 m. called Phra Attha Ros. Wat Charng Lom. This temple has a Ceylon pagoda that decorate by half elephant sculpture around its base. Wat Tra Pung Thong Lang. This temple is locate at the end of Jarod Vitee Tong. Inside the temple has a sanctuary and Buddha statue that tale about the story when Buddha came back to earth and edify his own father and mother. According to Sukhothai Travel guide there still some place to pay a visit. Sawan Vorra Nayok National Museum. This is another national museum aside from Ramkhamhaeng National Museum. Sri Suchanalai Historical Park. This historical park is locate at Sri Suchanalai district nearby Sukhothai also this place accepted to be world heritage like Sukhothai Historical Park. Wat Sopharam. This temple is the present city's temple of Sukhothai province. Mae Rawing plain.
This is a beautiful public park surround by water side. Tourist can travel to Sukhothai Historical Park by personal vehicle on highway No.12 also known as Sukhothai-Tak road to the west about 12 Km. Or else there are some local bus from Sukothai transport station to hire.

Mueang Kao
Mueang Sukhothai District
Sukhothai 64210
---
Reviews (0)
No reviews yet.