Royal Grill Room & Wine Cellar Pattaya
Fine Dining Restaurant in Pratumnak
The Royal Grill Room & Wine Cellar has the air of an old-fashioned gentleman's club about it, where persons of import can discuss their affairs over a glass of brandy. With its dimly-lit wooden decor and atmosphere of elegance, refinement and exclusivity created by the presence of a dinnertime pianist and luxurious surroundings, it is a restaurant for connoisseurs of fine food and fine wine.

That is not to say that you need to be a government minister or professional food critic to eat here. There is a dress code – the ever-contradictory 'smart-casual', with a specific appeal against shorts – but, so long as you meet that standard, the staff are friendly and accommodating and the service is as smooth as you would expect from a five-star resort, regardless of whether you are sat in the air-conditioned interior or the al fresco terrace with a cool sea breeze.





The food is the real star of the show at the Royal Grill Room & Wine Cellar – sometimes literally as there are some dishes which will be prepared right by your table. It features the highest quality imported meats and seafood and the steak in particular defies comparison. The highlight of the menu is the chateaubriand, which is prepared at your table and intended to be shared between two people, making it also a good choice for a romantic meal. The meat is beautifully tender, juicy, flavourful and expertly prepared. Broadly-speaking, the portions are haute cuisine-standard, but the quality and richness makes even the most dainty dishes highly satisfying and filling.

Also a bonus in a romantic meal is sharing a good bottle of wine. Described as a 'wine cavern', its contents of over 1,000 new- and old-world wines which can be sampled before dinner means that it definitely deserves its name. The fact that it is the only restaurant in Thailand to have an underground wine cellar and that it really does look like it was hollowed out of the rock also helps. This magnificent selection is joined by a wide range of top-class liquors and liqueurs. Given the plush surroundings and dignified atmosphere, an after-dinner brandy suddenly seems like the sensible thing to do instead of an extravagance.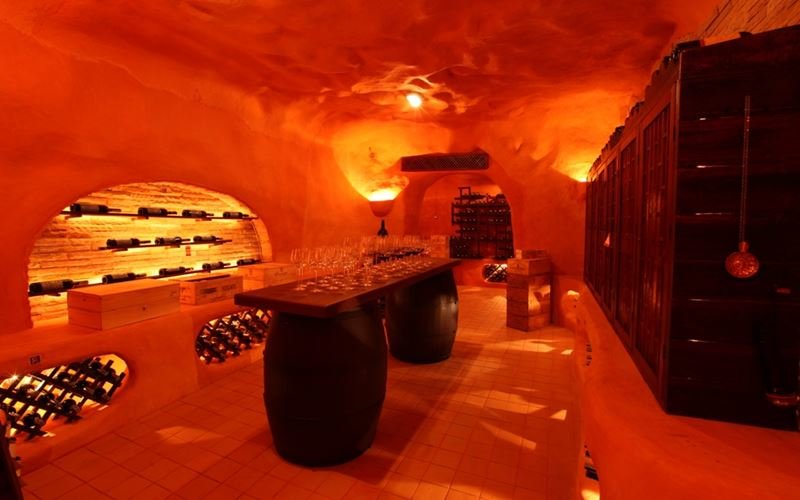 The Royal Grill Room & Wine Cellar provides fine dining at its very finest. Naturally, this comes with a bit of a hefty price tag and, while not bankruptcy-inducing expensive, it is certainly not cheap. Special signature menus are available through the year and prices usually reach close to 1,000 baht for three courses, not including wine. However, it is money well-spent to enjoy a unique experience and exceptional food in elegant surroundings.


Opening Hours: 18:30 – 22:30 (except Tues)
555/32
Moo 5
Naklua Soi 12
Pattaya City
20260
---
Reviews (0)
No reviews yet.