Mezzaluna
Mezzaluna is Bangkok's most swank restaurant, and dining up here 65 floors above the Chao Phraya River and the Bangkok skyline is one of the top experiences one can have while in town, especially as the restaurant has been awarded two stars by the Bangkok Michelin guide, and features the palate-boggling cooking of chef Ryuki Kawasaki, who has manned Michelin kitchens in France, the U.S., and his native Japan, and was named Chef of the Year by the Escoffier Society while working at Twist by Pierre Gagnaire in Las Vegas.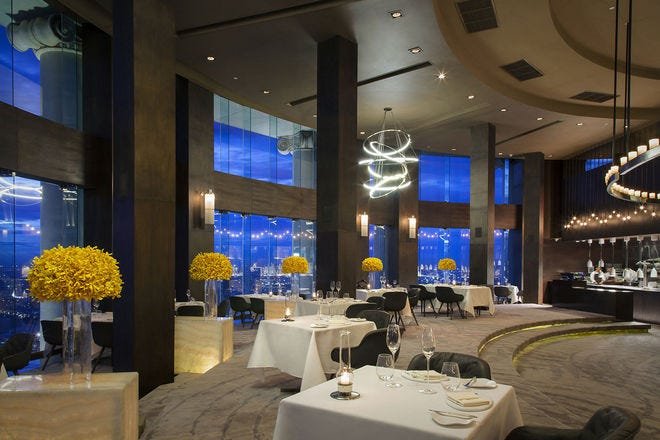 Taking over the helm at Mezzaluna in 2015, Kawasaki has combined his superlative French cooking techniques with some of the most exclusively sourced ingredients to be found in Asia. Take the Niigata Murakami Wagyu beef for example, which Kawasaki brings exclusively to Thailand from Japan. The beef comes from a small breed of carefully selected, high-quality calves from Niigata Prefecture, which are raised on rice straw, hay, and premium compound feed, giving the beef a silky texture and absolute melt in the mouth taste. It is served here at Mezzaluna with black truffles and grilled over binchotan charcoal, and is the signature dish headlining an incredible seven-course tasting menu

Everything about the dining experience at Mezzaluna is done to utmost perfection. A bevy of staff hover around your table, never failing to notice whether you need more bread or water, constantly bringing palate refreshers before dishes, and giving detailed explanations of all the captivating creations. An expert sommelier comes out to explain each wine pairing served with the food, not only giving the origins of each bottle, but complimenting its highlights and flavor profiles, and the cellar here is one of the finest in all Bangkok, with several of the wines served being exclusive to Mezzaluna.

The menu at Mezzaluna is seasonal, changing every three months, although dishes like the Wagyu beef are always featured. Chef Kawasaki says, "My passion is to create experiences that inspire and leave lasting memories for the people I share them with, and our culinary journey at Mezzaluna consists of various textures, flavors, artisinal seasonal products, and cooking techniques."

This is an entire dining experience at its finest, from chef to server to table to ambience. At this point, the sky (and possibly even a coveted third star) is the limit for Mezzaluna and its all star chef.

Due to COVID-19, please check with the business for the most recent updates to their opening hours.

Lebua State Tower 65th Floor
1055 Silom Road
Bangkok
10500
---
Reviews (0)
No reviews yet.