Lom & Fon Kitchen
Lom & Fon Kitchen is yet another of the few great Thai restaurants near Sukhothai Historical Park. The restaurant is located in an alley right before you enter the park and has quite a peaceful environment and atmosphere.
Like many other restaurants in Sukhothai, the menu has plenty of classic dishes to choose from, such as Penang Curry (100 THB) and Tom Yum Goong (180 THB). But the quality of the food, as well as the restaurant, is much better than the average restaurant in this area, hence the fact that this restaurant is pricier than others.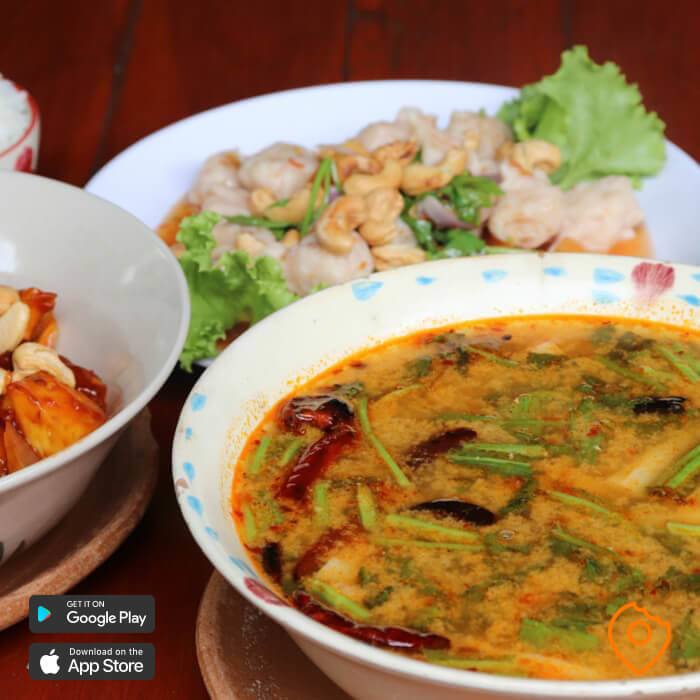 The absolute highlight of the menu at Lom & For Kitchen is their Roasted Beef with Pineapple in Sweet & Sour Sauce (140 THB). This is the own creation of this restaurant and it has some similarities with the classic Thai dish named Chicken Cashew Nut, but the tomato-based, sweet and sour sauce makes it also completely different. We absolutely loved this dish and we highly recommend you to try all this deliciousness as well.

Mueang Kao
Mueang Sukhothai District
Sukhothai 64210
---
Reviews (0)
No reviews yet.