Krua Nai Pun
Krua Nai Pun is a lovely well-decorated and clean restaurant with airconditioning, that offers delicious seafood meals.
It was here that I tried for the very first time the so-called Kanom Chin Sao Nam (120 THB). It's a plate with a cup of coconut milk and ingredients such as garlic, mango, onion, rice noodle, coconut flakes and prawns. The idea is to mix everything and get all these flavours in your mouth at once. It was surprisingly fresh thanks to the coconut milk. It's such an interesting dish which I would recommend to everyone to try out.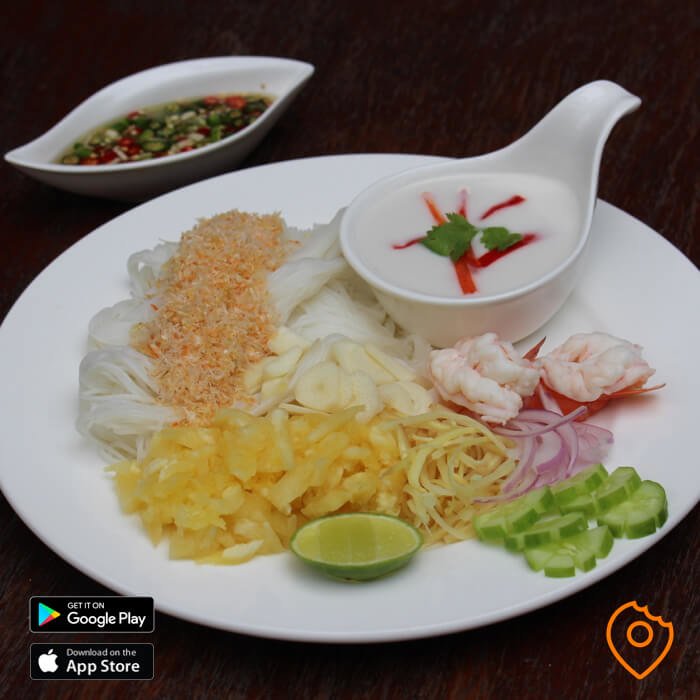 Another flavorful dish we tried was the Yum Tua Poo (150 THB), a wing bean salad with shrimp and fried onions, covered in sweet and sour dressing. It's these herby and exciting dishes that make the Thai cuisine so unique. My favourite dish was what came next, the Som Tum Pla Tum-Tim Grob (300 THB). This is deep-fried fish filets covered in a papaya salad. The sweet and sour dressing of the som tum gets soaked in the deep-fried fish filets, which is so incredibly delicious! The portion is large enough to eat with at least two persons from it.

The last dish we tried was a Japanese/Thai fusion dish: Ph-Pla Salmon (350 THB), which is sliced raw salmon covered in Thai herbs and served with wasabi. The salmon together with the red onion, mint leaves, chilis and many other Thai herbs will give it so many exciting flavours. I absolutely loved it! More information, such as the location of this restaurant, opening times and other users' opinions can be found on the TopTravelFoods review page of Krua Nai Pun.

2 U Thong Rd
Tambon Tha Wa Su Kri
Phra Nakhon Si Ayutthaya District
Phra Nakhon Si Ayutthaya 13000
---
Reviews (0)
No reviews yet.