Huai Mae Khamin Waterfalls
Huai Mae Khamin is a heavenly destination for the tourists who love the nature and waterfalls. The flawless beauty and refreshingly cool stream of Huai Mae Khamin will comfort the visitors.
Recommended for
Adults
Families
That's why we should visit Huai Mae Khamin instead of the other places. Huai Mae Khamin is one of the most famous and beautiful cascading waterfall of Thailand because of its natural beauty of steam which is flowing down step by step and which is surrounded by sparse forest, mountain range and various kinds of herbs. So, it is the moment of impression that we should take a picture. Huai Mae Khamin Waterfall is originated from Kala mountain range. The waterfall is situated on the east of Sri Nakarin Dam national park. The water from Huai Mae Khamin flows down to Si Nakarin dam. Furthermore, the current is gradually falling down from limestone cascade like natural stairway. Huai Mae Khamin Waterfall totally has 7 floors. The distance of the waterfall is more than 1 kilometers, so it is considered as long cascading water fall. Each floor has its name.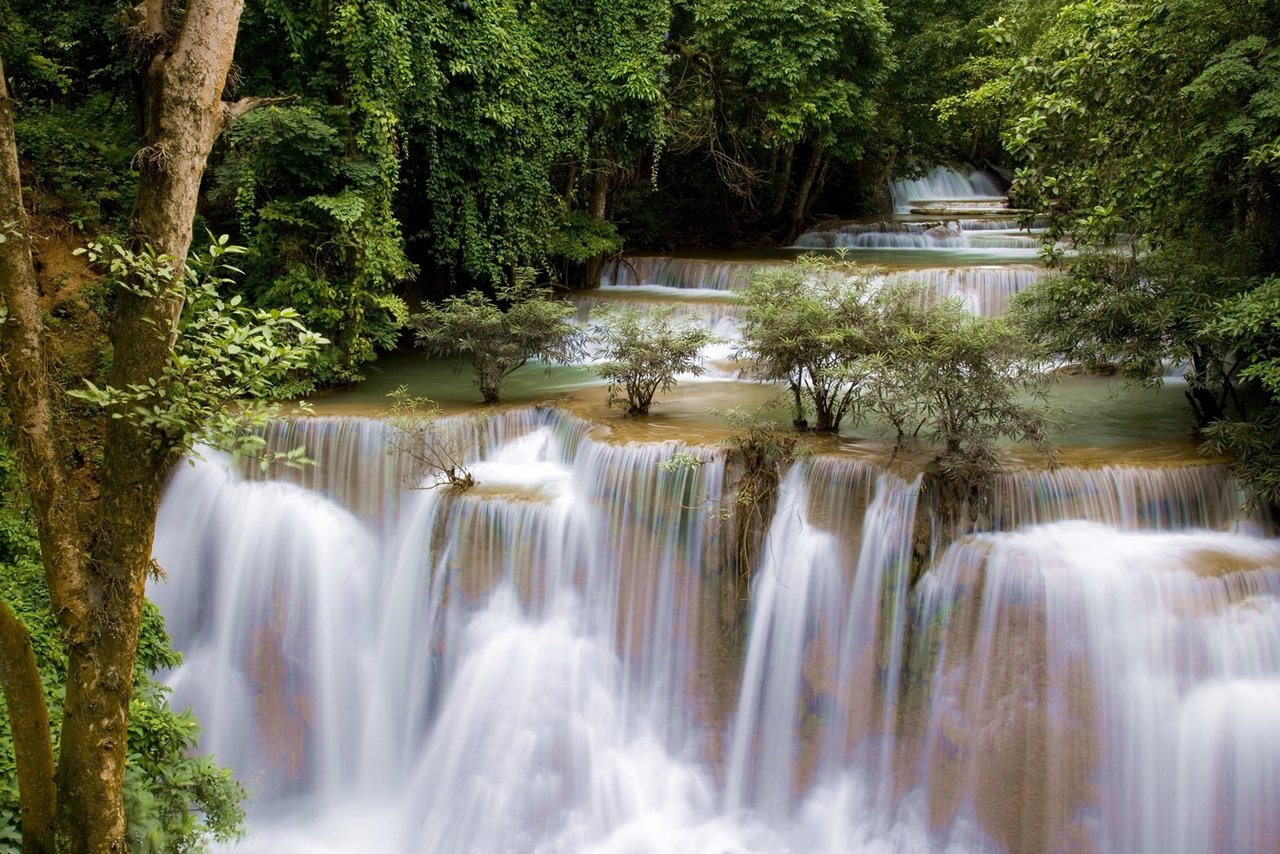 The first floor is called Dongwan. Dongwan is a low cascading waterfall. In this area, there are a wide range of important herbs such as wild betel and laurel clockvine. There are plates giving information about the waterfalls along the road. The second is called Man Kamin. Man Khamin is a watercourse where water flows down to pond below. So we can see Man Kamin cascade as beautiful water curtain. The third floor is called Wangnapa. At this floor, the water flows down from the steepest cliff of the waterfalls. The fourth floor is called Chatkaew. This floor is the highlight of Huai Mae Khamin because the stream is gradually flowing down from cascading earth and stone floors and then suddenly falling down to the pond below. The fifth floor is called Laichonlong. The stream infiltrates to the ground. The natural phenomenon is called doline. The sixth floor is called Dong Phi Sue. The stream is flowing through low cascading limestone. The seventh floor is called Romkao. This is the top floor of Huai Mae Khamin. The stream is surrounded by a wide range of trees and flows down from the waterfall cliff. In this area, it is a place to relax. From this floor, you can see Sri Nakarin reservoir and it is the viewpoint that you can see the beautiful sunset.

Mae Kra Bung
Si Sawat District
Kanchanaburi 71250
---
Reviews (0)
No reviews yet.