Handicrafted Aranyik Knife Villages
Aranyik Village is located in village number 6 and 7, Ta Chang sub-district, Nakhon Luang district, Phra Nakhon Si Ayutthaya Province.
The territory of Aranyik Village is actually including two villages; Ban Ton Pho and Ban Nhong Pai. Both of them are very well known as one of Thailand's biggest places for knife-making since the business has run for almost two years.Dating back to early Ratanakosin period, the villagers at Ban Ton Pho and Ban Nhong Pai, who were the Vientianese from Laos and came to Thailand, mostly worked as craftmen; goldsmiths and blacksmiths, especially those who made knives. Later, in 1822, the goldsmiths quitted their jobs, leaving only the blacksmiths; therefore, the villagers' main living became only smithery.As for the history of the word "Aranyik Knive," in the past, there were a lot of markets and gambling houses at Ban Aranyik, Pak Tha sub-district, Tha Ruea district, Phra Nakhon Si Ayutthaya Province, only 3 kilometers from Ban Ton Pho and Ban Nhong Pai villages, where a number of people traded and exchanged their goods, including knives.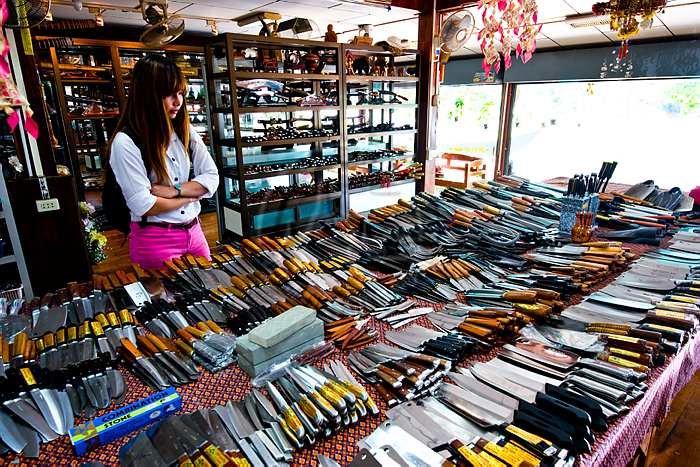 Once the buyers found the Aranyik knives have good quality, they told the others about the knives. As a result, the reputation of Aranyik knives spread even though they were made at Ban Ton Pho, Ban Nhong Pai and other villages.At present, Aranyik knives remain the pride of Phra Nakhon Si Ayutthaya Province, owing to its durability, as some of them can be used for the whole generation, and its beauty. This is undeniably a valuable folk wisdom inherited to present.The tourists can stay at the local homestay at Aranyik Village. They can also watch the knife-making show, try making knives, and buy some quality knives as souvenir.

162/3 Moo 7 Nakhon Luang
Phra Nakhon Si Ayutthaya
---
Reviews (0)
No reviews yet.