Grandma's Home Cooking School
Spend an enjoyable, fun day learning how to cook delicious and healthy Thai food at Grandma's Home Cooking School. The cooking is done in an open pavilion set in the beautiful gardens of an organic farm just outside Chiang Mai.
Recommended for
Adults
Families
Attraction type
Entertainment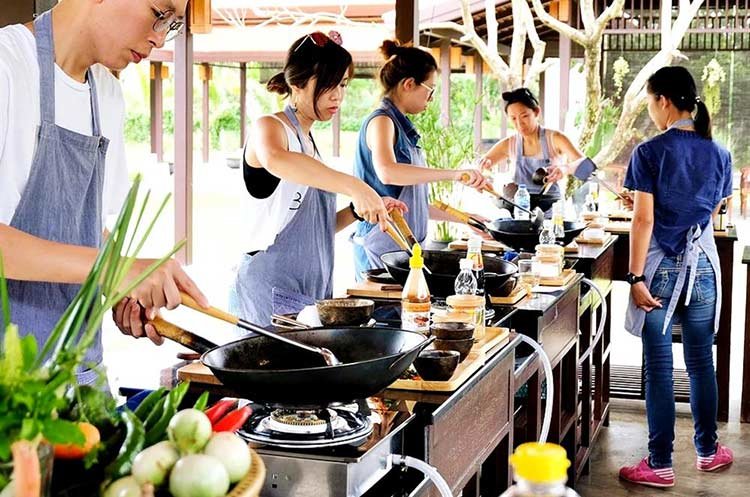 Local market visit

The morning and full day course start with a visit to a local market. A riot of colors and smells, the market is a fun place to look around with its enormous variety of spices, herbs, vegetables and fruits.

At the market you will get to know the ingredients used in the Thai kitchen.


Get to know the ingredients

The instructor will show you how to select fresh and good quality ingredients and explain what they do and what their health benefits are.

He will also tell you what to look for if you want to cook Thai food when you're back home and which ingredients are good substitutes that give a comparable flavour and texture.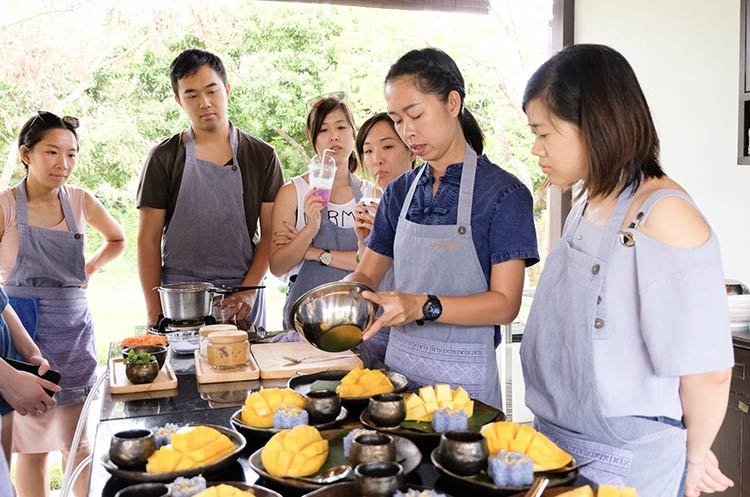 Organic farm

Then it's off to Grandma's Home Cooking School on an organic farm in a serene setting just outside the city. The herbs and vegetables for the cooking class are grown on the farm.

Take a tour around the farm first, harvest fresh vegetables and mushrooms and collect eggs from a chicken house. You can also feed the ducks and hens if you like.


Cooking station

The cooking is done in Thai style pavilions set in the beautiful gardens of the farm. Everyone has their own cooking station with woks, cooking tools and ingredients.


Instructors

English speaking instructors are helpful, knowledgeable and experienced. Small groups make the courses personal. With a maximum of eight students per class, it is easy to ask questions.


Choose dishes

Choose the dishes that you want to cook from a menu. Both vegetarian and halal options are available.


Delicious Thai dishes

Among the choices are famous and delicious Thai dishes as Tom Yam (hot and sour soup), Gaeng Keow Wan (green curry), Pad Thai (stir fried noodles) and Massaman curry.

If you prefer a specialty of North Thailand, choose Khao Soi, a soup with noodles in a curry sauce with ingredients as chillies, lime and shallots.

After the main course enjoy mango sticky rice, one of Thailand's favorite desserts.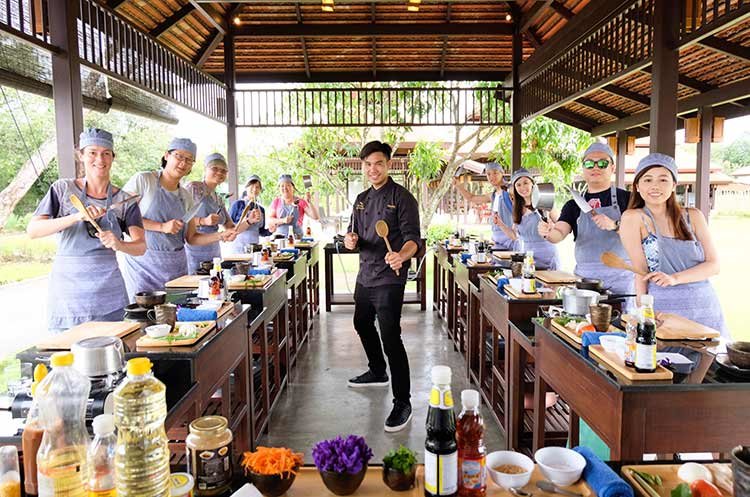 Cook & eat

Learn how to cook Thai delicacies step by step. The instructors demonstrate the techniques first, then you get to cook every dish yourself. Cook to your own liking, you can make it spicy or not spicy. In the end, you get to eat everything you have just made.

Every student receives a recipe booklet to take home.


Half day or full day

You can either take a half day or a full day cooking class.


Half day

The half day class teaches how to cook three dishes: a soup, a stir fried dish and a curry. A dessert, delicious mango sticky rice, has already been prepared and is ready to eat.


Full day

Take the full day class to learn how to prepare five dishes: an appetizer, a soup, a stir fried dish, a curry and a dessert. Papaya salad has already been cooked.
Course times

Several daily classes are available.

Full day: 9 am - 3:45 pm.
Half day morning: 9 am - 1:45 pm.
Half day afternoon: 4 pm - 7:45 pm.

172/7 Moo.8 Saraphi Chiang Mai 50140
---
Reviews (0)
No reviews yet.