Gaa
nnovative, elegant, and delectable fine dining has reached new heights in Bangkok with the 2nd edition of the Michelin Bangkok guidebook's 2019 release.
Heading the list of newcomers awarded one star is Gaa, which features unique and eclectic takes on both Indian and Thai fare, served up with exquisite presentations and creative techniques by head chef Garima Arora, who is the first Indian woman to receive a Michelin award.

Arora hails from Mumbai, and left a career in journalism, opting instead for enrolling in Le Cordon Bleau, France's prestigious culinary academy, and then working at the esteemed Noma in Copenhagen as well as a stint with chef Gordon Ramsay at Verre in Dubai. She then came to Bangkok to work alongside of Gaggan Anand, whose 2-star Michelin Gaggan provided a launching pad for honing her unique and uber-creative techniques which she has put to full use at Gaa.


Set in a leafy side street in a beautifully refurbished house, where comfortable rooms have soft lighting, dark wood, and large windows, diners have their choice of tables. Several rooms are suitable for private groups, while the main dining area looks out into the trees and foliage. One room features a table set under a painting of the home's former owner, who appears to look out in watchful gaze at the fabulous feast appearing in front of her.

Gaa offers both a 10 and 14-course tasting menu in which modern techniques pair with age-old recipes, all of which are made using only fresh locally-sourced ingredients. While the entire evening is a real visual and tactile knockout, there are a few dishes that really stand out. The duck "donuts" are a play on Japanese takoyaki; small pastry balls that are stuffed with duck meat and vindaloo sauce, and just incredibly melt-in-your-mouth succulent (you'll want to see a daily food cart of these outside your house once you try them). Another winner is the signature young corn, in which baby corn is grilled with lime and chili and presented here with its charred skin, that peels away to some of the sweetest corn you'll ever have. The corn is served with a sweet corn and ghee emulsion dip, and Arora took inspiration for this from the grilled and spiced "bhutta," a popular Indian street snack.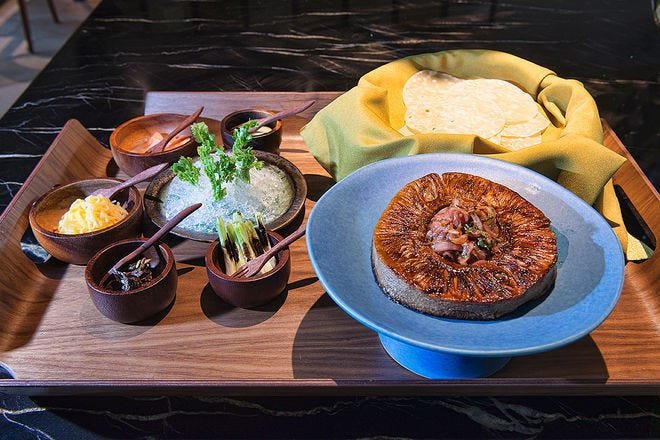 While many Michelin restaurants serve up fine Wagyu beef or try to bowl you over with foie gras presentations for their main courses, Gaa again bucks the trend, instead opting for unripe jackfruit, served here with jackfruit roti and a variety of pickles. As opposed to the sweet fruit, the unripe version is thick and meaty and will make a believer of any carnivore. And for those who can't live without their flesh, the caramelized sous vide pork belly served with a tamarind glaze, shallots, coriander, and pomegranate, is not just the best piece of pork you'll have in Bangkok, but possibly in all Asia if not elsewhere.

For the finale here, several desserts seal the deal. One is a deconstructed banana bread, a bite-sized morsel that will have you thinking you are in a fine patisserie, and then another great take on Indian habits, that of chewing a stuffed betel nut leaf (known as "paan") after eating, although here at Gaa the leaf is half covered in 85% dark chocolate, with the other side having crumbled cardamom dust.

In addition to the amazing culinary creations, there are superb wine pairings to go with the dinner, and even juice pairings for those who want to remain completely sober for one of Bangkok's most outstanding feasts.

68/4 Soi Langsuan
Bangkok
10330
---
Reviews (0)
No reviews yet.