Din Cafe
Din Cafe is a modern restaurant which is part of the Tara Villa Riverkwai Resort, but accessible for those who are not staying in the hotel as well.
The venue looks incredible with a stunning view of the river and is quite a peaceful place to have lunch and dinner, or just grab a cup of special tea with one of the many cakes they serve. But if you do get there with an empty stomach, we would recommend you to try one of the following dishes.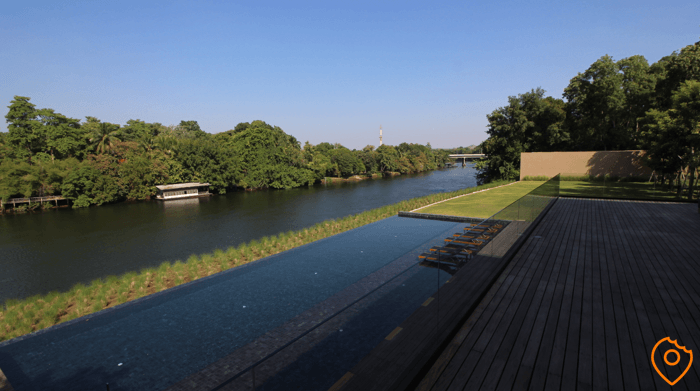 As mentioned earlier in this article, Kanchanaburi has a special type of mushroom that can only grow in Kanchanaburi during specific seasons. Most restaurants want to add this mushroom to some of their dishes. At Din Cafe, they added the mushroom as a topping on their burger, which is so delicious! Another tasty comforting food option is their Deep-Fried Wing Stick Chicken (160 THB), which is super crunchy with the right amount of spiciness.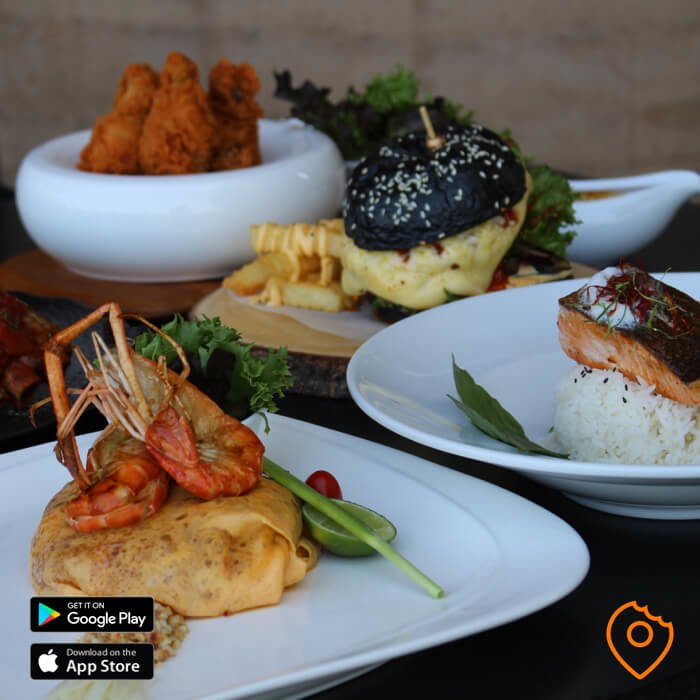 Make sure to leave room for dessert as these desserts were among the best we tried in Kanchanaburi. The Legend Of River Kwai (295 THB) is a stunning looking chocolate dessert with different types of chocolate mouses and components. The most beautiful dessert we've seen was the Chomphu Pantip (220 THB), which is a spongy cake with strawberry jelly and presented with cotton candy. Stunning and delicious! The final recommendation is the High Tea with Signature Tea of Choice (550 THB), which contains ten different cakes and you can select one of the high-quality teas.

Mae Nam Khwae
Kaeng Sian
Mueang Kanchanaburi District
Kanchanaburi 71000
---
Reviews (0)
No reviews yet.