CM Entertainment Complex
CM Entertainment Complex is a narrow, covered alley of beer bars, with a Muay Thai boxing ring right at the end.
Located along Loi Kroh Road, which is itself lined with beer bars, this is effectively the epicentre of the adult nightlife in Chiang Mai. It hosts kickboxing bouts most nights which are usually free. There is sometimes a fee on weekends, but a discount can often be negotiated. There are also about 30 raucous and rowdy bars to choose from.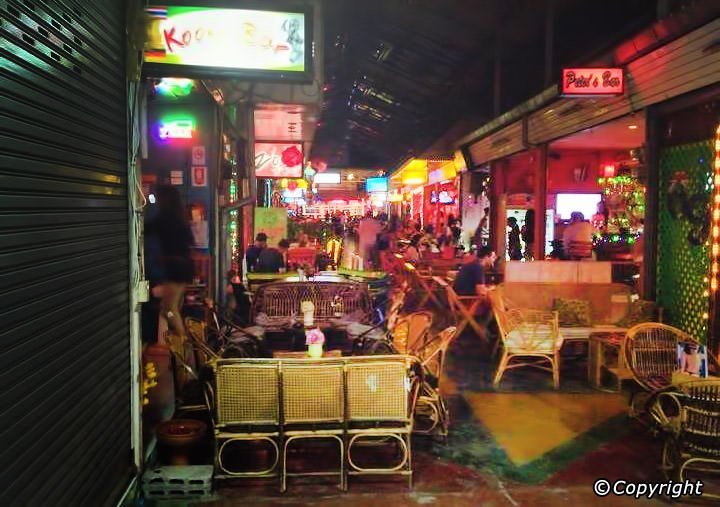 Bars in CM Entertainment Complex

The bars in the Chiang Mai Entertainment Complex are largely identical. Most have a couple of TV screens showing live sports, many have pool tables and dartboards, and all have cheap drinks served by attractive waitresses. Each bar also plays quite loud EDM, pop or rock music. Since each bar is playing a completely different song and they're all open-fronted bars, the music often becomes impossible to differentiate leaving nothing more than an incomprehensible noise.

Despite their similarities, there are some bars in the C.M. Entertainment Complex which attract big crowds and others which remain virtually empty all night. It's a good idea to check out a few to find the best fit. My TiRak Pub is one of the more popular venues with small bottles of local beer costing 95 baht each. Prices are pretty uniform throughout the complex.


Boxing in CM Entertainment Complex

The live Muay Thai matches are what sets this complex apart from others in Chiang Mai. It is one of only a few places in the city you can watch regular bouts. While you shouldn't go expecting world-class title fights, the matches certainly don't seem staged and the atmosphere is often electric. On some occasions, the boxing ring area of the complex is curtained off. You'll need to buy a ticket for about 400 baht to get in, though you can sometimes barter it down a little.

The bars in C.M. Entertainment Complex are similar to those of Bangkok's Nana area, Pattaya's Walking Street, Phuket's Bangla Road and Koh Samui's Soi Green Mango – in other words, definitely not family-friendly. However, if approached with a robust sense of humour, it can be an entertaining place for a fun and fairly cheap evening.

Opening Hours: 19:00 – late

---
Reviews (0)
No reviews yet.