Classic Kameo Ayutthaya
The Classic Kameo Hotel offers a mix of hotel and holiday apartment-style accommodation. Guests can choose from modern deluxe rooms, studio, and one-bedroom suites.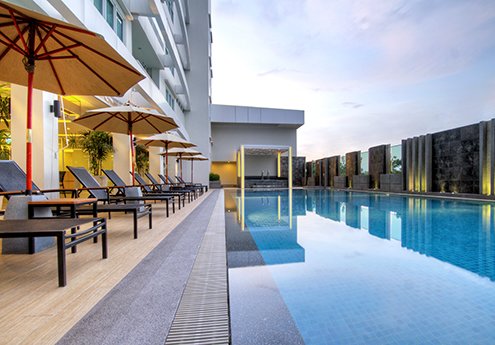 Rooms at Kameo Ayutthaya come with a balcony, air-conditioning, and a kitchenette with a fridge and microwave oven. Other in-room amenities include a seating area, flat-screen cable television, safety deposit box and an ensuite with a bathtub.

Some rooms have a washing machine.

This value-for-money hotel features an outdoor pool with lounges and towel service, a fitness centre and sauna, free Wifi and complimentary private parking, a laundry service and a 24-hour front desk.

Hotel Classic Kameo Ayutthaya is less than a 10-minute Tuk Tuk ride to the historic park, and convenience stores are just a short walk away.

The hotel has an onsite Chinese restaurant and guests can start their day with a filling buffet breakfast.


Best Things?

The kitchenettes are really convenient.


Worst Things?

Despite having kitchen amenities tea and coffee are not provided in the rooms.


Summary

The Kameo Hotel is a hybrid holiday apartment come hotel with a pool, sauna, and fitness centre that offers buffet breakfast and 24-hour front desk.

210 - 211
148 Moo 5 Rojana Road Pailing Phra Nakhon Si Ayutthaya District
Phra Nakhon Si Ayutthaya 13000
---
Reviews (0)
No reviews yet.