Bo Sang Umbrella Village
Bo Sang village, also known as the umbrella village close to Chiang Mai city is known for its many workshops where various handicrafts are made.
Recommended for
Adults
Families
Attraction type
Sightseeing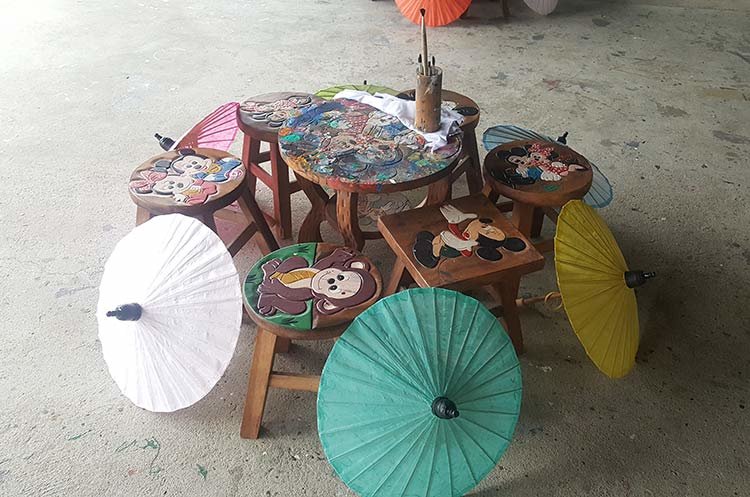 Umbrella Village

With its workshops displaying countless paper umbrellas lining the street, the village is a riot of colors. Although famous for its hand made paper umbrellas, Bo Sang village produces other handicraft products like parasols, fans, silverware, Thai silk, jewelry and teakwood carving.


Paper umbrellas

The umbrellas that are hand made from Sa paper are mainly used as decorative items for in the home and for ceremonies. They come in various sizes and many colorful designs.


How it started

Over a century ago a local monk was given a hand made paper umbrella by a Burmese man. The monk visited the man's village and saw how the people there made Sa paper umbrellas. The monk made notes of how the umbrellas were made and when he returne to Bo Sang village he told local people how to make the umbrellas. Sinc then, Bo Sang village has become famous for its hand made paper umbrellas.


Skilled crafts people

Paper umbrellas are hand made in the work shops from start to finish. Starting with cutting the bark of the Sa tree to painting the umbrella, skilled and experienced craftsmen and women complete every step of the production process by hand.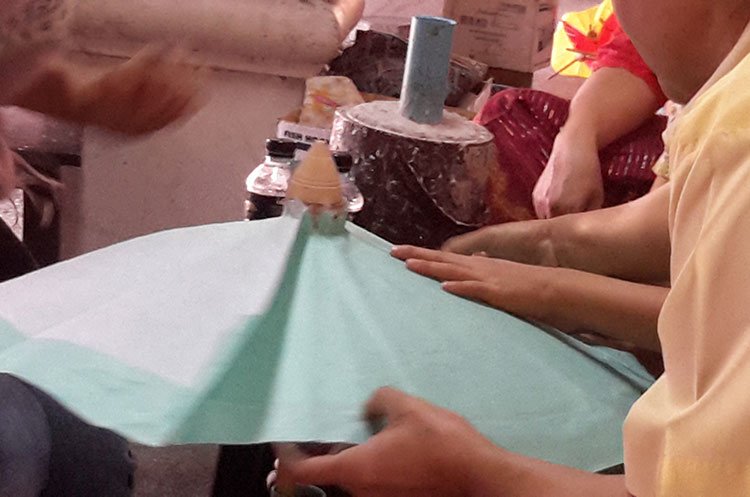 Hand made

In the workshops you can watch every step of the umbrella making process. The umbrella's frame is cut from bamboo, the cover is made from Sa paper. The process starts with cutting the bark of the Sa tree (mulberry tree). The fibres are put into boiling water and stirred, after which the material is sifted with a screen. The sheets of paper are then laid out to dry in the sun. Once dry, the sheets are used to cover the umbrella. The fabric is glued to the bamboo frame and fumigated to protect the material from pests. The last step is painting the umbrella.


Hand painted

The umbrellas are hand painted in colorful designs. Bo Sang is knon for its floral designs and scenes of nature and rural villages.


A great souvenir

Paper umbrellas make for a great souvenir. Look for one with a design you like or buy one that has not been painted yet, choose a design and have the umbrella painted while you wait. You can also have your purse, phone case or T-shirt hand painted for a small fee.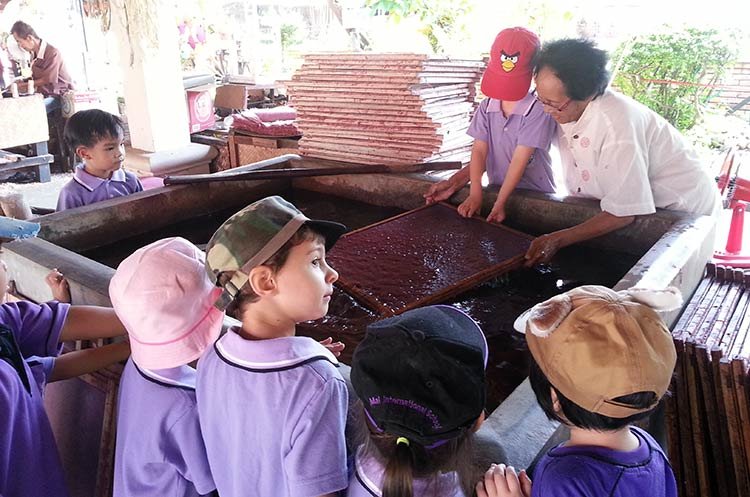 Shops

The large shop at the Bo Sang Handicraft Centre has a large selection of umbrellas, fans, parasola and other handicrafts for sale. Also check out the small workshops along the road.
Bo Sang umbrella & crafts festival

The annual umbrella and crafts festival is held to highlight the craftmanship of local people and to promote the handicrafts. Watch traditional Northern dance performances like the fingernail dance and the sword dance or try local food from street markets. One of the highlights of the festival is the bicycle parade. Young women and men wearing traditional clothes carrying umbrellas cycle through the main street. The three day festival is held on the third week of January.
Other handicrafts

Although famous for its paper umbrellas, there are many workshops and small factories producing other handicrafts along the road in Bo Sang. Among them are:

Silverware factory
Thai silk center
Lacquerware factory
Jewelry factory
Teakwood carving


Silverware factory

Beautiful silverware items like pendants, bracelet and rings are hand crafted by skilled silversmiths. Some are inlaid with rubies or other precious stones.


Thai silk center

Thailand is known for its high quality silk items. At the silk center you can learn how the silk is produced starting from the cocoons produced by worms to the weaving and deying. Hand woven silk items like shirts, ties, scarfs and dresses make for a great souvenir. If you like Thai silk, visit the Jim Thompson House in Bangkok, that has a silk products shop attached to it.


Lacquerware factory

Lacquerware goes back hundreds of years in Chiang Mai. It was often used for decorative purposes in temples. Flower designs of gold on black color can be found on wood panels on windows and doors of Lanna temples and on wooden cabinets used to store Buddhist scriptures. These days lacquer is used to adorn hand made decorative items for in the house like cups, vases and boxes made out of mango wood.


Jewelry factory

Watch craftsmen and women working on jewelry, all hand crafted in great detail. Items as bracelets, rings and earrings are made in countless designs, shapes and sizes. Some are inlaid with precious or semi precious stones.


Teakwood carving

Decorative panels for on the wall as well as furniture as tables and chairs are made from teak wood and adorned with rural scenes of villages and elephants. Watch how craftsmen sculp the wood with great precision. Some furniture is beautifully inlaid with mother or pearl inlays.


How to get there

The cheapest way to get to Bo Sang handicraft village is to take a white songthaew that leaves from Warorot Market, about one kilometer East of Tha Phae gate. If you prefer a private ride, charter a songthaew for about 1,000 Baht including waiting time. Agree on price, destination and duration before getting in. Most comfortable option is to take a private taxi which will cost about 1,200 Baht.

Road 1014 in San Kamphaeng district
about 12 kilometers East of the old Chiang Mai city center. The umbrella making centre is found at 111/2 Moo 3
Bo Sang village.
---
Reviews (0)
No reviews yet.