Blue Rice Restaurant
Blue Rice Restaurant is a local restaurant run by two lovely ladies for years who take really good care of their customers with excellent hospitality and farm to table Thai specialities with their own twist. On the opposite side of the restaurant, there is their own small farm where they grow their vegetables and herbs.
The restaurant itself has a laid-back atmosphere and due to its location, it's nicely quiet with a motorized boat passing by on the river every now and then. But it's the food what makes this one of our favourite local Thai restaurants in Kanchanaburi.

Although there are several great tasting signature dishes to be found on the menu, all of which costs you 135 TH, there is one that blows us away. The Ma La Kor Phad Thai Gai seems like a normal pad Thai when served, but if you look closely, the noodles are replaced by thinly sliced papaya, similar to a papaya salad. The result is that you get a different texture and a much healthier version of a pad Thai, while flavour-wise, the pad Thai is almost identical.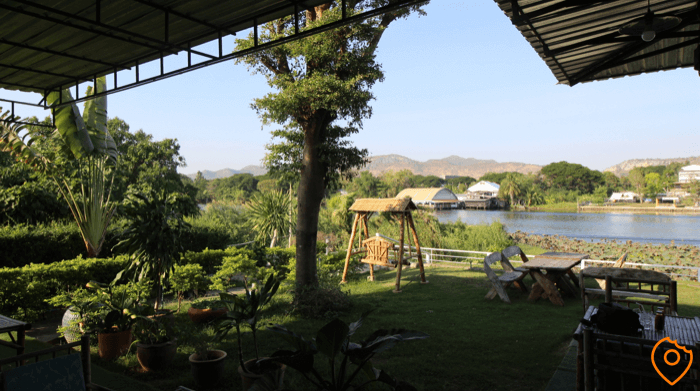 The second dish that is highly recommended is the Yam So O, a pomelo salad topped with thinly sliced kaffir leaves. This unusual, yet tasty combination, are the tiny details next to the homegrown vegetables and herbs what makes this restaurant so unique.

The third highly recommended dish is the Miang Kum, an appetizer where you fold the beetle leaves into a tiny bowl and add all sorts of raw ingredients - such as shallot, ginger, lime or dried prawns - into the folded leaves and eat it as a whole. As you can create your own combinations, each bite has different flavours than the previous bites. Other recommended dishes are Ma Sa Man Curry, Gaeng Tae-Pao and Thai Style Chicken Satay. As said before, all the dishes cost 135 THB per piece.

More information about this restaurant, including opening times, location, menu and ratings can be found on the TopTravelFoods review page of Blue Rice Restaurant.


On's Vegetarian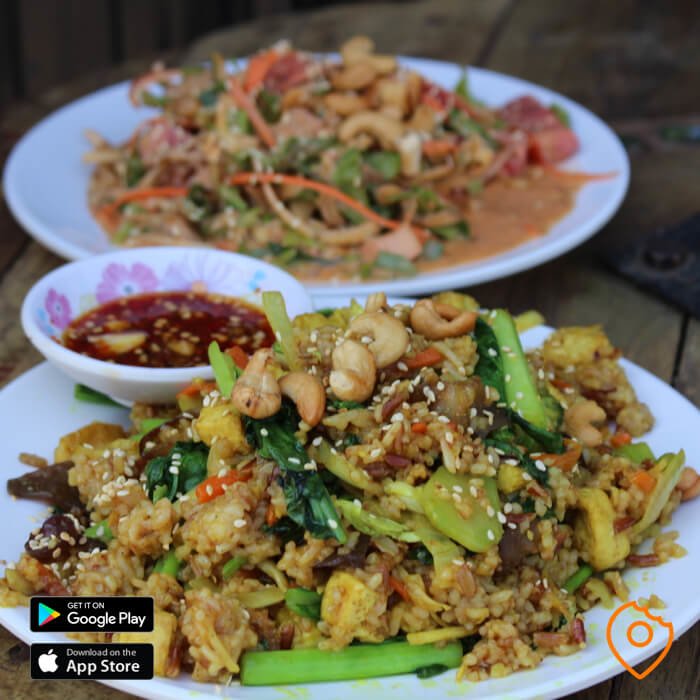 Located in the middle of the centre, this is the most popular Thai vegetarian restaurant in Kanchanaburi where around dinnertime, hungry guests are queueing up. The restaurant is small and run by On, who also has a cooking class that you can attend. What makes this restaurant so popular is the fact that all the food is clean, affordable, highly flavoured and the portions are huge. Even as a non-vegetarian, I enjoyed every single meal I tried here and you won't taste or notice the difference with tasty regular Thai food.

My favourite dish I tried here was the Curry Fried Rice (80 THB). This is a large plate of green curry flavoured fried rice packed with vegetables and diced tofu and topped with cashew nuts and sesame seeds. As it's a curry fried rice, the fried rice itself is not completely dry, which was perfect.




The second highly recommended dish is the Pad See Ew (80 THB). This Thai dish is similar to pad Thai but much heartier. The dish has a lot of flavours and is served with vegetables and mushrooms. Other recommended dishes are the Banana Flower Salad (80 THB) and the Massaman Curry (80 THB).

More information about this restaurant, including opening times, location, menu and ratings can be found on the TopTravelFoods review page of On's Vegetarian Restaurant.

Ban Nuea
Mueang Kanchanaburi District
Kanchanaburi
---
Reviews (0)
No reviews yet.