Baan U-Thong
This restaurant is one of the more popular restaurants in Ayutthaya because of its well-known seafood menu.
The restaurant is located next to the river, which gives it a nice river view. Guests can choose to sit next to the river on a wooden deck inside the cooler restaurant. Like other restaurants in Ayutthaya, Baan U-Thong serves the local speciality king river prawns. These enormous prawns are a real delicacy and when visiting Ayutthaya, we would highly recommend you to try them. The prawns are sold per piece, based on market price, but normally you would pay around 400 THB per prawn. The more you order, the less you pay per prawn.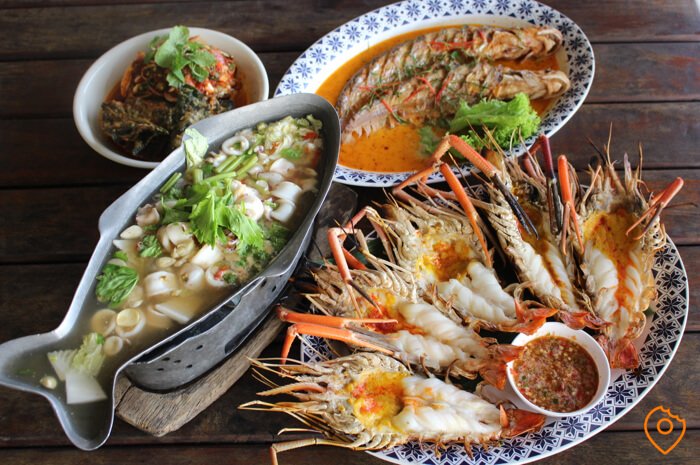 Other highly recommended dishes are the Deep-Fried Prawns with Crispy Beetle Leaves and Spicy Salad (150 THB) - which is insanely herby - and the Deep-Fried Common Sheet Fish topped with Curry (350 THB). If you are in an adventurous mood, check out the Boiled Snail with Bamboo Beatle Leaves in Red Curry (120 THB). There is also a vegetarian version available for this heavenly red curry. For more seafood, check out our article about the best seafood restaurants in Ayutthaya. More in-depth information can be found in our article about Ban U-Thong. More general information, such as the location of this restaurant, opening times and other users' opinions can be found on the TopTravelFoods review page of Ban U-Thong.

39
11 Moo 1 U Thong Rd
ต ประตูชัย
Phra Nakhon Si Ayutthaya District
Phra Nakhon Si Ayutthaya 13000
---
Reviews (0)
No reviews yet.