Doi Inthanon
Chiang Mai Sightseeing and National Parks
Recommended for
Adults
Families
Kids
Attraction type
National park
The highest peak in Thailand, Doi Inthanon rises to a height of 2565 meters (8, 415 feet) above sea level. This altitude means that temperatures on Doi Inthanon are refreshingly brisk year round and regularly dip below freezing during the cool season (October to February). The national park which contains Doi Inthanon and bears its name covers 482 square km (186 square miles) and contains Sanpatong District, Chomthong District, Mae Chaem District, Mae Wang District, and the Toi Lor Sub district of Chiang Mai Province.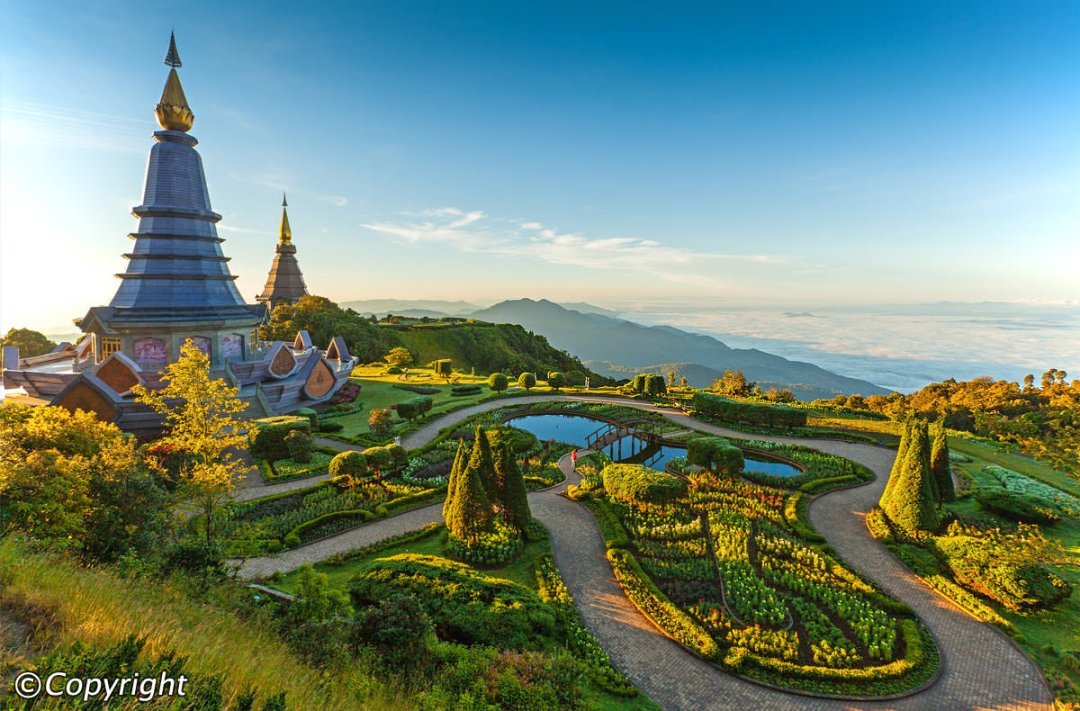 Doi Inthanon National Park is a true jewel of natural beauty, consisting of rugged mountainous terrain blanketed by lush tropical forests and dotted with mighty rivers and majestic waterfalls. The park's protected status makes it a sanctuary for a wide range of animal species and it is perhaps the best place in Thailand for bird watching. Approximately 362 different species of bird make their home in Doi Inthanon National Park, many of which are not found anywhere else in Thailand.

The diversity of Doi Inthanon does not only extend to plant and animal species, however. The park has long been home to settlements of Northern Hilltribes as well. Recent efforts have been made to allow theses unique villages to maintain their traditional cultures while co-existing with modern developments such as tourism and the Bhumibol Dam, which harnesses the power of the Ping River to provide electricity to thousands of Thai people.

Doi Inthanon is a popular destination for visitors to the region, not only for its natural beauty, but for its historical significance as well. Chedis (monuments) dedicated to Their Royal Majesties, The King and Queen, can be found atop the peak of the mountain.

The park has been adapted somewhat to accommodate the tourist trade and there are some eating and drinking areas, as well as accommodation. The rugged terrain is now crisscrossed with pathways and roads to make it more accessible to visitors. The development has been tightly controlled, however, and every effort has been made to preserve the natural beauty of the environment.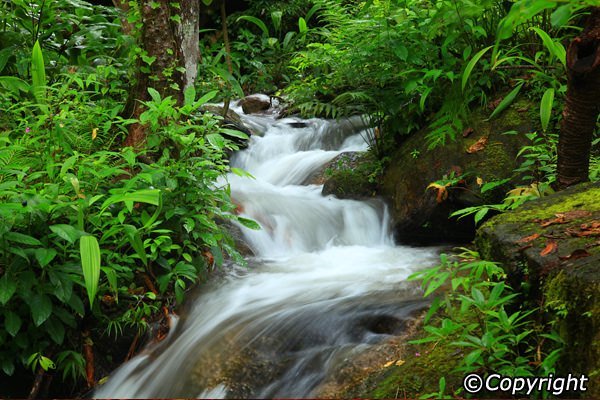 Doi Inthanon Topography and Climate

Doi Inthanon National Park consists primarily of high rugged mountains including Doi Inthanon itself, as well as Doi Huamodluang. The area is a major watershed and is the source of several rivers such as the Mae Klang, Mae Pakong, Mae Pon, Mae Hoi, Mae Ya, Mae Chaem and Mae Khan Rivers. It is also part of the source of the Ping River, which runs directly through Chiang Mai.

When you combine mountain peaks with rivers, what do you get? Waterfalls. Doi Inthanon National Park is the location of some of the most spectacular waterfalls in Thailand. The most stunning of these waterfalls is probably Mae Yai, which cascades down from a height of 100 meters (330 feet). Mae Klang Waterfall is easily accessible to visitors, being located right near the park entrance. On the weekends expect to see plenty of Thai families enjoying a picnic near this scenic point.

Wachiratan Waterfall is located halfway up the road to the top of the peak and provides some great swimming holes at the bottom of its 40 meter (131 foot) drop. A dip in one of these pools is not for the faint of heart, however, as the water temperature is downright icy. Close to the summit you will find the slender white wisp of Siriphum Waterfall, which is usually less crowded than its cousins. The water level of Siriphum varies a great deal from season to season, however.

The elevation of Doi Inthanon means that it enjoys a perpetually cooler temperature than the surrounding plains. During the middle of the cool season temperatures easily drop below freezing and even during the sweltering heat of the hot season the air at the summit remains bracingly chilly.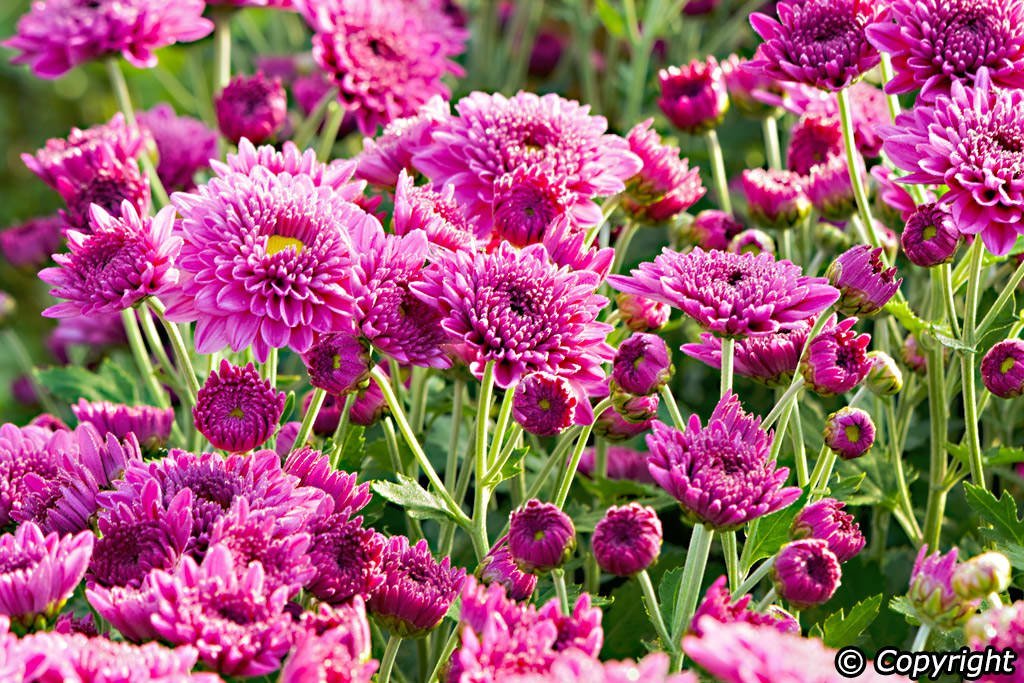 Doi Inthanon Flora and Fauna

The high elevation and abundance of water have blessed Doi Inthanon with a rich biodiversity that is unique in Thailand. Its lush forests include Moist Evergreen, Pine Forest and Mixed Deciduous. At the base of the mountains cleared agricultural land is interspersed with deciduous trees, which lose their leaves at the coming of the dry season. At higher elevations the deciduous forests give way to large swathes of tropical evergreen, which maintain their emerald hue all year round. Doi Inthanon is home to a large and colourful array of flowers, as well. Vanda Orchids, Phycastylis and Rhododendron can be found growing wild all over the park.

Doi Inthanon National Park is also home to a wide variety of animal species. Although many of the large animals are no longer found in the park it is still home to a number of different species. Asiatic Black Bears, Barking Deer and Chinese Flying Squirrels can be seen, living alongside a large variety of primates including Gibbons, Macaques, Leaf Monkeys and over 30 species of bats. Doi Inthanon is also the best locale in Thailand for bird watching, with over 300 different species making their homes among the trees.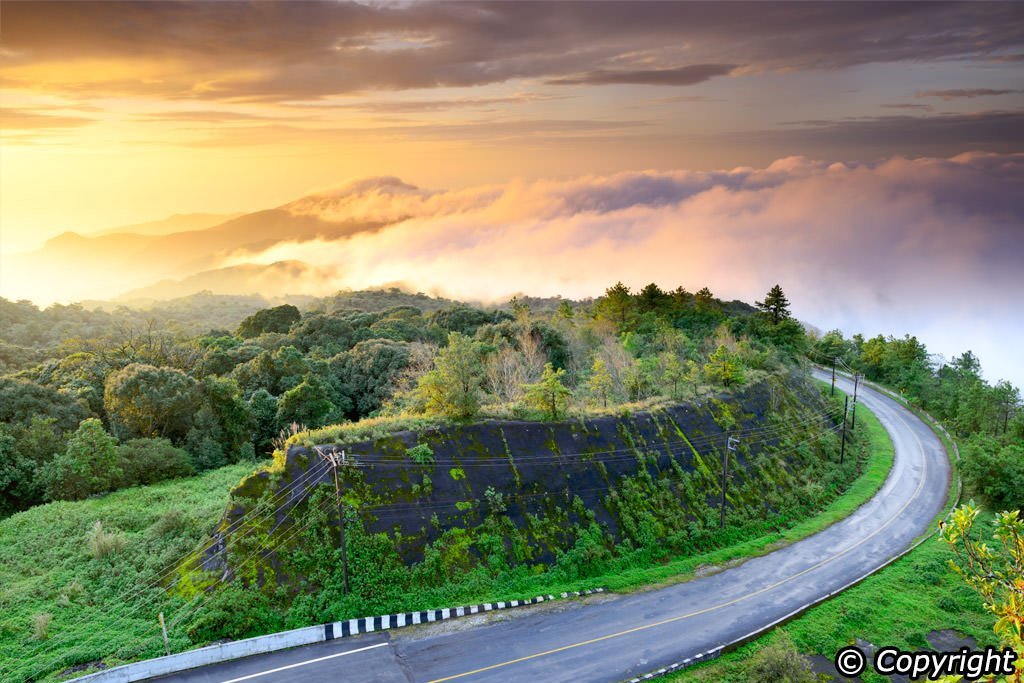 Doi Inthanon Attractions

Doi Inthanon National Park has much to offer visitors besides its natural beauty. For centuries the area has been home to various hill tribes who still reside there and maintain their ancient way of life. At the base of the peaks you will find Hmong villages, where the people continue to tend their fields as they have done for hundreds of years. The only change is the crop. Thanks to the Royal Project, these people have switched from cultivating opium poppies and now grow other commercial crops such as vegetables and flowers. Visitors are welcome to the Royal Project, which is located right near the rangers' station.

Try a trip to the Hmong Village, Khun Ya Noi, for a visit to the market and to admire the people's colourfully embroidered clothing. There are also several Karen villages, such as Ban Mae Ab Nai, where you can purchase fine examples of traditional Karen weaving and textiles and observe the quaint Karen way of life first hand. If you are up for a bit of a hike then check out Brichinda Cave, a beautiful limestone cave which is open to the sky. The cave is located in the middle of a deciduous forest, about an hour's walk from the road.

For those keen on trekking Doi Inthanon is a paradise, with four striking nature trails to explore. Nature trails are a great way to experience the fantastic scenery of Doi Inthanon up close and personal. Doi Inthanon nature trails take a few hours to walk and maps and guides are available at the ranger station. Near the summit of Doi Inthanon you will find two Chedis dedicated to Their Royal Majesties, the King and Queen. The Chedis are located on facing hills, about 100 meters (330 feet) from one another. They were erected to commemorate the King and Queen's 60th birthdays and each contain exquisitely crafted Buddha images as well as fine tiled murals. The views offered from the hills can be astounding on a clear day but there is often cloud cover or fog obscuring visibility.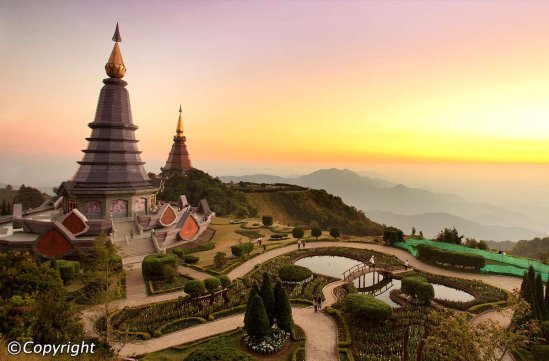 Doi Inthanon Travel Information

There are several different options for those who wish to explore Doi Inthanon. To make it simple on yourself and make sure you don't miss anything, see our Doi Inthanon Tours. Another option is to explore the park in a rental car or on a motorbike.

To get to Doi Inthanon from Chiang Mai take route 108 towards Chomthong. Follow this road for 57 km (35 miles) and turn right onto route 1009 (Chomthong-Doi Inthanon Road). Follow this road for 31km (19 miles) and you will arrive at the entrance of the park (trip time approximately 90 minutes). Once in the park you can explore it on foot or in a vehicle. While the climb is tiring, it is a great way to experience the entire park. The ranger station at the entrance to the park is well equipped and can provide maps, guides and information on the park.

If you want to stay overnight at Doi Inthanon there are several options available. The Royal Park Service maintains a small number of chalets and bungalows on the park grounds. The surroundings are spectacular but the amenities are limited. There are also campsites located near the ranger stations but advance booking is recommended, especially during high season, when much of the accommodation is full. The nearby villages of Chomthong, Hot and Mae Chaem also have a number of guest houses and resort-type facilities.

Ban Luang
Chom Thong District
Chiang Mai 50270
---
Reviews (0)
No reviews yet.