Chao Phraya River, Ayutthaya
Formed by four major tributaries of Thailand, the Chao Phraya River, also known as The River of Kings, is one of the legendary rivers of Thailand.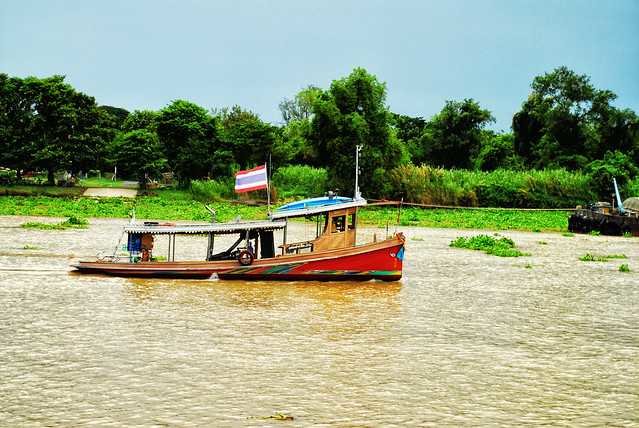 While on one hand the river serves as one of the widely used modes of commuting for the citizens as well as tourists, you may as well hop on a boat or a cruise to sightsee some of the iconic tourist spots of Bangkok and Ayutthaya, passing by them one after the other while you relax on the ferry.

While sailing across the Ayutthaya city in the Chao Phraya River, you may easily spot some of the ancient sites and structures present across the city borders, most of which are in ruins. These historic sites allow you to take a glimpse into the ancient times when the city of Ayutthaya lived its golden era.


River Cruises on Chao Phraya River

For those who wish to experience the luxury and lavishness of a cruise, you may find cruises anchored at the harbour, welcoming you in traditional Thai style. Following are the different types of cruise operated across the Chao Phraya River:

Grand Chao Phraya Cruise: Pass through the beautiful scenic views of Bangkok and Ayutthaya while enjoying the Thai musical events and an international buffet on the go.
Cost: THB 990
Timings: 7:15 PM to 9:00 PM.

Manohra Cruise: Feast on classic Thai dishes such as the Tom Yam Goong, Massaman Nua and the seafood barbeque while watching the mythical performance of Lord Hanuman's journey from heaven to Earth on the cruise's riverside terrace.
Cost: THB 2,300.
Timings: 7:30 PM to 9:30 PM.

Loy Nava: Enjoy a romantic candlelit dinner cruise or a sunset cruise while cruising on one of the oldest cruises across the Chao Phraya River.
Cost: THB1,500 to THB 2,640.
Timings: 6:00 PM to 8:00 PM (Sunset Cruise); 8:10 PM to 10:10 PM (Dinner Cruise).

Wan Fah Dinner Cruise: Enjoy the exquisite Thai dishes along with musical events and cultural performances on this cruise designed like a floating Thai restaurant!
Cost: THB 1,300.
Timings: 7:00 PM to 9:00 PM.


The Boarding Points for cruises:
Manohra Cruise: Anantara Riverside Bangkok Resort, Charoennakorn Road, Bangkok.
Loy Nava Cruise: Si Phaya Expressboat Pier, Charoen Krung Road, Bangkok.
Wan Fah Cruise: Khet Sampanthawong, Krung Thep Maha Nakhon, Bangkok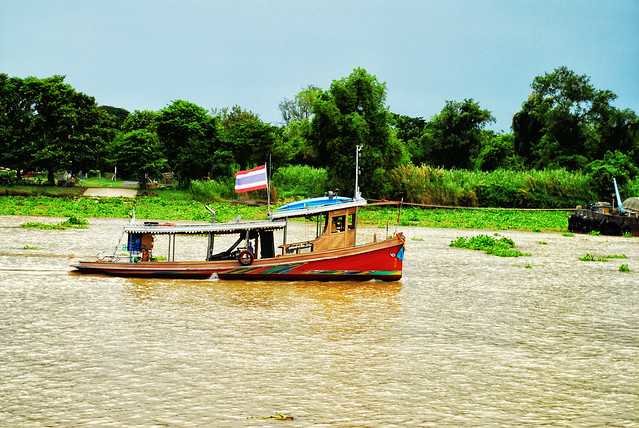 Chao Phraya River Tours & Operators

To reach the city of Ayutthaya, you may need to board the boat or cruise from Bangkok mainland. The Public River Boats are divided into six types and can be distinguished from their respective flag colours. The price, duration and stoppage points vary from one boat to another depending upon their flag type:

No Flag: It is the local transportation line used by the locals of the place for commuting purposes. No–Flag boats stop at every pier and usually cost around THB 10 to THB 14 per person for the ride. It starts from Nonthaburi and terminates at Wat Rajsinkorn, and operates at every 20 minutes.
Operating hours are from 6:45 AM to 4:30 PM on all days.

Orange Flag: It is used for commuting purposes, but these boats stop only at the main piers. Operating between Nonthaburi and Wat Rajsinkorn, it costs around THB 15 per person for the ride.
Its operating hours are as follows: Monday to Friday: 5:50 AM to 7:00 PM (Boats leave at varying durations of 5 to 20 minutes); Saturday to Sunday: 6:00 AM to 7:00 PM (Boats leave at durations of 20 minutes).

Yellow Flag: Yellow flag boats are large express boats, mostly used by the commuters. It operates only on the weekdays between Nonthaburi and Sathorn and costs THB 20 per person for the ride.
Its operating hours are as follows: Monday to Friday: 6:15 AM to 8:20 PM (From Nonthaburi to Sathorn), 4:45 PM to 8:00 PM (From Sathorn to Nonthaburi)

Green Flag: The Green flag boats are also express boats, but are somewhat smaller in size and seating capacity than the Yellow Flag boats. The boats operate only on weekdays along the Pakkret –Nonthaburi –Sathorn route, and costs around THB 20 per person for the ride. The operating hours are as follows: Monday to Friday: Morning Session: 6:10 AM to 8:10 AM (From Pakkret to Sathorn), Afternoon Session: 4:00 PM to 8:00 PM (From Sathorn to Pakkret)

Blue Flag: The Blue Flag boats are meant specifically for tourists, and will stop as per your convenience during your trip from Bangkok to Ayutthaya. However, it usually costs around THB 40 for a one way trip to Ayutthaya, but you can also buy an all–day pass for THB 100 if you wish to make unlimited journeys in between Bangkok mainland and Ayutthaya. The operating hours are as follows: Monday to Sunday: 9:00 AM to 7:00 PM.

Here it must be noted that if you are travelling via the Green Flag boat, you need to change at the Koh Kret Island pier for Ayutthaya. Similarly, if you are travelling from either of the other boats, you need to change at the Bang Pa pier to get to Ayutthaya from Bangkok. You can follow the same route for returning from Ayutthaya as well.


How to Reach Chao Phraya River

The Chao Phraya River flows through the centre of Bangkok and can be spotted easily when you travel across the city. If you wish to board any of the cruise or the Public Boat, you need to reach the pier points which has a stoppage of the ferry type you wish to travel from.

You may reach the Chao Phraya River by boarding the BTS Skytrain and get down at Central Pier or Sathorn Bridge Pier. If you are somewhat close to the Grand Palace, you may hop on to the public boats or cruise from the River City Pier, which lies at around 20 minutes distance from the Palace.

You may also board the Public Boats from their respective originating/ terminating points, which are as follows:

Nonthaburi Pier: No Flag, Orange Flag, Yellow Flag, Green Flag, Blue Flag (Termination point depends on tourists).
Wat Rajsinkorn Pier: No Flag, Orange Flag.
Sathorn Pier: Yellow Flag, Green Flag.
Pakkret Pier: Green Flag.

---
Reviews (0)
No reviews yet.