Ayutthaya National Art Museum
The Ayutthaya National Art Museum has a small but lively art and historical exhibit, with students from the nearby university acting as local English guides.
Recommended for
Adults
Families
Kids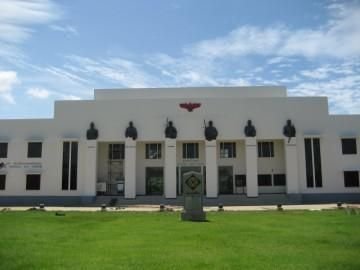 The artwork is not just set in the historical context but has a significant touch of modern art as well resulting in a culmination of the old and new right under one roof. One can take away some exquisite free postcards given away there.

Located in a well-manicured garden of Ayutthaya, Ayutthaya National Art Museum is a hidden gem that showcases some fantastic pieces of Thai artwork. The museum hosts a remarkable collection of gold objects found in a few of the Ayutthaya Wats (Thai Buddhist monastery/temple). The treasuries also include beautiful sculptures and paintings depicting Buddha in Ayutthaya style. The museum provides a precise historical, geographical and traditional account of the Ayutthaya province through its ancient and modern artworks. Admission to the place is free, and visitors can pick up lovely postcard souvenirs for free.


How To Reach Ayutthaya National Art Museum

Since Ayutthaya is less than 100 kilometres away from Bangkok, it is accessible via several modes depending on the budget, including tour groups, taxis, buses, and trains.


By Train
The train is the easiest way to get to this city with trains leaving from the Hualamphong Station in Bangkok's city centre every hour. It takes just two hours and about THB 20 (if one travels in third class) to reach Ayutthaya by train. The Ayutthaya National Art Museum is only around 7 kilometres away from the train station and can easily be reached in less than 15 minutes by a tuk-tuk (Thai auto rickshaw).


By Bus
While bus to Ayutthaya leaves from the Mo Chit station twice every hour, the station is a bit out of the way, and it may take some time to get there. Take a BTS sky train to Mo Chit and then take a motorbike taxi for about 5-10 minutes to reach the correct bus section for Ayutthaya. The bus ride will cost them about THB 50; take a taxi or a tuk-tuk there onwards to the museum which is only about 7 kilometres.


By Minivan
One can even take an air-conditioned minivan from the Victory Monument for THB 100. Visitors may have to wait for up to 20 minutes as the van doesn't leave until it is full. Taxis can also be used to reach the museum, and a round-trip from Bangkok may cost about 2500 Baht after a bargain. Apart from taxis and tuk-tuks, visitors can also rent bikes for about THB 30 to THB 60 for a day. Although bike rentals are the most ideal during the winters, they are available from almost any hotel in the city.

Tambon Pratuchai
Phra Nakhon Si Ayutthaya District
Phra Nakhon Si Ayutthaya 13000
---
Reviews (0)
No reviews yet.